Palmer's Leap of Faith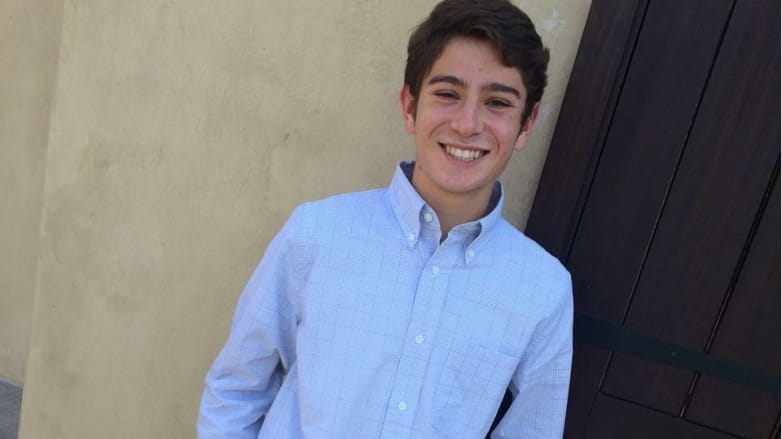 Palmer Naftal wasn't supposed to jump that day.
It was the first track meet of the 2017 season, and the 17-year-old Calabasas High School junior was standing on the sidelines, watching his teammates compete in the long jump—and growing increasingly restless.
Last season, Palmer had been one of the best long jumpers in the league—until his horrific injury. This year, he and his coach had agreed he would take his time coming back. Even in practice, he hadn't taken a single jump.
Now, though, the desire to jump overwhelmed him.
"Coach, let me in," he pleaded. "Let me do this."
His coach was reluctant, but relented. Soon, Palmer was lined up on the runway, ready to start, nothing but high-octane adrenaline surging through his veins. Then he took off sprinting toward the sandpit in a blaze of hope and fiery determination.
A moment later, he was airborne.
A disastrous jump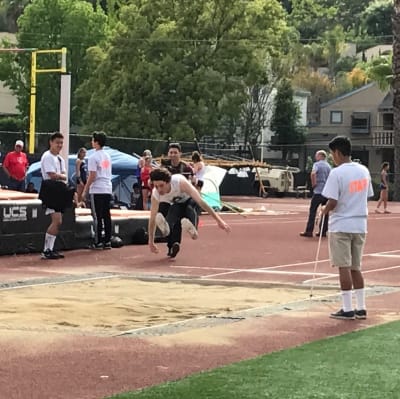 The last time Palmer long-jumped, it had been a disaster.
Actually, trouble had been brewing all last season. It started in February 2016 with pressure in his back and hip; by March, every jump was painful. With each passing meet, the pain intensified.
Palmer told himself it was nothing; he could deal with it. He continued to jump and mostly kept the pain to himself. He was coming in first every meet and was on track to make the league championships. He didn't want to stop now.
He told his mom he felt "out of alignment." She took him to a chiropractor, who diagnosed the problem as a muscle injury.
"I had no idea how much pain Palmer was in," says his mom, Michele Naftal. "I thought he had tight muscles. I thought we were taking care of it."
The tipping point came April 29, 2016, at the Ventura County Championships. On Palmer's second jump, as he launched into the air, the pain was suddenly so excruciating that even Palmer could no longer bear it.
"I had to quit out of my jump mid-jump, it was hurting so bad," he recalls. "When I got up, I could hardly walk."
An X-ray revealed the damage: The L5 vertebra in Palmer's spine was broken in two places. Palmer had, quite literally, broken his back.
'A poor man's Robocop'
Initially, a local spine specialist recommended waiting the summer to see if Palmer's spine healed on its own. If it didn't, Palmer would need surgery.
On the advice of another mom, though, Michele took Palmer to see David Skaggs, MD, MMM, chief of Orthopedic Surgery at Children's Hospital Los Angeles.
"I'm so glad I did," she says. "Dr. Skaggs had a clear plan, and he understood the athlete mentality. So many doctors would say, 'Just don't jump anymore.' But that's not realistic for someone like Palmer, who loves to be active."
Skaggs hoped to avoid surgery but suggested a more proactive approach than waiting: wearing a back brace. It wasn't a sure thing, but it was worth a try.
"If somebody breaks an arm, you put it in a cast, and just by immobilizing it you stimulate bone to make more bone and heal," he explains. "It's the same concept with a back brace."
The brace was an elaborate, uncomfortable contraption that attached to a leg cuff with a giant metal hinge. Palmer jokes that he was "a poor man's Robocop." He tried to make the best of his situation, learning to play the harmonica in his free time.
Still, he was depressed.
"I couldn't do anything," he says. "I felt totally out of it. Wearing a brace, not being able to do the activities you love—it takes you out of life itself."
Sheer joy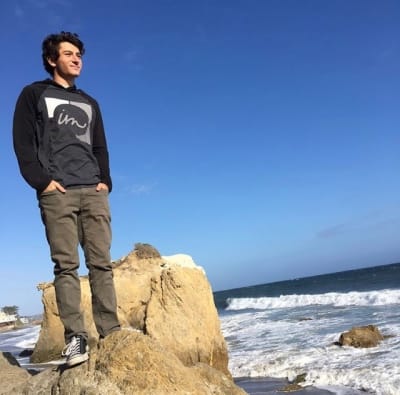 Palmer wore the brace every day for five months. By December 2016, a CT scan showed his injury was almost completely healed. Skaggs told Palmer he could jump again, but to use his "best judgment." If he felt pain, he needed to back off.
Palmer began working out with his team, but refrained from jumping. "I was nervous I would get injured again," he admits.
At that first 2017 track meet, though, his fears went out the window. As he raced down that runway, all he felt was the wind on his face—and then, the sheer joy of leaping into the air.
He took off too soon—more than a foot behind the takeoff board. But it didn't matter. When he landed in the pit, his jump measured an amazing 21 feet, 1 inch. He had set a new personal record.
"I was so happy," Palmer says.
Best of all, the jump was pain-free. Since then, Palmer has set a new personal record of 21 feet, 7 inches. He also took first place in his league championships and qualified for the California Interscholastic Federation (CIF) Southern Section Divisional Finals.
"How awesome is that?" says Skaggs, adding that Palmer is most likely fully healed at this point.
Palmer is now looking forward to his senior year of high school and dreams of having the chance to jump in college.
"I just want to say thank you, Dr. Skaggs," he adds. "He understood what I was going through, and that made the process much easier for me. He was fantastic."
— Katie Sweeney