A 'Magical' Treatment Helps Zayden Stand Tall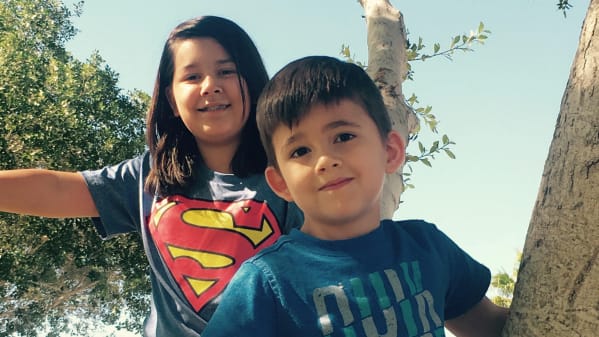 Every time 6-year-old Zayden Rainey comes to Children's Hospital Los Angeles, something magical happens: He grows a little taller.
It happens quickly—in less than two minutes—but no hocus-pocus or magic spells are involved. Even better, there's no surgery. Instead, David Skaggs, MD, MMM, simply places a powerful magnet on Zayden's back, presses a button and—voila!—Zayden walks out of the office a few millimeters taller and straighter.
A few millimeters may not seem like much, but for Zayden, it's life-changing. That's because the Yuma, Arizona, kindergartener was born with scoliosis, an abnormal curvature of the spine. Before coming to CHLA last June, his spine had a near-90-degree curve.
"He literally was bent over to his side," says his mom, Aracely. "He had to walk on his tippy-toe on his right leg so he wouldn't lean all the way over."
Using magnets instead of repeated surgery
A friendly, outgoing kid who loves riding the school bus, playing T-ball and making mac 'n' cheese and other culinary delicacies, Zayden had his first surgery when he was 9 months old. But even after several operations in Arizona to try to correct the rapidly progressing scoliosis, his spinal curve had only slightly improved.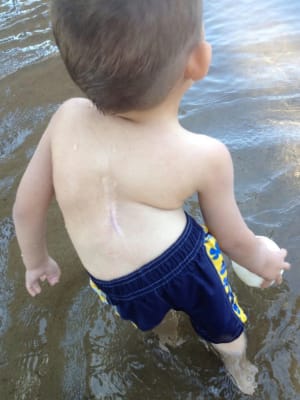 "He was in pain," says Aracely. "He would say, 'Mom, I can't put my foot down; it hurts too much.' He was always asking me to carry him."
With his Arizona doctors unable to help him further, Zayden was referred to Skaggs, chief of the Division of Orthopedics and director of Spine Surgery at CHLA. Skaggs recommended removing the traditional growing rods that had been implanted in Zayden and instead using a new technology: a magnetically controlled growing rod.
While traditional growing rods have to be surgically adjusted every few months as a child grows, a magnetically controlled rod requires only an initial surgery to implant the rod. After that, each adjustment or "lengthening" is a simple in-office procedure using a noninvasive magnetic device on the patient's back. The gradual straightening mimics normal spinal growth.
The magnetically controlled rods were approved by the Food and Drug Administration in early 2015; CHLA is participating in several multicenter, international studies on the rods.
"It's kind of a miracle," says Skaggs. "We literally stretch kids out using magnets instead of surgery."
A long drive and a bright future
Zayden had a magnetically controlled growing rod implanted at CHLA in August 2015. Since then, he and his family—his mother, father Kane and older sister Lina, 11—have been traveling to Los Angeles every four months for Zayden's in-office "lengthenings."
"We drive 5 ½ hours there, go to the appointment, have lunch, and then drive 5 ½ hours back home the same day," Aracely says. "But it's absolutely worth it."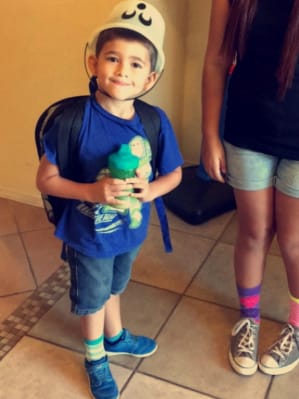 So far, Zayden has grown nearly 2 inches, and the degree of his spinal curve has
been reduced by more than 50 percent. Best of all, he's not in pain, he's standing much straighter, and he doesn't have to walk on his tippy-toe.
His prognosis? Excellent. He will need a spinal fusion surgery by age 10 or 12 to complete his scoliosis repair, but right now, he's busy learning to tie his shoes, learning to spell (not his favorite subject) and getting ready for T-ball.
His family couldn't be happier.
"To see how Zayden looks, how he feels—it's such a big difference from before," Aracely says. 'It's amazing."
You might even say it's like magic—only better.
How you can help
To help kids just like Zayden, consider making a donation to Children's Hospital Los Angeles. Visit CHLA.org/Donate.