His Leukemia in Remission, Juanito is Off and Running…in the L.A. Marathon
'Cancer' is a depleting word to anyone who is experiencing or has experienced those six-letters. It is a life-changing word that can often define a person for worse or better. To 12-year-old Juan Moreno, he chose the latter. The word has defined him as a resilient, determined, accomplished and amazing kid who is defying all odds.
Juanito, as most friends and family call him, was diagnosed with acute lymphoblastic leukemia (ALL) at the age of six. ALL is a type of cancer that affects the blood, bone marrow and immune system.
"I took him into the local clinic, because he looked pale and his stomach was hurting," says Gloria Moreno, Juanito's mother. "It was there when I knew something was not right. My motherly instincts said I needed to take Juanito to a hospital. Not knowing where to take him, I jumped on the Metro and gratefully found Children's Hospital Los Angeles."
Remarkable courage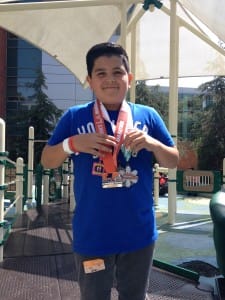 The two would spend the next two weeks at CHLA learning about his disease and the next two years battling it together. Juanito always took it in stride and never complained about his treatment.
"When he began to lose his hair, I was the one who cried, not him," says Gloria. "He just simply said, 'Less hair to deal with.' It helped that his idol, Adolfo Bautista, a forward for the Chivas USA soccer team, was also bald."
Juanito's humility was also noticed by his physician, David Tishler, MD, Division of Hematology and Oncology at Children's Hospital Los Angeles: "Life has meaning to him; He doesn't sweat the small things, because he has seen the bigger picture."
Although Juanito is now in remission, Gloria says that this experience is a "wound that has not healed," which is why when he expressed his desire to run the 2014 L.A. Marathon, she hesitated. "I have wanted to run the L.A. Marathon since I was 11 years old," says Juanito, now 13. He picked up running as a hobby—a sport that seemed unattainable just a few years ago.
Gina M. Escandon, RN, Juanito's primary nurse at Children's Hospital Los Angeles says she wasn't surprised by Juanito's resolve to run the marathon. "But to move past all the side effects of chemotherapy and run is amazing," she says.
Running is contagious
Juanito's journey to the L.A. Marathon became a family effort as his older siblings, Vanessa Moreno, 15, and Fidel Moreno, 17, decided to join him. They began training like any other athlete, with a Monday through Friday schedule of three or four miles per day. "As a coach for 10 years now, never have I seen the drive and determination in a runner the way I have in Juanito," says Herber Marquez, Juanito's running coach at Academia Avance Charter School. "Every step, every mile of the six-month training program was a challenge to him, but he persevered and pushed on forward. The self-will and discipline he demonstrated were positive and contagious!"
As the day of the marathon drew close, he shared his thoughts on what drives him, "Many people said I wouldn't make it, because of my age and the cancer. I am determined to prove them wrong."
Juanito crossed the finish line in 4 hours, 46 minutes, with a mix of happiness and relief—and fatigue. "After I finished running I slept the whole day," he says. "I ate a sandwich and then I fell asleep."
Spreading the message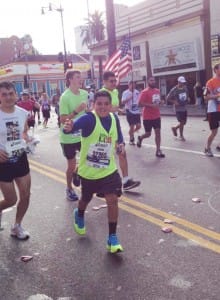 Since the marathon, Juanito has kept right on running. He participated in a 6-mile run at Halloween, and followed it up with a 9-mile race at Universal Studios. It's all preparation for a second go at the L.A. Marathon in the spring. His main goal is to improve his time. "Under 4:30," he says. "Like 4:20."
Juanito hopes to one day run in the Boston Marathon and compete for the USA Track and Field Team. "The journey of making running my passion and getting to the L.A. Marathon represents all the obstacles I have endured in my life. I'm glad I never gave up."
Through his participation in Junior Ambassadors, he wants to share his story with other CHLA patients, to urge them to stay determined in the face of challenging circumstances.
His hope is that patients will be inspired by his story and try to duplicate it in their own way. "I hope that they start doing stuff that they think they'll never do," he says. "I never thought that I could finish a marathon and I did. I just want to help other kids who have the same problem as me. I want to tell them to not give up. You're stronger than what you have."

How you can help
This holiday season, Juanito is giving back as a Junior Ambassador to his children's hospital, now it's your turn. If you Live L.A., Give L.A.. Every dollar of your gift will help provide world-class care for every child that comes through our doors—kids like Juanito. Visit CHLA.org/GiveLA.