After Surgery, Cai Stands Straighter—and Stronger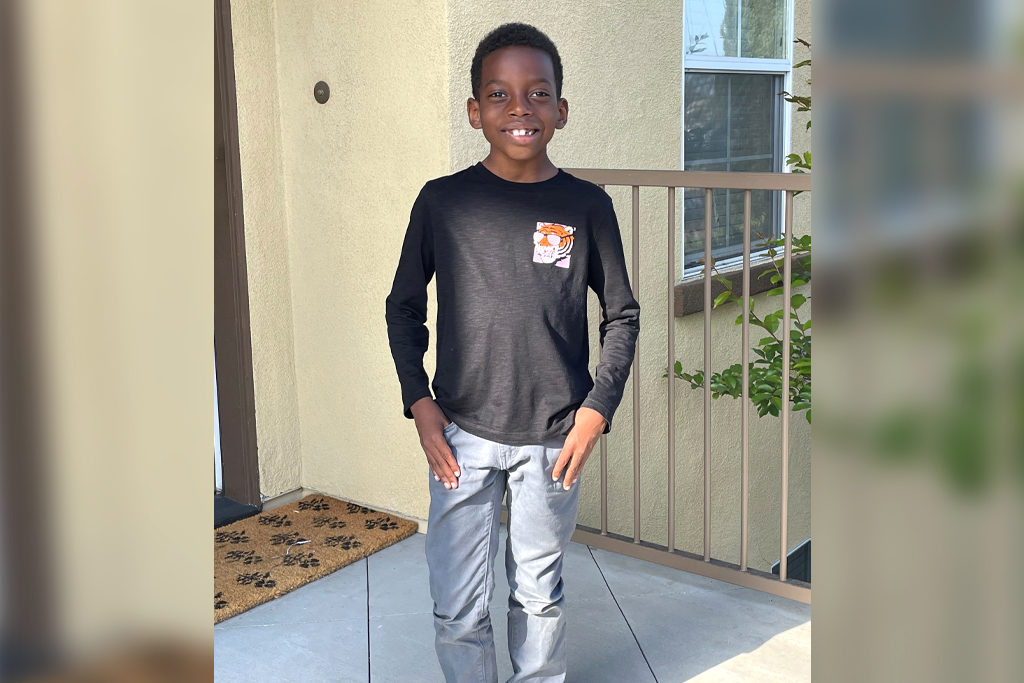 Orthopedic experts at Children's Hospital Los Angeles use enhanced growing rods to correct one patient's severe scoliosis.
By Eunice Oh

"Why am I so tall!" exclaimed Cai. "I can see out the window!"
His grandmother, Tracey, had just placed him in the car, and she couldn't help but laugh. Two weeks earlier at the Jackie and Gene Autry Orthopedic Center, Cai had undergone scoliosis surgery, a procedure that straightened his spine and added 2 3/4 inches of height. For the first time in his life, Cai was able to sit upright.
Each year in the United States, approximately 100,000 children are diagnosed with scoliosis. Cai had a rare form of the condition called early onset scoliosis, characterized by a complex curvature of the spine. Less than 20 degrees is considered a mild curve, and a moderate one is typically between 25 and 40 degrees.
"In Cai's case, the curve was 85 degrees," says Lindsay Andras, MD, Associate Chief of the Orthopedic Center and Director of the Spine Program, who has been treating Cai since he was an infant. "There was a significant amount of progression, so we didn't want to wait any longer for surgery."
An improved treatment option
Cai had been wearing a brace since he was 3 years old, but with the scoliosis rapidly worsening, Dr. Andras told Tracey that surgery was imminent. Left untreated for much longer, the curve could cause Cai's rib cage to press against his lungs and heart, making it harder for him to breathe.
Cai recovers from scoliosis surgery with the help of his physical therapist.
So, a few weeks before his sixth birthday, Cai was wheeled into the operating room at Children's Hospital Los Angeles. During the nearly six-hour procedure, Dr. Andras implanted magnetically controlled growing rods anchored to Cai's spine. The Orthopedic Center was one of the first programs in the country to offer these enhanced rods, which, unlike traditional growing rods that must be surgically adjusted in the operating room as a child grows, do not require additional surgeries and are instead lengthened through an external remote control.
Back in the waiting area, Tracey had been staring at the clock, eagerly awaiting news about Cai. She knew the procedure was necessary—and that her grandson was in good hands—but couldn't quite shake off the nerves. Then, Dr. Andras walked in.
"Seeing her face put me at ease immediately," she recalls. "She was just so happy and said everything was successful. It brings me to tears just thinking about this—happy tears."
Cai learned how to walk again with the help of physical therapy, and his swift recovery caught his grandmother by surprise.
"He had been home for maybe three days when he came down the stairs by himself," Tracey recalls. "I did not expect that at all. That almost scared me to death!"
Grateful for Cai's care
These days, Cai, now 9, can regularly be found zipping around the neighborhood on his bike or scooter. He returns to the Orthopedic Center every three months to have his rods extended magnetically, a noninvasive outpatient procedure that takes less than five minutes.
He underwent another surgery in 2020 to replace the initial rods with longer ones, which will allow him to get as much height as possible over the next few years before having a final spinal fusion. For now, though, Cai is enjoying simply being a kid.
"These rods have been wonderful for him. They don't hinder him from doing anything and he doesn't think even twice about them," says Tracey. "I just marvel at what Dr. Andras is able to do and that this procedure is available."
"Children's Hospital means everything to me," she adds, "and I will always be grateful that it's there."
Click here to help Children's Hospital Los Angeles care for more kids like Cai.
---
Related Content