After Beating a Brain Tumor, Nathan Builds a New Life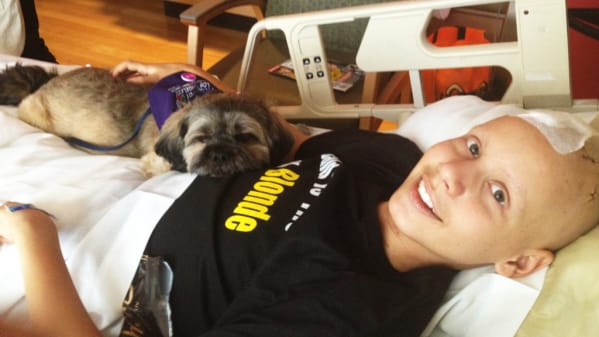 Lying in the back seat of his parents' car on July 3, 2012, 13-year-old Nathan Newman had no idea just how much his life was about to change.
Up until that summer, when his headaches started, he'd always been happy and healthy. Sports were his life, and he played on club teams for basketball and soccer. At school, he was an honors student, and with his outgoing personality he was surrounded by friends.
But that afternoon, an MRI had found the terrifying cause of his headaches: a brain tumor. Now his parents, Jacquee and Steve, were rushing him to Children's Hospital Los Angeles.
"I thought I just had to go to the hospital for the night, and that I'd be back home living my normal life the next day," he says. "But I soon found out that was not going to happen. Reality kicked in."
A year of treatment
That "reality" turned into nearly a year of treatment at CHLA for his tumor, an intracranial central nervous system (CNS) germ cell tumor.
First, he underwent several procedures to relieve the fluid buildup in his brain; then he endured six months of chemotherapy. At the end of all that, there was bad news: The tumor was not completely gone.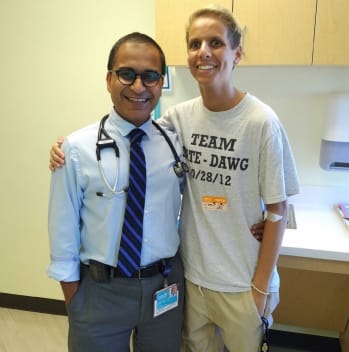 "Typically, these types of tumors respond well to treatment," explains Girish Dhall, MD, Nathan's oncologist and director of the Neuro-Oncology Program at CHLA, one of the largest pediatric neuro-oncology programs in the country. "But Nathan's tumor did not respond as we expected to conventional chemotherapy. Hence, we had to give him high-dose chemotherapy, followed by an autologous hematopoietic stem cell transplant."
That particular combination of high-dose chemotherapy with a stem cell transplant was part of a Phase II clinical trial, and Nathan was just the fifth patient at CHLA to participate.
"When something didn't work, Dr. Dhall would always say, 'We have two more things in our arsenal to try.' They never talked like there was nothing they could do," Steve notes. "As a parent, that was very reassuring."
Nathan spent a month in isolation in CHLA's Bone Marrow Transplant unit, where, as his mom says, he was "scary, scary sick." At one point, he couldn't get out of bed or hold down food, and he had burns and blisters on his skin.
But the treatment worked. And after 30 straight days of radiation to his brain and spine, Nathan entered remission on May 9, 2013—his 14th birthday.
Fighting depression
Eager to return to his old life, he started school in August and dove into his classes and social life. He made his high school soccer team and practiced with the team daily.
"His doctors were like, 'He's playing soccer already?' They were surprised," Steve remembers. "His body had been through a lot, but he wanted so badly to be back to normal."
It backfired. By the end of the school year, his appetite had declined severely and he was losing weight. By 10th grade, he was too fatigued to go to school and enrolled in independent study at home.
His cancer remained in remission. But he was feeling the effects of his experience, both physically and emotionally, more than ever.
"He was fighting depression, up and down," his mom says. "There were days I couldn't get him out of bed. You see your friends going on. They're driving, they're going to parties, they're in their sports, and you're not a part of that anymore. It's hard."
'I've learned so much'
Today, Nathan is 17 and celebrating three years of remission. He's starting a new treatment to boost his appetite, and he's almost caught up with his classes. His goal is to rejoin school in the fall for his senior year.
"I want to graduate with my friends; that would be awesome," he says.
He recently started playing basketball again, but he also has a new love: piano. During treatment, his mom had suggested he give piano a try, and in June he performed at his third recital.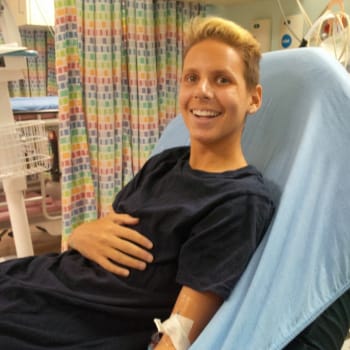 "I didn't think of myself as a piano player," Nathan says. "But as soon as I had my first lesson, I fell in love. It's really therapeutic for me."
He and his family have raised money for the L.A. Brain Tumor Walk, and he made his most recent recital a fundraiser for CHLA.
It's not his old life; it's a new one. But it's good.
"I'm really blessed by the people who surround me—my parents, everyone at Children's Hospital. My nurse practitioner, Anna Evans, and Dr. Dhall have been like a mom and dad to me," Nathan explains. "I've learned so much through this whole experience, it's crazy. I'm so much more grateful for life."
How you can help
Consider making a donation to help kids just like Nathan. Visit CHLA.org/Donate.