50 Years Later: The Success of CHLA's First Kidney Transplant
Thomas Hoag was 6 years old in 1967, and getting sicker by the day. As a little boy, he remembers being carted around from one doctor to the next. None of them could figure out what was wrong.
"My parents have told me that I didn't want to play or do anything," Hoag says. "They knew something was really wrong."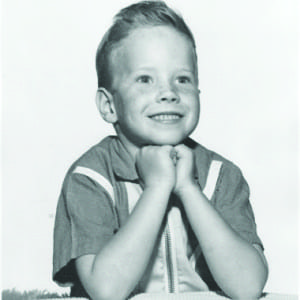 The family finally got answers at Children's Hospital Los Angeles. At the hospital, they met Richard Fine, MD.
The pediatric nephrologist determined that Hoag was in kidney failure—brought on by scarlet fever that led to glomerulonephritis, a disease in which the part of the kidneys that helps filter waste and fluids from the blood is damaged.
Fine, along with others helping to treat Hoag, concluded that a transplant was the only thing that would save the little boy's life. The surgery would be the first one ever at the hospital.
"I remember a lot of long hallways and white coats and dresses," Hoag says, looking back on his momentous surgery. "It was pretty bewildering for a little kid like me. I just knew I was really sick and wanted to get better."
Lasting gift
Blood test tissue typing determined that Thomas' father, William, was a perfect transplant match. The successful surgery took place Feb. 8, 1967, beginning early in the morning and ending that afternoon.
To ensure their special patient's health, doctors closely monitored Hoag in the hospital for about six months while he healed. He vividly remembers the scar after the surgery, which went from his sternum to his groin.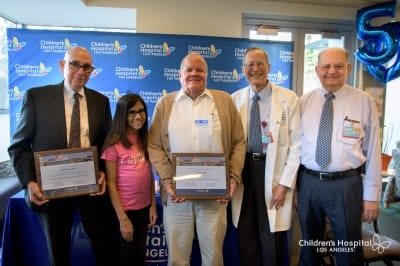 Thomas Hoag's successful transplant has the distinction of holding one of CHLA's most notable records – his father's gift of life has now lasted Thomas 50 years, and counting. Hoag's kidney is, if not the longest, one of the longest functioning live donor kidneys to a child in U.S. history. Doctors say it's rare for a donor kidney to last so long and consider Hoag one of CHLA's biggest success stories.
"The success of Tommy's transplant really jump-started the Nephrology program here at Children's Hospital," said Carl Grushkin, MD, CHLA's current Chief of Nephrology, who happened to be a resident in 1967 when Hoag's surgery took place. "To date, we have performed nearly 1,100 kidney transplants since Tommy's, and have one of the most successful transplant programs in the country based on recipient and graft survival."
Reunited
On Tuesday, March 7, Hoag and Fine reunited at the hospital for a ceremony held by CHLA's current Nephrology team to mark the 50th anniversary of Hoag's transplant. Not only was Dr. Fine the one who diagnosed Hoag with kidney failure and glomerulonephritis, he was the driving force in starting the Dialysis Program at CHLA that same year. This program continues to be one of the two largest pediatric dialysis programs in the United States.
"Seeing Tommy here today, seeing how well he's done for such a long period of time, I think, is one of the highlights of my career," said Fine, who also is a professor of Clinical Pediatrics at the Keck School of Medicine of USC. Fine said medical literature in the 1960's discouraged pediatric dialysis and renal transplantation, but he believed it was the only option on the table to save the young boy's life. "We had no idea 50 years ago that we could accomplish having someone survive with one kidney for 50 years."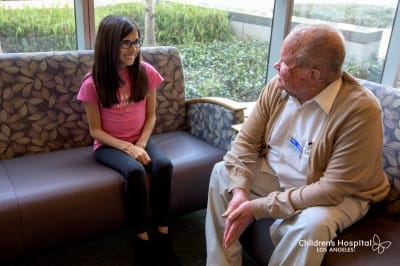 After the ceremony, Hoag also got a chance to sit down and chat with Gemma Lafontant, 14, CHLA's most recent kidney transplant patient. Gemma has chronic kidney disease and received a pre-emptive donor kidney on Feb. 21. Pre-emptive transplants are ones that take place before significant kidney failure occurs and are now often recommended to keep a child from needing to start dialysis.
"It's amazing that his kidney's lasted 50 years," Gemma said. "That could be me."
Hoag, who spent six months recuperating in the hospital after his procedure, found it remarkable that Gemma was able to go home less than two weeks after her transplant and was glad to be able to give her some words of encouragement.
"It comes up every now and then that I get asked about being a 'pioneer,'" Hoag said. "It's not something I tried to get the record on, it's just something that was obviously meant to be. And it's worked out well for me and so many others."