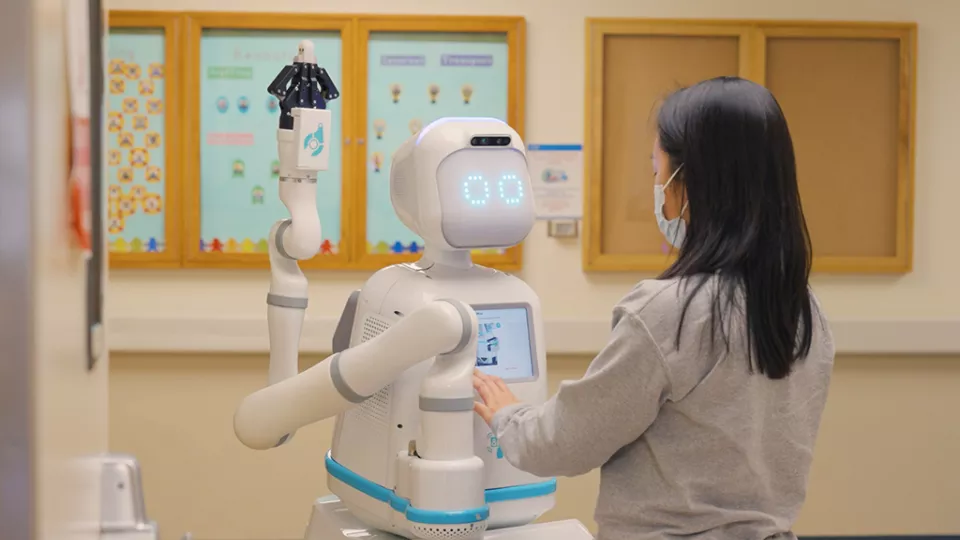 Hospital News
Moxi the Robot: Delivering Meds and Stealing Hearts
CHLA is the first children's hospital in the nation using the innovative Moxi delivery system.
Whether it's R2-D2, Wall-E, Rosie from "The Jetsons," or your own personal Roomba, chances are you've been captivated by at least one robot in your lifetime. It seems most kids (and kids at heart) find robots equal parts mystifying, useful and endearing.
That is certainly the case for patients, families and team members at Children's Hospital Los Angeles. Recently, robot sightings have been reported across the hospital, as have tales of curious young patients following their 4-foot-tall, 300-pound "best friend" around the hospital.
In December 2022, CHLA became the first children's hospital in the nation to use Moxi, which supports clinical care team members by taking repetitive, nonpatient-facing delivery tasks off their hands. That means relieving nurses and pharmacy techs from a significant amount of the time they spend traveling between clinics and pharmacies to fill medication requests.
Currently there are two Moxi robots delivering medications and pharmaceutical items 24/7 along various routes throughout the hospital. In just over four months, Moxi has made more than 2,500 deliveries, traveled 132 miles, and saved staff more than 383,000 steps and 1,620 hours of work time.
A culture of innovation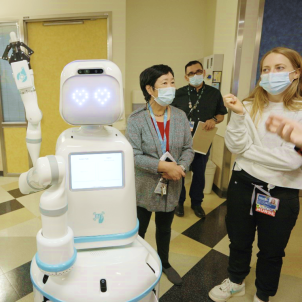 Moxi's arrival at CHLA is a testament to the institution's culture of innovation in service of both its patients and team members. In 2019, Omkar Kulkarni, Vice President and Chief Transformation and Digital Officer, asked staff to help identify opportunities for operational improvement across the hospital. Carol Taketomo, PharmD, Chief Pharmacy Officer at CHLA, pointed out the inefficiency of having pharmacy technicians walk medications across the Sunset campus, and she proposed using a health care robot assistant for this task.
Along with Kulkarni and the CHLA Innovation Studio, Taketomo's team championed the introduction of Moxi, a robot assistant that allows clinical teams to focus on patient-facing care rather than making deliveries that take them away from the bedside or the pharmacy bench. Bringing Moxi on board has enabled service to continue during staff breaks, made operations more efficient and productive, and even relieved foot pain among staff who previously had to deliver medication. Moxi is especially helpful during the evening shift, when the pharmacy team has fewer techs and runners available.
"Moxi's support in delivering meds has helped our staff recoup 20 to 30 minutes per delivery," Taketomo says. For pharmacy staff, this extra time means they can focus on filling new orders, compounding oral medications and preparing complex, high-risk medications.
"Bringing Moxi to CHLA is a great example of how we are ensuring our team members are able to do their best work at the top of their skill set," Kulkarni says. "Our nursing leaders and pharmacy team are appreciative that we're investing in this kind of technology."
A first-in-pediatrics launch
Moxi is the brainchild of Diligent Robotics, a female-founded, Austin, Texas-based AI company "creating robot assistants that help health care workers with routine tasks so they can focus on what they do best: patient care."
Founded in 2017, Diligent Robotics was one of 10 startups chosen in 2022 for the inaugural Press Ganey KidsX Accelerator cohort, a technology incubator organized by KidsX, an international consortium of pediatric hospitals led by Kulkarni and the CHLA Innovation Studio and based at Children's Hospital Los Angeles.
KidsX is a global leader in pediatric digital health innovation, facilitating collaboration among leading children's hospitals, providers, payors, investors, entrepreneurs and corporate partners to solve the most pressing problems in pediatric care delivery. The KidsX Accelerator is open to health care startups that have developed solutions to make pediatric care exceptionally effective, safe, efficient and convenient for children and families. Through the accelerator, startups are able to validate their product market fit by working closely with decision-makers in the pediatric market while navigating the complex maze of piloting with children's hospitals.
"CHLA is our first children's hospital that we've gone live in, so from our standpoint, it's been great just to have that early validation on what Moxi can do from a pharmacy standpoint," says Brian Oswald, Vice President of Growth at Diligent Robotics. "We're encouraged to get feedback and guidance [from CHLA] on how we can continue to optimize Moxi's performance, not just in the pharmacy capacity, but taking into account the pediatric patient population as well."
Feeling the love for Moxi
To ensure Moxi's robotic assistance remains aligned with current needs, Kulkarni often asks team members to consider the "why" behind Moxi. It's what has affectionately become known as the "love statement":
Moxi helps CHLA team members by giving them time back in their day by performing routine medication deliveries so they can focus on pharmacy and patient-facing tasks.
Feedback from those who have interacted with Moxi, including Danica Ryan, MSN, RN, CPN, a registered nurse in the Infusion Center, shows the helpful robot is living up to expectations.
"Moxi has been a great addition to the Infusion Center team," Ryan says. "Previously, I had to run down to the pharmacy to retrieve medications multiple times a day. Now, thanks to Moxi, I'm able to spend more time on the floor with patients. Moxi is a welcome member of the Infusion crew!"
The "love statement" will evolve as Moxi is rolled out to serve other needs at CHLA. Most recently, Moxi has been making 25-30 deliveries per day. That's using only about half of the robots' capacity, which leaves opportunity for Moxi's utility to increase.
In just four months, Moxi has become an integral team member, and the investment is paying off with patients and their families as well, as Moxi rapidly becomes a fixture of CHLA's culture.
"Here's this giant robot toy that moves and beeps and is kind of a sci-fi thing running around the hospital—it's bringing joy to these kids," Kulkarni says.
And stealing hearts along the way.