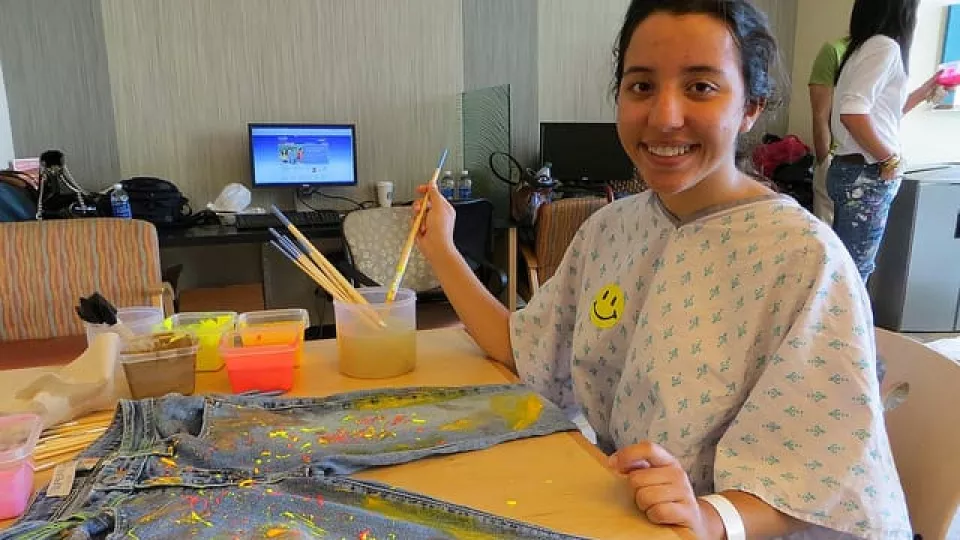 Hospital News
Kids Get Creative with the Rialto Jean Project
On Sept. 18, founder of the Rialto Jean Project, Erin Feniger along with various members of her team, hosted an interactive and colorful event for our patients to support the art therapy program at Children's Hospital Los Angeles.
For this delightful collaboration, one of the hospital's family lounges was transformed to look like an artist's dream, with a multitude of vibrant paints and paint brushes placed throughout the tables and on the floor. Patients and families, along with certified art therapists, had the opportunity to paint canvas tote bags and vintage jeans.
While patients and families were able to keep the tote bags they painted, the painted jeans will be sold as part of a Children's Hospital Los Angeles Jean Collection on the Rialto Jean Project website. For every pair of jeans sold on their website, the Rialto Jean Project will donate a percentage of the proceeds to Children's Hospital Los Angeles to support the Rialto Jean Project Endowment for Art Therapy, which they established.
For Erin Feniger, the concept of merging her passion for children, art and fashion were realized when she experienced the healing powers of art after being diagnosed with an autoimmune disease that caused pain in her joints. Whenever she experienced painful episodes, she painted alongside her neighbor, which always alleviated her pain. After reflecting on her experience, she wanted to help increase art therapy programs for children in hospitals. This eventually led to the founding of her socially conscious company, the Rialto Jean Project, with a guiding principle of "Denim doing good." As a brand, they stand "behind the proven theory that art can help young patients find a sense of hope and increase self-esteem, autonomy and competence, while offering opportunities to express their feelings safely while providing a solid foundation of healing." http://rialtojeanproject.com/
At our hospital, art therapy truly helps our patients feel better, encourages coping strategies and alleviates pain. As Alexandria Field, MT-BC, NICU-MT, program lead, explains,
"Art decreases pain and improves mood." This way, when children are able to use their imagination to create a safe haven in their art, we pave the way for healing.
We do not believe in healing patients one way, but rather, we recognize the importance of enhancing a "family-centered approach." Our passion for children continuously motivates us to find ways to treat and benefit our precious patients, children. We are delighted to have received help from the Rialto Jean Project.