Hospital News
CHLA celebrates a new milestone: vaccinating children aged 5 to 11
A year ago, Children's Hospital Los Angeles was standing ready to support the first vaccinations of health care providers and then the broader community.  
On Nov. 3rd, Children's Hospital Los Angeles was thrilled to mark another critical milestone in our collective journey to regional, national and worldwide health. A special event was held Nov. 3 at the hospital's Sunset campus to vaccinate children, aged 5 to 11.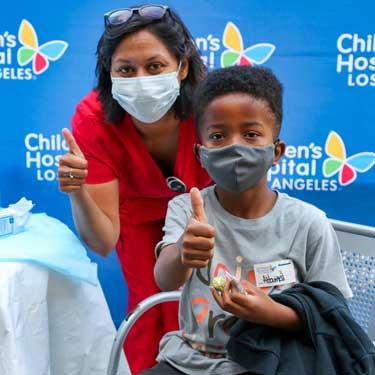 "Since COVID-19 arrived in early 2020 we have been eagerly awaiting the opportunity to protect our young children and our communities with a vaccine, by far the most effective weapon we have in this fight against this disease," says Michael Smit, CHLA's Hospital Epidemiologist and Medical Director of Infection Prevention and Control. "I want to reemphasize how thrilled we are to be able to now protect our children and our community with this safe and effective vaccine."   
During the special event, patient mom Colette spoke to the Los Angeles Times and explained why she felt it was important to vaccinate her son, Ari, and daughter, Alahna.
"Ari has a pre-existing condition; he's type 1 diabetic. We knew we had to be extra cautious during the pandemic to make sure our family household stayed clear. It was important for us to take this leap of faith and let the science support our desire to make sure they were safe."
"Today I celebrate today with families of children 5-11, and I celebrate for all of us here at Children's Hospital Los Angeles," says CHLA President and CEO Paul S. Viviano. "The last 20 months have required us to come together and navigate a difficult journey with grit and determination. I am thrilled that we can build more healthier futures by offering this vaccine to younger children."
The hospital invites families to strengthen their immunity by registering their children for the vaccine on MyTurn.ca.gov. This action will not only protect the health of your child, but also protect the health of their entire family and their community.  
Click here to find out how Children's Hospital Los Angeles is keeping patients, families and staff safe during the COVID-19 pandemic.
---