Pool Fences, Drowning Hazards, Safely Swimming: What Parents Need to Know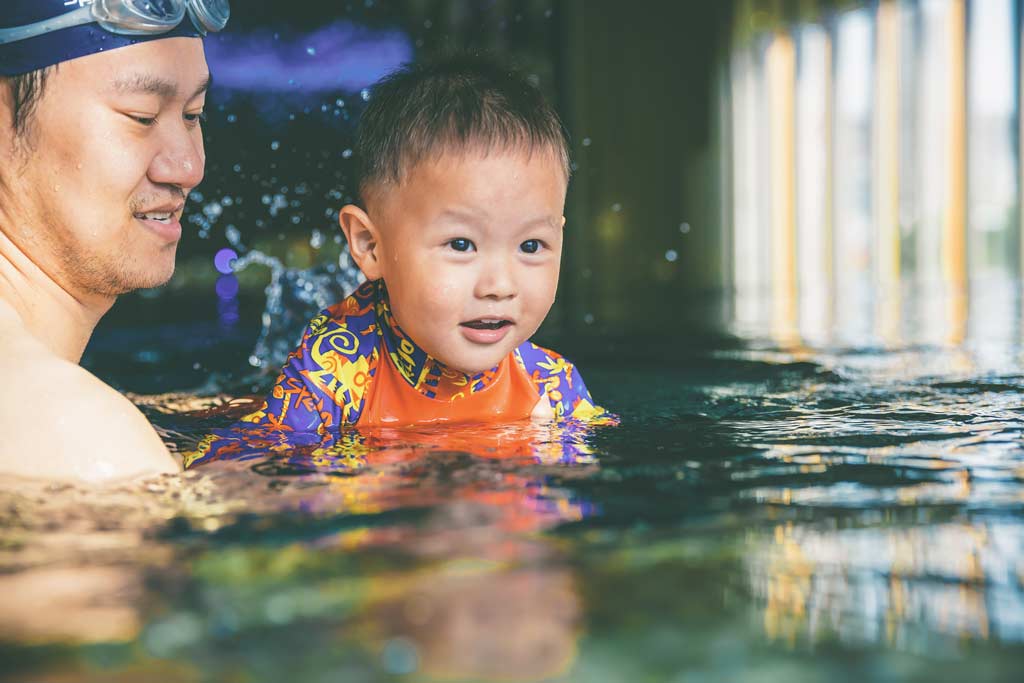 How to keep kids safe in the water

By Katie Sweeney
On a hot summer day, nothing is more fun than cooling off at the pool or in the ocean. But while water can create hours of fun for kids, parents need to make sure children stay safe.
Young children are most at risk. Among preventable injuries, drowning is the leading cause of death for children ages 1 to 4, according to SafeKids Worldwide.
Luckily, some simple tips can go a long way toward keeping your child safe at the pool and beach this summer. Helen Arbogast, DrPH, MPH, CPSTI, Manager of Injury Prevention at Children's Hospital Los Angeles, shares her top tips for parents.
Swimming pools
Watch your kids
Adult supervision is the most important pool safety tip for parents. Never leave a child alone at the pool—particularly a child under 5—even for a few minutes.
But supervising means you have to watch the water at all times, without distractions. That means you can't be looking at your phone, reading a book or chatting with someone.
"Young children often drown without a sound. They don't splash around and make a big mess," Arbogast explains. "If you're not paying attention, you wouldn't even know something was happening."
Put up barriers
"You want to make it very hard for a child who should not be in the pool to get in the pool," she says. "And if a child does wander into the pool area, you want to know about it immediately."
The state of California requires that pools—including above-ground pools—be surrounded by a 5-foot-high fence. Pools and spas built or remodeled starting in 2018 must have at least one additional layer of protection, such as:
An alarm or padlock on the gate
Alarms on doors that lead to the pool area
A safety pool cover or automatic cover
Learn CPR and swimming
Immediate CPR could save your child's life, particularly in a drowning accident. "Many children who drown could have been saved if CPR had been given sooner," Arbogast says. "Take the time to learn it."
Meanwhile, make sure your child learns to swim. COVID-19 canceled many families' swimming lesson plans. But as soon as it is safe to do so—and your child is ready—enroll him or her in swim lessons. Kids should also learn water survival skills, such as how to tread water and float.
Secure above-ground pools, too
Above-ground pools are sometimes installed without much thought to safety measures like gates, locks and alarms. But these pools need the same safety precautions as an in-ground pool.
Tip: Ladders to an above-ground pool should have a locking gate. Remove ladders when the pool is not in use and store them away from the pool.
Empty inflatable pools
Young children can drown in just 2 inches of water. Empty those inflatable kiddie pools after each use. Store them upside down and out of kids' reach.
Check pool and hot tub drains
Hair, arms, legs and other body parts can get caught in pool or spa drains. Make sure these drains have proper covers. Tie up long hair, and teach your child not to play with drains or sit on them. In addition, keep hot tubs locked and covered when not in use.
Oceans, lakes, rivers and ponds
Actively supervise kids
Again, this is the No. 1 tip. Always closely watch children near open bodies of water. Young children should be within arm's reach.
Put a life jacket on your child
Children should wear a life jacket in or around any open body of water. This is true even if your child knows how to swim, or if your child is in a boat with no intention of going in the water.
"There are so many unpredictable components to open bodies of water: a riptide, swimming too far, becoming exhausted," Arbogast says. "A Coast Guard-approved life jacket is the only way to ensure children stay safe."
By the way: Those arm floaties are not safety devices. Do not use them in place of a life jacket.
Teach kids about open-water dangers
Swimming in a lake or ocean is different from a pool. Kids need to learn about uneven surfaces, river currents, ocean undertow and changing weather.
Use the buddy system
From the beginning, teach your child to only swim with an adult. Older, more experienced swimmers should swim with a partner each time—at the pool, beach or lake.
Don't forget the sun—and fun
Apply an SPF 30 or higher sunscreen to kids' skin, 20 to 30 minutes before heading outside. No sunscreen is waterproof, so reapply 45 minutes after swimming. To learn more, check out these sunscreen tips for parents.
Remember, the best way to keep kids safe in the water is simply to watch them. By following these tips, your family can enjoy those cool waves and summer splashes—and stay safe.
---
Related Content