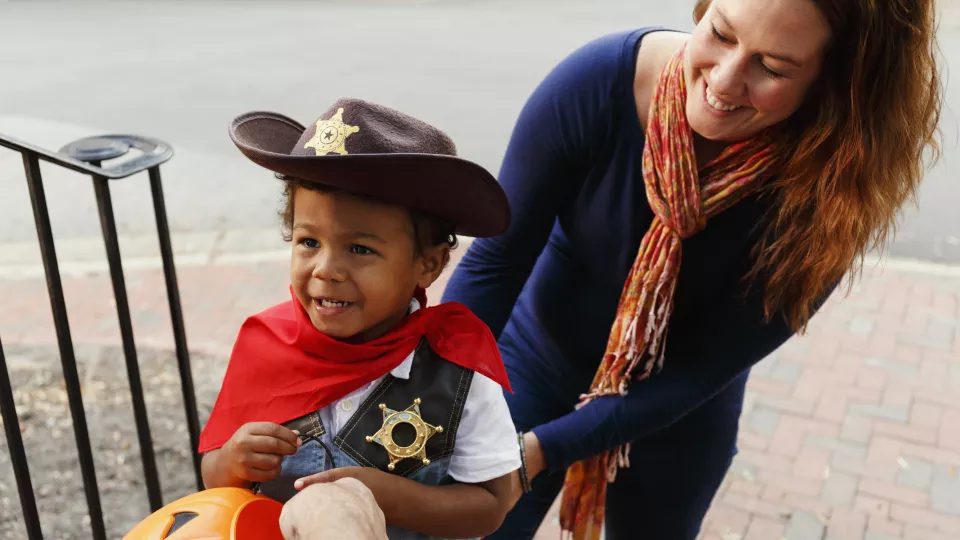 Advice From Our Experts
Halloween Safety Tips by Children's Hospital Los Angeles
Halloween is a fun and creative time for both children and parents, but is also a night for families to pay extra attention to safety. According to the Centers for Disease Control and Prevention, the number of pedestrian-related fatalities among children increases significantly on Halloween. On this specific night, children ages 5 to 14 are 4½ times more likely to be killed by a motor vehicle than any other night of the year.
To make sure you have a fun and safe evening, Helen Arbogast from our Injury Prevention Program offers parents handy tips to keep those scary injuries away.
Disguise Yourself Safely
Decorate costumes and trick-or-treat bags with reflective tape.
Costumes should be flame-retardant and fit properly. Avoid oversized shoes, high heels and long skirts or pants that could cause a child to fall.
Have kids carry glow sticks or flashlights to help them see and be seen by motorists.
Instead of masks, choose face paint or makeup. Masks can obstruct a child's vision, increasing the risk for injury.
Do not wear decorative (non-prescription) contact lenses as they may be made from inferior plastic or contain toxic dyes, which can lead to an eye infection.
Avoid costumes with sharp objects such as wands or swords, which could cause eye injuries. If a sword or wand must be carried, use a belt carrier so the accessory can stay safely nestled.
Keep Scary Sweets Away
Have children eat a healthy meal before trick-or-treating.
Encourage friends and family to pass out healthier alternatives to candy, such as fruit snacks or even coloring books, pens or pencils.
Parents should check treats at home before letting their child consume them.
Watch for signs of tampering, such as small pinholes in wrappers and torn or loose packages.
Parents of young children should get rid of choking hazards such as gum, peanuts, hard candies or small toys. If makeup or toys are swallowed, call Poison Control at 1-800-222-1222.
Trick-or-Treat Rules of the Road
It's fantastic that families who may have skipped trick-or-treating during the pandemic are out and participating again in a favorite activity. However, parents should consider accompanying children who are headed out on the 31st for their first Halloween since the pandemic. Even older children who haven't been out trick-or-treating with the family could benefit from adult supervision on their return Halloween fun.
Children should never go into a stranger's house under any circumstances.
Plan a path that is well-lit and always use the sidewalk.
Stay in a group and communicate to children about where they will be going.
Cross roads at established crosswalks. Never cross between parked cars or out of driveways. Drivers may have trouble seeing trick-or-treaters. If one car stops, that doesn't mean other cars will.
Obey all traffic and pedestrian rules.
Always walk. Never run when crossing a street.
Un-Haunt Your House
Keep homes safe for visiting trick-or-treaters by removing anything a child could trip over, such as garden hoses, toys, bikes and lawn decorations.
Check outdoor lights and replace burned-out bulbs.
Remove wet leaves from sidewalks and steps.
Don't Be a Hair-Raising Motorist
Being alert while driving on Halloween is highly important. Trick-or-treaters who are excited may move in unpredictable ways.
Anticipate heavy pedestrian traffic and turn on headlights earlier in the day.
Slow down and take the extra time to look for kids at intersections, and on medians and curbs.
Be cautious while entering and exiting driveways and alleys.
Eliminate any distractions inside your car to concentrate on the road and your surroundings.
Popular trick-or-treating hours are 5:30 to 9:30 p.m., so be particularly alert for pedestrians during those hours.