We Can All Do Our Part to Reduce the Number of Youth Experiencing Homelessness
Children's Hospital Los Angeles's Division of Adolescent & Youth Adult Medicine (DAYAM) provides health care and support services to approximately 7,500 youth between the ages of 12 to 24 each year. About 20% of these youth experience homelessness at some point during their care. Many of these homeless young people receive their services through CHLA's Homeless Adolescent Wellness Center, which provides integrated health, and mental health services for homeless youth at DAYAM and at various community agencies through our Mobile Health Team. The DAYAM is one of the founding members of the Hollywood Homeless Youth Partnership (HHYP), a coalition of agencies that serve youth experiencing homelessness in our community. Every year, 8,500 young people walk through HHYP agencies' doors for various types of services: medical, mental health, substance abuse, housing and support services.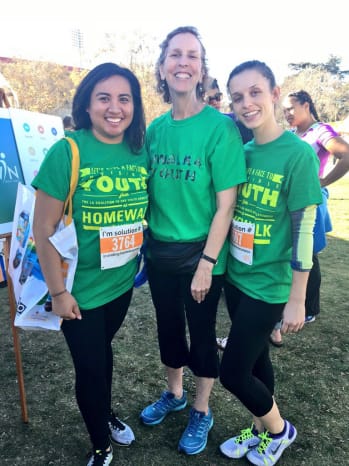 Tiffany Jamoralin, Project Coordinator II (HHYP Network Manager); Arlene Schneir, Associate Director; Jessica Ivey, Project Coordinator II (HHYP Youth Coordinated Entry System Coordinator
In honor of California's Runaway & Homeless Youth Month, DAYAM staff members participated in United Way Los Angeles's HomeWalk with the LA Coalition to End Youth Homelessness (LACEYH). The LACEYH team brought over 30 individuals to support community efforts toward preventing and ending youth homelessness in Los Angeles County. In total, nearly 12,000 participants walked the streets surrounding Exposition Park to show solidarity in the quest to end homelessness in Los Angeles.
For more information or to refer youth, please visit the Homeless Adolescent Wellness Center or call 323-361-2153.