Respiratory Care Residency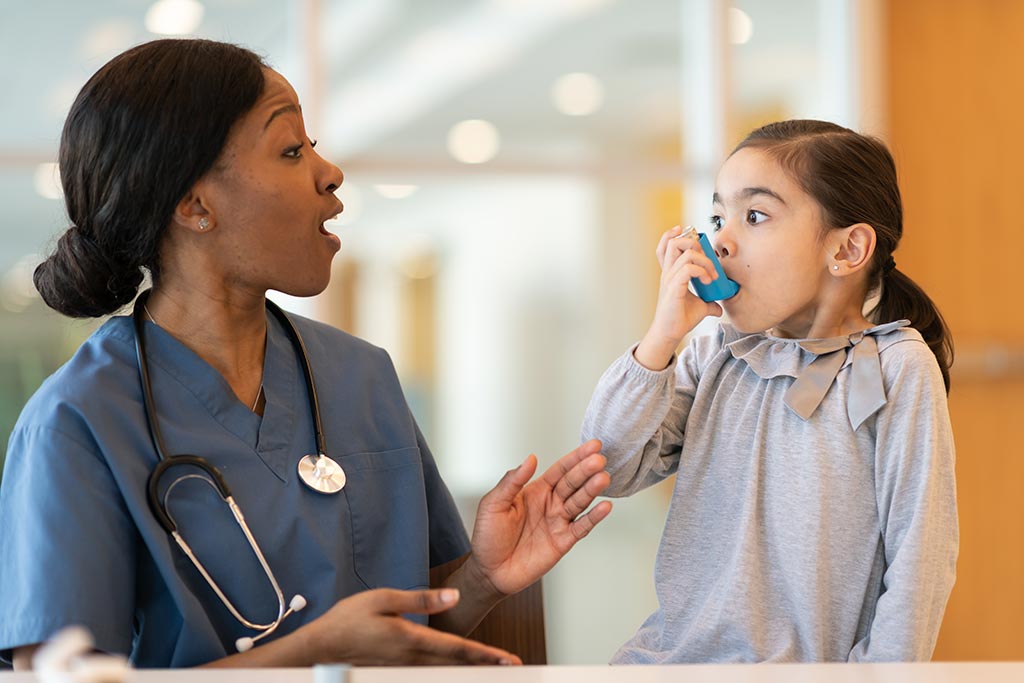 To take care of acutely ill and injured children in today's increasingly complex technological environment, new graduates from our Respiratory Care Residency Program acquire extended clinical experiences in neonatal and pediatrics with appropriate support systems for a successful transition from respiratory student to a professional Respiratory Care Practitioner.
 
Important Dates
Online Applications
Applications for the Spring 2023 cohort will open Monday February 6, 2023.
RCP Residency Initial Interviews
Interviews for Spring 2023 cohort will be held between March 20-31, 2023 by invitation only.
Upcoming Program Dates
The Spring 2023 program begins May 8, 2023.
Program Curriculum
One-to-One Preceptor Training
Our RCP residents spend 75% of the program time receiving one-to-one precepted training in the clinical setting. Our preceptors are experienced bedside pediatric and neonatal RCP's who are specially trained to provide expert clinical guidance to the resident.
Skills and Practice
Our RCP residents spend the remaining 25% of the program time in the classroom and skills lab. These sessions are taught by our experienced pediatric and neonatal RCP's, subject matter experts, and clinical specialists. Sessions give the residents the tools necessary to make the transition from new graduate RCP to specialty neonatal and pediatric RCP.
Dedicated Mentors, Coaches, and Resources
A mentor is there to help guide the resident in their career development and provide them with the tools needed for them to grow professionally.
Supportive Debriefing
Our RCP residents participate in supportive debriefing and self care groups throughout the program. Our debriefing sessions are mediated by various members of our multidisciplinary team. In these forums you can vent your stresses and share your experiences in a supportive and non-judgmental environment.
Looping
The looping experience is an individualized rotation/orientation to different areas where RCP's are used such as Emergency Transport, Pulmonary Function and Sleep Lab.
 
Retention Rate
The Versant RCP Residency Program at Children's Hospital Los Angeles was launched in 2006, and has resulted in career satisfaction rates of our previous residents, such that we have a 92% retention rate of new residents who work at our hospital.
Testimonials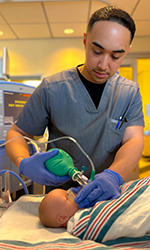 "As a new grad Respiratory Care Practitioner, the CHLA residency program gave me the opportunity to excel in the skills I learned as a student while easing me into the real world of healthcare. The 1-to-1 precepted training, classroom hours, and resources the program offered assisted me in building a solid foundation in neonatal/pediatric respiratory care."
Kevin Taloma, RCP I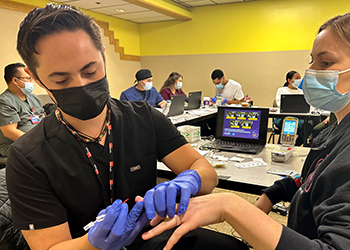 "My experience with CHLA has been and continues to be one of the most challenging yet rewarding times of my life. One of the many great things about this program is its ability to build up on my already learnt skills and education from school and help apply such skills to a real-life clinical setting. I remember my first day with the program as I was incredibly nervous, anxious, and excited. As I practice my profession each day, with the assistance of my fellow peers, I become a more knowledgeable and well-rounded respiratory therapist. Honestly, I would not have gotten this far in my career without the help of my preceptors, my peers, and CHLA. I am forever grateful to have received such an amazing opportunity to work with this great hospital."
Alexander Giesler, RCP I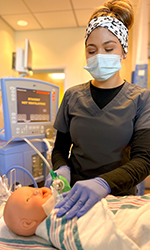 "The CHLA residency program has given me the opportunity as a new grad to further my education and really take time to settle into a new work environment. I have been surrounded by well rounded therapist's that are always willing to lend a hand in every situation. Getting the opportunity to train in every unit of the hospital with different therapist helps connect me with not only other respiratory therapist's but other healthcare workers. The residency program has also created a group of other fellow new grads that I can turn to in a time of need."
Alexis Corrales, RCP I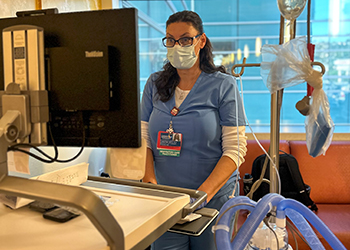 "The CHLA Residency program is such a unique opportunity for new grads to learn and grow into their role as a new Respiratory Care Practitioner. This program is designed to guide you every step of the way so that you can succeed. I love the fact that I get precepted training in each unit of the Hospital. Even after your precepted training is complete, you have a huge amount of support from your more experienced Respiratory Care Practitioners. Never once have I felt alone. Every day is a different day that is not only challenging but also rewarding. Although I was nervous when I first started , I do feel I have gained more confidence because of the Residency Program."
Christine Ortiz, RCP I
How to Apply
Qualifying Criteria
If you graduated from an RCP program within the last year you are eligible for the RCP Residency Program. A graduate of an advanced RCP program is preferred. The number of positions in the program is limited.
Note: you must have your RRT and an active California RCP license by the Monday prior to the start of the program plus you must have an active American Heart association BLS and PALS card to start the program.
Online Application
You may only apply for the residency program when the program indicates that it is accepting applications. Follow the steps below:
The online application will be open on February 6. Click here to apply.
We have a new online application process, when you are ready to apply to the program you will complete and/or upload the following:
A resume
Cover letter
Complete essay questions within the application
(Letters of recommendation are neither required nor accepted)
Complete the Packet
We have a new online application process, when you are ready to apply to the program you will complete and/or upload the following:
A resume
Cover letter
Complete essay questions within the application
(Letters of recommendation are neither required nor accepted)
License and Certifications
Must have current American Heart Association CPR, PALS and NRP Cards and must not expire for six months into the program. You must have your Respiratory CA License and RRT by April 2023.
Must obtained the Neonatal & Pediatric Specialist (NPS) certification within one year of employment.
Interview Process
After you submit your online application, if selected, you will receive an invitation to the RCP Residency initial interview meeting. You must RSVP to reserve a spot for the initial interview.
Interview will be via video by invitation only
If hired, a post-offer physical will be scheduled a specific week to allow time to start
If you have further questions, please contact an RCP Recruiter at chlacareers@chla.usc.edu
EEO Minorities/Woman/Disabled/Veterans