Thank you for your interest in participating in the CHLA Core Pilot Program.
At CHLA, our Core Pilot Program exists to supply funding support for investigators to acquire preliminary data to provide a competitive edge for securing extramural grant funding. This program is one of a number of institutional investments to grow the research portfolio of the CHLA research enterprise.
A core pilot project is defined as a short-term project to develop an applicable preliminary data set to be used in the process of developing an extramural grant proposal for submission. Pilot data also is useful for determining sample power and demonstrating data quality. Pilot project funding is not to be used for full-scale research projects or to supplement existing funded awards.
Below, please find the CHLA Core Pilot Program Toolkit and the simple steps to get started on applying for Core Pilot Program funding. The information provided is designed to help plan a successful pilot project.
Recent Awardees 
Congratulations to the recent awardees of FY22 Core Pilot Program funding!
Getting Started
| Funding Opportunity | Request for Application | Application Due | Review | Award Announcement |
| --- | --- | --- | --- | --- |
| Core Pilot Program | May 1 | Between July 1 – December 31 | Within 10 business days of receipt of application | 10 business days after receipt of application |
Step 1: Review our CHLA Core Pilot Program Resource Toolkit, hyperlinked below, which contains eligibility information, application requirements, pilot project process and list of participating Core facilities.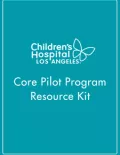 Step 2: Meet with the respective Core Director to determine the feasibility of the project idea and the timeline.
Step 3: If Core Director agrees in the project's feasibility, complete the CHLA Core Pilot Program application. Please allow 5-7 working days after submitting your application to receive a response from the Core Director and Research Operations.
Step 4: Once the pilot project is completed, the outcomes report must be submitted to the Core Pilot Project within three months of the pilot project end date. Failure to submit the outcomes report will exclude the user from participation in the Core Pilot Program for three years.