Program in Developmental Neurogenetics
The Program in Developmental Neurogenetics (PDN) will work in an integrated fashion with other programs at Children's Hospital Los Angeles (CHLA) to strategically plan and implement a research agenda to:
Discover the genetic and environmental bases for neurodevelopmentally based disorders
Determine the factors that increase risk for brain diseases
Translate research discoveries to develop new intervention and treatment strategies.
Recruitment
The PDN recruits outstanding faculty that have a proven track record of translational science in the discovery of genetic variation that underlies neurodevelopmentally based disorders and the influence of environmental factors, which when combined with genetic risk, impact brain development that imposes risk for disorders. 
New faculty will be particularly accomplished in:
Human genetics
Bioinformatics
Prenatal-perinatal biology
The recruitment will be done in parallel with efforts in neuroimaging and behavior to create neurodevelopmental disorder research teams. These faculty members will complement ongoing research efforts at the University of Southern California Health Sciences and University Park campuses. This will occur by implementing a number of campus-wide research and training initiatives. These programs will assist in making the seminal discoveries that will improve prevention and treatment of neurodevelopmental disorders.
Young Scholars Program
The Friends of the PDN Young Scholars Program will attract the best and brightest minds pursuing PhD, MD, MD/PhD or postgraduate training to advance our science efforts on neurodevelopmental disorders.
The success of the programs is linked directly to our ability to compete nationally for the most outstanding young scholars who will bring an unabashed, "outside the box" approach to the challenges of neurodevelopmental disorders, and have the potential to become the future leaders of research and clinical treatment.
The Young Scholars Program will provide clinician-scientists and scientists with the resources necessary to bring these junior scientists to CHLA, immerse them in an intense clinical and research training experiences, and ultimately afford these trainees with opportunities to secure their own research scholar funding.
Discovery Grant Program
The Friends of the PDN Discovery Grant Program will provide pilot funds for innovative research to be launched in the PDN. Grant dollars from the National Institutes of Health and private foundations funds today's research, but has become immensely more challenging to secure.
Technical advances in genetics provide the promise of meeting our mission more rapidly than ever before.
Our clinician-scientists and investigators need the resources to bring the next great idea to the bench.
PDN investigators need funds to seed research opportunities that have highest probability of making the greatest impact.
The Discovery Grant Program will provide pilot support to investigators to obtain the exciting, sometimes risky, pilot research findings needed to compete for the larger grants that will sustain the efforts of the laboratories.
Program Director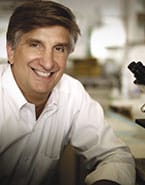 Pat Levitt, PhD
Simms/Mann Chair in Developmental Neurogenetics
WM Keck Provost Professor of Neurogenetics, Pediatrics, Neuroscience, Pharmacy, Psychiatry, Pathology and Psychology
Keck School of Medicine, University of Southern California