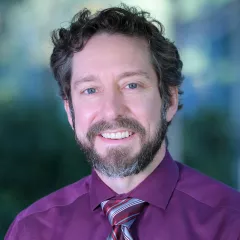 Christopher Gayer, MD, PhD, FACS, FAAP
Chief, Division of Pediatric Surgery
Co-Director, Colorectal and Pelvic Anomalies Program
Associate Professor of Clinical Surgery, Keck School of Medicine of USC
Christopher Gayer, MD, PhD, FACS, FAAP, is Chief of the Division of Pediatric Surgery and Co-Director of the Colorectal and Pelvic Anomalies Program at Children's Hospital Los Angeles, as well as Associate Professor of Clinical Surgery at the Keck School of Medicine of USC.
Dr. Gayer joined CHLA in 2012 after completing his pediatric surgery training at Children's Hospital of Michigan in Detroit. His interest in intestinal diseases led him to the role of surgical liaison for the Inflammatory Bowel Disease Program, and he helped establish the Colorectal and Pelvic Anomalies Program at CHLA, which he currently leads as Surgical Director. He also serves as Program Director of the Pediatric Surgery Fellowship Program.
Dr. Gayer received his PhD in anatomy and cell biology from Wayne State University in Detroit and has leveraged his experience and National Institutes of Health (NIH) funding to grow his laboratory at The Saban Research Institute of Children's Hospital Los Angeles. His laboratory is currently NIH-funded through the National Institute of Diabetes and Digestive and Kidney Diseases.
His research focuses on signaling pathways in inflammatory intestinal disorders. Specifically, he is studying the nuclear farnesoid X receptor (FXR), a bile acid receptor. His team has found that mice without FXR are protected against intestinal epithelial injury; he is now exploring whether there's a specific area—in either the intestine or the inflammatory pathway—where FXR is critical. His goal is to understand why this protection occurs to see if it can be manipulated in conditions, including IBD or necrotizing enterocolitis, where the intestinal barrier breaks down.
Dr. Gayer also has a passion for surgical education and mentorship, with numerous high school, college and medical students in the lab, as well as an annual rotation of surgical research and clinical fellows.
Clinical Interests
Neonatal Surgery Necrotizing Enterocolitis Intestinal Dysmotility Inflammatory Bowel Disease
Colorectal and Inflammatory Bowel Disease
Education
Medical School
Wayne State University School of Medicine
Internship
Wayne State University, General Surgery 
Residency
Wayne State University, General Surgery
Fellowship
Children's Hospital of Michigan, Pediatric Surgery
Accomplishments
Certification
American Board of Surgery; General and Pediatric Surgery
Memberships
American College of Surgeons (ACS)
American Academy of Pediatrics (AAP)
American Medical Association (AMA)
American Pediatric Surgical Association (APSA)
American Physiology Group (APS)
Association for Academic Surgery (AAS)
International Pediatric Endosurgery Group (IPEG)
Society of University Surgeons (SUS)
Surgical Infection Society (SIS)
Research
Research Summary
Intestinal physiology and pathophysiology
Necrotizing enterocolitis
Inflammatory bowel disease
Dr. Gayer is a pediatric surgeon.  His research focuses on necrotizing enterocolitis (NEC), a disease that causes intestinal necrosis in premature infants.  He studies the microbiome, which is the bacterial population of the intestine, to identify specific bile acid metabolites that cause changes in the bacterial profile of infants. Greater understanding of these mechanisms may lead to new therapeutic options for babies with NEC.