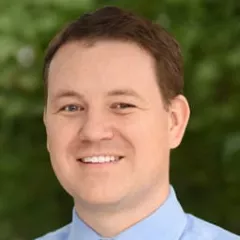 Christian Hochstim, MD, PhD
Attending Physician
Investigator, Developmental Biology and Regenerative Medicine
Assistant Professor of Clinical Otolaryngology, Keck School of Medicine of USC
Christian Hochstim completed a fellowship in pediatric otolaryngology at Stanford with broad training in a range of complex problems including airway reconstruction, aerodigestive disorders, surgical treatment of obstructive sleep apnea, and hearing loss and cochlear implantation.  He also completed a PhD in developmental biology at Caltech, and his current research focuses on stem cell and regenerative medicine based approaches to laryngeal and tracheal reconstruction and prevention of stenosis. 
Clinical Interests
Complex airway disorders, children with tracheostomy, stridor and noisy breathing,  drooling and aspiration, subglottic and tracheal stenosis, voice disorders, vocal cord paralysis, laryngomalacia, obstructive sleep apnea, hearing loss, cholesteatoma, head and neck masses and tumors
Education
Medical School
USC Keck School of Medicine
Graduate School
California Institute of Technology (PhD)
Internship
USC Keck School of Medicine, Otolaryngology
Residency
USC Keck School of Medicine, Otolaryngology
Fellowship
Stanford University, Lucile Packard Children's Hospital, Pediatric Otolaryngology
Accomplishments
Certification
American Board of Otolaryngology
California Medical Board
Memberships
American Academy of Otolaryngology-Head and Neck Surgery
American Medical Association
Medical Awards
American Society of Pediatric Otolaryngology Meeting, First Place Poster – Basic Science, 2014
Cohen-Geller Award, Pediatric Otolaryngology, Children's Hospital of Los Angeles, 2012
Mark S. Ehrenreich Prize - Medical Ethics, USC Keck School of Medicine, 2009
Publications
Publications
Selected Publications:   
Bacterial biofilms and increased bacterial counts are associated with airway stenosis. Mazhar K, Gunawardana M, Webster P, Hochstim C, Koempel J, Kokot N, Sinha U, Rice D, Baum M. Otolaryngol Head Neck Surg. 2014 May;150(5):834-40. doi: 10.1177/0194599814522765. Epub 2014 Feb 10.
A novel orthotopic mouse model of head and neck cancer and lymph node metastasis. Masood R, Hochstim C, Cervenka B, Zu S, Baniwal SK, Patel V, Kobielak A, Sinha UK. Oncogenesis. 2013 Sep 9;2:e68. doi: 10.1038/oncsis.2013.33.
Increased radiation sensitivity of head and neck squamous cell carcinoma with sphingosine kinase 1 inhibition.  Sinha UK, Schorn VJ, Hochstim C, Chinn SB, Zhu S, Masood R. Head Neck. 2011 Feb;33(2):178-88. doi: 10.1002/hed.21418.
Biofilm detection with hematoxylin-eosin staining.  Hochstim CJ, Choi JY, Lowe D, Masood R, Rice DH. Arch Otolaryngol Head Neck Surg. 2010 May;136(5):453-6. doi: 10.1001/archoto.2010.62.
Identification of positionally distinct astrocyte subtypes whose identities are specified by a homeodomain code.  Hochstim C, Deneen B, Lukaszewicz A, Zhou Q, Anderson DJ. Cell. 2008 May 2;133(3):510-22. doi: 10.1016/j.cell.2008.02.046.
Research
Research Summary
Molecular mechanisms of laryngeal and tracheal stenosis formation, laryngeal and tracheal development, stem cells and laryngeal and tracheal regeneration