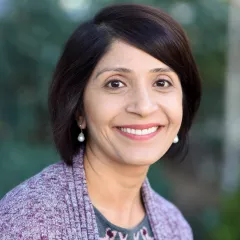 Bhavana Arora, MD, MBA
Assistant Clinical Professor; Chief Medical Officer, CHLA Care Network
Dr. Bhavana Arora is the Chief Medical Officer of the Children's Hospital Los Angeles Care Network and a Clinical Assistant Professor of Pediatrics at Keck School of Medicine. She sees patients at the Boone Fetter clinic.  Dr. Arora is Board-certified in General Pediatrics and completed her residency training at University of California Los Angeles. She also has a Master's in Business Administration from University of Massachusetts, Amherst.
Dr. Arora is passionate about elevating the health of communities and building ecosystems to support providers, patients and families that extend expert pediatric care from CHLA.  A particular focus is addressing the mental health crisis of rising rates of anxiety, depression, suicide and substance use.  She collaborates with pediatricians in the community to enable them to provide much needed treatment for the mental health needs of the patients.  In addition, she participates in advocacy efforts on the state level with California Children's Hospital Association and on the federal level with Children's Hospital Association for improved mental health access, payment, and support.
Prior to her current role at Children's Hospital Los Angeles, Dr. Arora served as Assistant Utilization Management Director and Chair of the Department of Pediatrics for the Providence Health System. She also served on the board of Providence Health Network and as the Quality Director for Providence Health Network.
Education
Medical School
State University of New York, Syracuse, NY
Publications
Publications
Bradley S. Peterson, MD; Amy E. West, PhD; John Weisz, PhD; Wendy J. Mack, PhD; Michele D. Kipke, PhD; Robert L. Findling, MD, MBA; Brian S. Mittman, PhD; Ravi Bansal, PhD; Steven Piantadosi, MD, PhD; Glenn Takata, MD; Corinna Koebnick, PhD; Ceth Ashen, PhD; Christopher Snowdy, MD; Marie Poulsen, PhD; Bhavana Kumar Arora, MD, MBA; Courtney M. Allem; Marisa Perez LMFT; Stephanie N. Marcy, PhD; Bradley O. Hudson, PsyD; Stephanie H. Chan, MD; Robin Weersing, PhD. A Sequential Multiple Assignment Randomized Trial (SMART) Study of Medication and CBT Sequencing in the Treatment of Pediatric Anxiety Disorders. BMC Psychiatry 21, Article number:323 (2021)
Arora BK, Klein MJ, Yousif C, Khacheryan A, Walter HJ. Virtual Collaborative Behavioral Health Model in a Community Pediatric Network: Two-Year Outcomes. Clin Pediatrics. 2023.  PMID: 36988180.
Research
Research Summary
Behavioral Health, Digital Health, Population Health, Quality Improvement in General Pediatrics