Our Social Work Internship offers second-year MSW students the opportunity to learn medical social work from highly-skilled, dedicated clinicians. Interns accepted into the program participate in all aspects of social work at the hospital, following patients and families from diagnosis of a medical condition through discharge, home care and end-of-life interventions.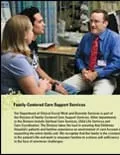 Read Our Social Work Program Brochure
Program Information
Interns are assigned to a "teaching team" comprised of a field instructor and a preceptor who work together to guide our interns through the challenging world of pediatric medical social work. Interns are valued members of the Social Work Department and emerge from their experiences with invaluable skills and an appreciation for the challenges of working as a social worker in health care. 
Intern Representation
The majority of our interns are enrolled at local schools such as the University of Southern California, the University of California Los Angeles, and California State University Long Beach. However, we also have representation by students from institutions as far away as Texas State University and Smith College in Massachusetts.
Schedule
Social Work Internships are available for full academic year terms.
To Apply
Please call the Clinic of Social Work at 323-361-2485.