Pediatric Otolaryngology Fellowship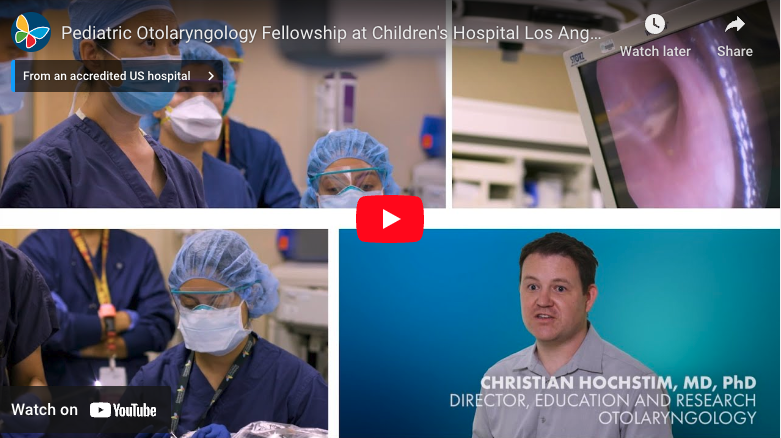 This ACGME-accredited fellowship is 12 months.  The curriculum will enable the fellow to acquire the knowledge, skills, and judgment required to competently practice pediatric otolaryngology in either an academic or private practice setting.  Under supervision of the full- and part-time faculty, the fellow will participate in patient care with a graded and progressive responsibility in outpatient clinics, inpatient, emergency room, and ICU consultations, and surgical procedures.  The fellow will also participate in multi-disciplinary clinics and teams such as Maternal Fetal Medicine, Soft Tissue Oncology, Vascular Anomalies, Microtia, Thyroid/parathyroid (Endocrine), Rhinology/sinus surgery, Otology/cochlear implant, Craniofacial Team, Voice, Functional Endoscopic Evaluation of Swallow (FEES), and Aerodigestive Tract and Sleep.
The fellow will engage in scholarly activity throughout the year with a minimum requirement of submission of a research project for the annual ASPO meeting and complete at least one quality improvement project.  A full-time research study coordinator is available to the fellow to facilitate both basic science and clinical research.  There is no on-call duty to work during a weekend or holiday except for a surgical case that is 'complex (or) infrequently encountered in the general practice of otolaryngology' which is an ACGME requirement.
Why Choose CHLA
Children's Hospital Los Angeles (CHLA), founded in 1901, was the first pediatric hospital in Southern California and is the largest in the area with more than 320 beds including 106 critical care beds offering more than 350 pediatric specialty programs and services.  CHLA consistently ranks in the top 10 children's hospitals in the nation according to the US News & World Report and is a referral center for Southern California, nationally and internationally.  Founded in 1985, the American Society of Pediatric Otolaryngology's (ASPO) first president was Dr. Seymour Cohen whose practice was at CHLA.  The Division of Otolaryngology at CHLA is the largest group of fellowship-trained pediatric otolaryngologists in Los Angeles. 
There is only one fellow each year in this ACGME-accredited program.  All activity occurs at one location, the Children's Hospital Los Angeles main campus on Sunset Blvd.  Fellows are involved in the care of both common and complex otolaryngologic disorders in infants, children, and adolescents of a diverse population in one of the nation's largest cities.  This offers the fellow a significant clinical and surgical experience.  All ACGME requirements are met or exceeded including the surgical case index for pediatric otolaryngology fellows.  All full-time pediatric fellowship-trained faculty have received their training from different institutions across the nation offering the fellow a variety of perspectives and approaches to patient care.  The fellow will work directly with other faculty who are fellowship-trained in otology/neurotology, rhinology/sinus surgery, endocrine or facial plastic surgery.  The majority of faculty have an additional graduate degree such as an MBA, PhD, or MPH.
Program Fast Facts
ACGME Accredited: Yes
Fellows per year: 1
Duration: 12 months
Postgraduate Training Required: completion of an ACGME or RCPSC-accredited otolaryngology residency
CA Medical License Required: Yes
U.S. Citizenship Required: No
Salary Minimums:

Post Graduate Year 4: $78,531 minimum
Post Graduate Year 5: $81,677 minimum
Post Graduate Year 6: $84,712 minimum
Post Graduate Year 7: $87,652 minimum
Post Graduate Year 8: $90,952 minimum
Post Graduate Year 9+: Please contact gme@chla.usc.edu

Benefits Include: Medical and dental insurance; 14 days paid vacation + 6 personal days; travel stipends for ASPO meetings
Other 'fast facts':
University Affiliation: Keck School of Medicine of the University of Southern California
Call Requirements: None
Research: Expected; dedicated time; full access to the Division's research study coordinator
Resident Supervision: Yes – 2 residents
Training Details
Operative Experience: includes the full spectrum of pediatric otolaryngology; congenital and acquired head and neck disorders, soft tissue benign and malignant tumors, thyroid/parathyroid, laryngology and bronchoesophagology with open and endoscopic procedures and videostroboscopy, otology with cochlear implant, chronic ear to include endoscopic approaches, sinus surgery to include both endoscopic and external approaches
Clinic Responsibilities: general otolaryngology clinic as well as multi-disciplinary clinics and teams such as Maternal Fetal Medicine, Soft Tissue Oncology, Vascular Anomalies, Microtia, Thyroid/parathyroid (Endocrine), Rhinology/sinus surgery, Otology/cochlear implant, Craniofacial Team, Voice, Functional Endoscopic Evaluation of Swallow (FEES), and Aerodigestive Tract and Sleep
How to Apply
Application Deadline: February 1 through the SF Match
Application requirements: central application from SF Match and two letters of recommendation including one from the residency program director; a photo is requested