Gastroenterology Fellowship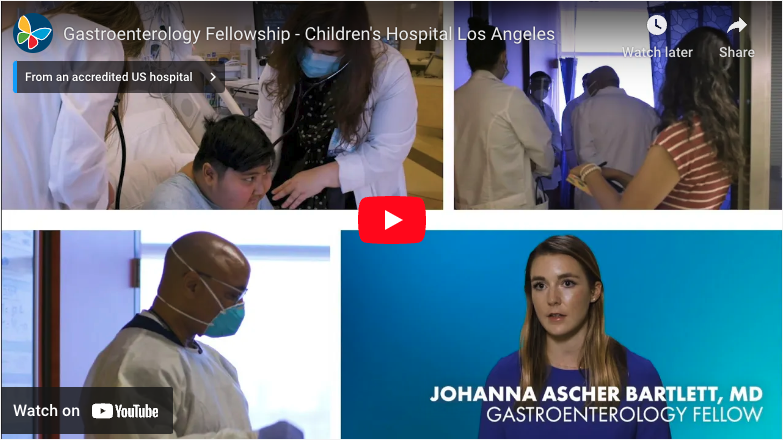 About the Fellowship
The Pediatric Gastroenterology Fellowship is a three-year program designed to offer each trainee a strong clinical and research experience to prepare for the subspecialty boards in Pediatric Gastroenterology and Nutrition.
Learn More About the Program
Our Division offers the following clinical programs:
Gastroenterology
Liver and intestinal transplant
Intestinal rehabilitation and nutrition
Advanced endoscopy and motility testing
Following completion of the three-year training program, you will be able to:
Care for both common and complicated gastrointestinal, hepatic and nutritional disorders.
Provide high quality consultations for gastrointestinal, hepatic and nutritional complications of primary disorders involving other organ systems.
Perform standard gastrointestinal diagnostic and therapeutic procedures.
Design and complete a research project in an area related to the practice of pediatric gastroenterology.
Teach the fundamentals of gastrointestinal pathophysiology and clinical gastroenterology to medical students, residents, fellows and practicing physicians.
Serve as an advocate for providing comprehensive and compassionate care for children with gastrointestinal, hepatic and nutritional disorders.
Provide administrative leadership in an academic and/or clinical pediatric gastroenterology practice, using knowledge of current trends in health care funding.
Obtain subspecialty certification by the Sub-Board of Pediatric Gastroenterology after passing the certifying examination.
Research
Our fellows are actively involved in leading-edge clinical and basic science research studies to better understand complex gastrointestinal diseases in children. Some of their current research projects include:
Effect of ICG 001 on liver cancer cells proliferation and apoptosis
Differential regional Vegf expression in hepatic fibrosis
Using the connectivity map in finding new treatments for IBD
The Effects of Heregulin Injection in a Mouse Model of Colitis
Small intestinal bacterial overgrowth and chronic abdominal pain
TLR polymorphisms in inflammatory bowel disease
How to Apply
The CHLA Gastroenterology Fellowship Program is a part of the National Resident Matching Program (NRMP). Our program takes applications via the Electronic Residency Application Service (ERAS). If you are interested in applying for our fellowship program, you will need to apply through ERAS application process.
Program Fast Facts
AGME Accredited: Yes
Fellows Per Year: 2
Application Deadline: Dec. 31
Duration: 3 years
Postgraduate Training Required: 3 years
U.S. Citizenship Required: No
Salary Minimums:  
Post Graduate Year 4: $78,531 minimum
Post Graduate Year 5: $81,677 minimum
Post Graduate Year 6: $84,712 minimum
Post Graduate Year 7: $87,652 minimum
Post Graduate Year 8: $90,952 minimum
Post Graduate Year 9+: Please contact gme@chla.usc.edu
Benefits Include: Health and dental insurance, 14 days paid vacation+ 6 protected sick days, yearly educational stipend, monthly meal stipend, and 401(k) matching up to 3%
Additional Gastroenterology Training at CHLA
Other opportunities for GI training include: