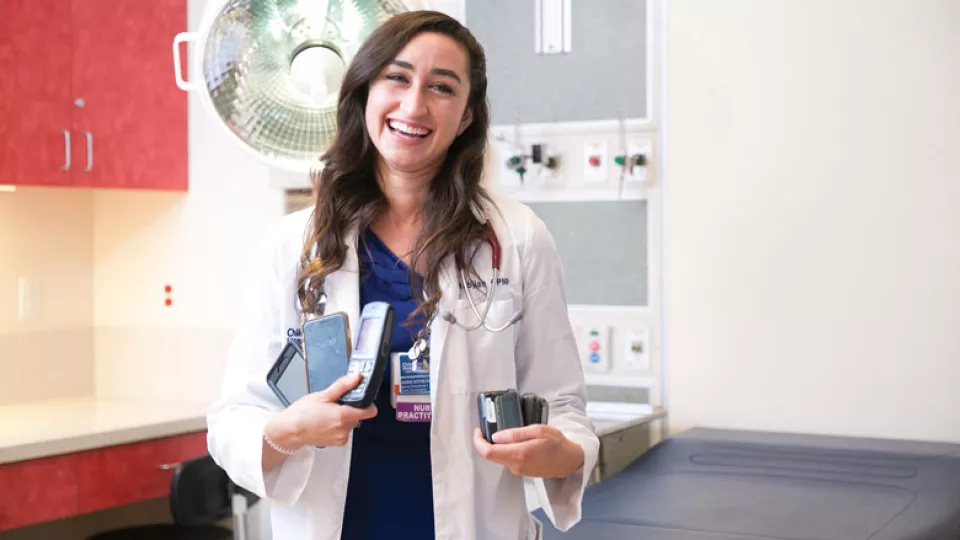 Work That Matters
Relishing the Challenges of Managing Patients With Complex Needs
For Anna Kitabjian, MSN, RN, CPNP, the opportunity to manage the care of children with complex needs and to mold a brand new position hold equal satisfaction.
"Having the chance to show what a nurse practitioner can do is extremely rewarding," says Kitabjian of her role as the first nurse practitioner on the Division of Hospital Medicine's Complex Care team. "So is stepping up to the plate and helping my patients get better and go home."
Kitabjian joined Hospital Medicine in 2017 after working on 6 East, then returning to school to earn her master's and NP certification.
Her first assignment with the Complex Care team was an unusual one—six patients ages 7 months to 5 years with spinal muscle atrophy (SMA) flew to Children's Hospital Los Angeles from their homes in Kuwait, where there was no treatment for the rare genetic disease at the time. The No. 1 cause of genetic death for infants, SMA can take away the ability to walk, eat or breathe.
For patients to be seen by the Complex Care team, they must have an illness that involves four or more body systems that need managing. The goal of the multidisciplinary group is "to have a comprehensive knowledge of these challenging patients and to look at their care longitudinally," says Kitabjian.
Three more Kuwaiti patients with SMA would come under Kitabjian's watchful eye. Each remained for one to two years; the final one went home this July. She is now actively managing four to six inpatients, and others as outpatients, diagnosed with a variety of multisystem illnesses.
Physicians rotate patient visits weekly. Kitabjian provides continuity. "I see my patients' patterns," she says. "I recognize things that work and didn't work, what causes their condition to flare up or down, what makes them smile."
A self-described "eternal scholar," Kitabjian is diving into research on fasting guidelines for patients with SMA. "It's exciting to have the potential to impact the standard of care." With so much to learn about each patient, she says, "this is a dream job."
Find your career at CHLA
Join a hospital where the work you do matters. Visit Jobs.CHLA.org and apply today!