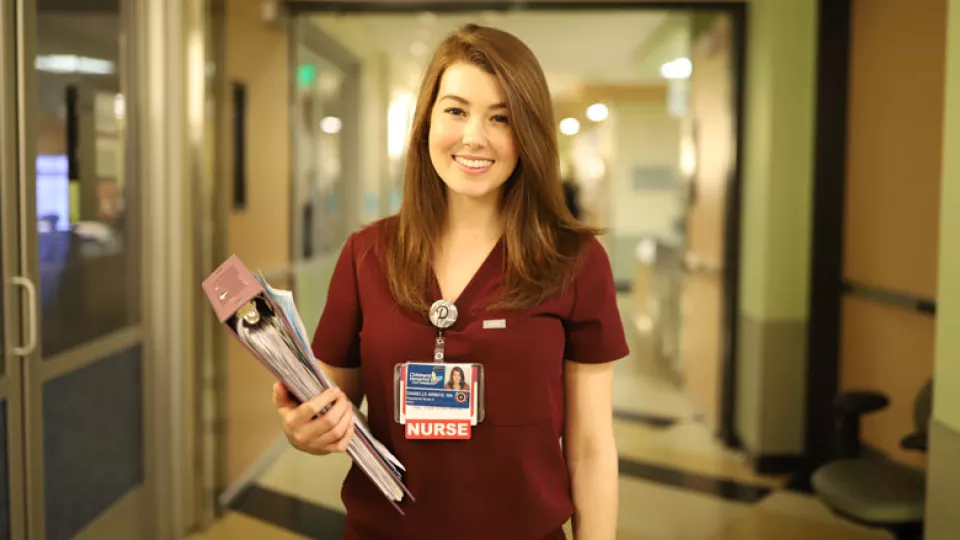 Work That Matters
Nursing in the Blood
Realizing a lifelong dream at CHLA
"Knowing I have the support—from co-workers and managers alike—to be the best nurse I can be is truly invaluable." – Danielle Arbios, RN
"The idea of becoming a nurse was instilled in me early on. My younger brother has life-threatening food allergies, asthma and seizures. That means that from a young age, I was always a caregiver. When my mom wasn't there, I was always analyzing food labels on everything. My grandmother also was a nurse. You could say it's in my blood."
This is my first full-time nursing job. I chose intensive care because I like the pace. Everything is always at the next level; everything's always happening at once. I'm an intense person so I like the high-adrenaline environment. I love how much we have to be on our toes and pay attention to different body symptoms. I also love that we get to focus on one or two patients each shift, and that we get to work closely with the doctors. It all makes me feel like I'm really making a difference in our patients' lives."
Teamwork in my unit is fantastic—we root for each other. I know every time I go to work my co-workers will have my back no matter what. We have a social committee that's always planning fun events to boost morale. My managers support me, too—I know they would stand behind me 100% in going back to school or doing whatever I wanted to do to further my nursing career. Even when I leave a shift feeling defeated, I know I can talk to my co-workers about what's going on without being judged. Knowing I have the support—from co-workers and managers alike—to be the best nurse I can be is truly invaluable. There are nurses in my unit who have worked here 30 years and they're still loving it. I always hoped I'd end up working for a hospital like this one."
— Danielle Arbios, RN, Pediatric Intensive Care Unit
Find your career at CHLA
Join a hospital where the work you do matters. Visit Jobs.CHLA.org and apply today!