Work That Matters
Nurse Practitioner Reflects on Olympic Games Experience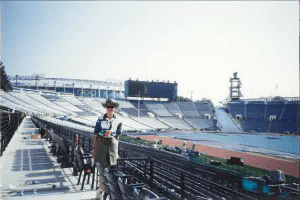 Every two years, we get into the Olympic spirit at Children's Hospital Los Angeles. The patients and staff get inspired watching the United States compete. The Olympics provide hope to many kids that with hard work and determination, they can reach their personal goals. Yet, with more than 4,200 people on staff at the hospital, we were curious if any staff had an Olympic experience to share.
This is Catherine Goodhue's story. Catherine Goodhue, MN, CPNP, is a Nurse Practitioner II in the Division of Pediatric Surgery at Children's Hospital Los Angeles.
In 1996, Catherine worked for the Orange Unified School District as a nurse practitioner/school nurse and had the summer off. A friend of hers was working in Atlanta for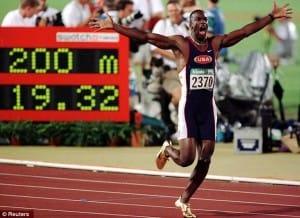 the 1996 Centennial Olympic Games. Catherine and several of her friends (all from Los Angeles) received jobs working at the 1996 Summer Olympic Games, all thanks to her friend. "Some of us were at the Olympic Stadium for track and field events and a few were at the Georgia Tech Aquatic Center for swimming events," Catherine said.
The entire experience was exciting and challenging at the same time. For example, Catherine and her colleagues were often working until midnight and then expected to return the following morning at 7-8 a.m. In three weeks, she only received one day off. However, being able to experience the infectious bustling action of the Olympic Games outweighed the challenges. Catherine enjoyed being able to take lunch to the camera men in the stands and having access to the press box to watch the athletes compete. In fact, she still has a piece of the track from Olympic Stadium, which compliments her favorite memory of watching Michael Johnson run in his gold track cleats up close and live!
Do you have a favorite memory of watching the Olympic Games on television (or in person)? Please share in the comments below.