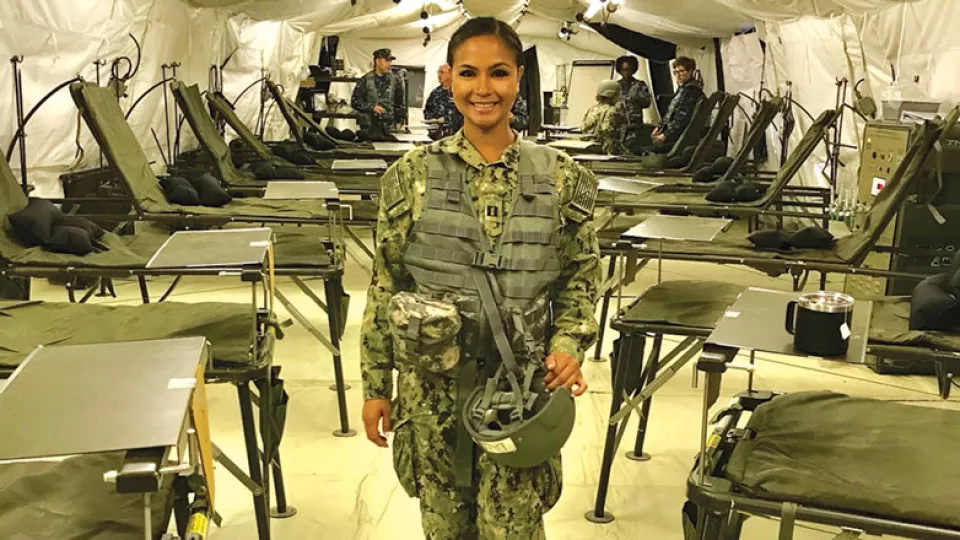 Work That Matters
Naval Connection Inspires Her to Serve
With an uncle who's a retired naval officer, another uncle who retired as a chief and one cousin currently on active duty in the Navy, Katrina Lazo, BSN, RN, CPN, felt it was her duty as a nurse to help those who serve on the front lines.
In 2015, she began the process of joining the Navy Reserve Nurse Corps, which provides care and training to Navy personnel at naval hospitals, clinics, operational support centers and naval air sites and aboard ships.
Lazo, who works nights on the Float Team's medical-surgical team at Children's Hospital Los Angeles, underwent peer and manager evaluations, attended officer training to learn about Navy officer etiquette and had to pass rigorous physical tests. These included a deep water jump off a 10-foot board, swimming 50 yards and floating on water for five minutes, known as a "dead man's float."
A year later, she was a commissioned officer with a lieutenant (junior grade) rank, attributed to her education and CHLA work experience. As a member of the nurse corps, she dedicates two days each month and two weeks a year to training exercises.
"We build hospitals in the field from the ground up so they're fully functional with a triage area, ORs, IVs, beds, doctors, nurses and others," says Lazo, whose responsibilities include giving physical health assessments, checking vitals and training corpsmen, or enlisted medical specialists. "My training consisted of mass casualty and medical training in field hospitals and simulating living in an austere environment. It's like we're actually deployed sleeping in tents or barracks with port-a-potties and eating MREs (meals ready-to-eat)."
She says her work with the Navy has made her a better nurse. "The leadership skills I've learned make you step up to lead others. That has helped me advocate for patients and families at CHLA. If we had an emergency, I think my instincts would kick in and I'd have a clear mind to focus on what we need to do."
Lazo, now a lieutenant, knows she can be deployed at any time, and she'll be ready to go. But don't thank her for her service—or equate her with the sailors. "I'm not on the front lines—the warfighters are the ones with the hard job. It's just my job to get them home."
Find your career at CHLA
Join a hospital where the work you do matters. Visit Jobs.CHLA.org and apply today!