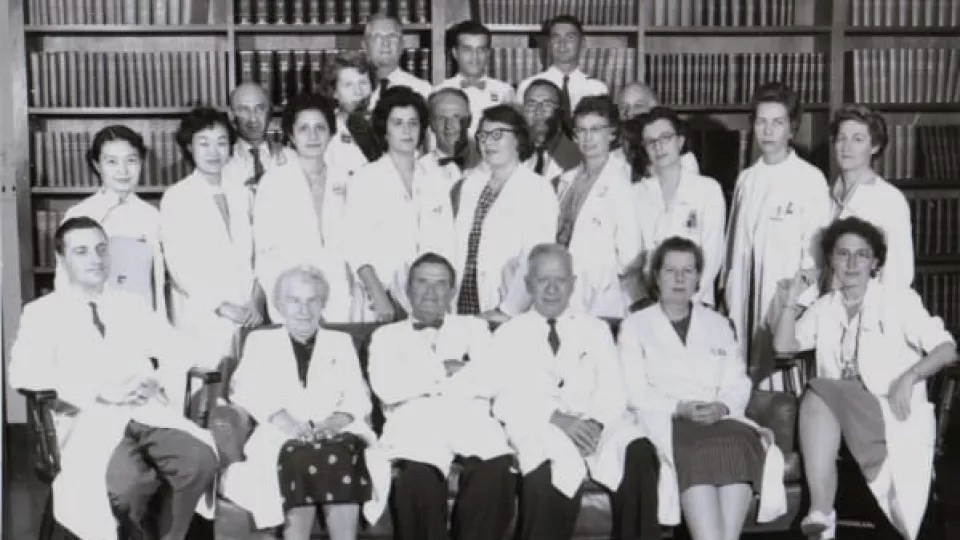 Work That Matters
Making Doctors Better Doctors
Honoring CHLA physician Barbara Korsch, MD, a pioneering researcher in the field of doctor-patient communication
Doctors should listen to their patients, empathize with them, and find ways to communicate effectively with them.
Sounds like common sense, right?
This hasn't always been the case, though. What was once ignored, or even scoffed at, is the standard of care today. For that, we have Children's Hospital Los Angeles physician Barbara Korsch, MD, to thank.
Korsch's life would be considered extraordinary even if she hadn't changed the face of modern medicine. Her family fled Nazi Germany before World War II, where her father was persecuted for being an outspoken socialist. She entered one of the best medical schools in the country, Johns Hopkins School of Medicine, at the young age of 20, at a time when few women were studying to be physicians. She graduated in just three years as part of an accelerated program to train more doctors during wartime. Then, she went to work in medicine.
Early in her career, while director of the Outpatient Department at New York Hospital – Cornell Medical Center in New York City, she began to notice communication problems between doctors and the parents of her young patients. She also noticed that often these families didn't return for follow-up visits. When she investigated, she found that parents felt the doctors hadn't understood, or worse, hadn't cared about their concerns.
"Years before I started my studies, there had been articles about uncooperative patients, but they always blamed the patient. 'The patient was stupid, was uneducated, didn't accept authority,'" said Korsch in a 2008 documentary produced about her life and career. "… And I began to realize that it was neither the patient nor the disease nor the particular treatment, but that the roots of the problem lay in the doctor-patient relationship."
Never one to accept the status quo, she decided something had to be done. "In my family, there is a very long tradition of not accepting what's going on if it doesn't seem right," she said. "None of them were ever afraid to say 'It's not right. Let's find out why." And she was no different.
In 1961, Korsch came to work at CHLA. Though her husband, Robert Ward, MD, was chief of the Department of Pediatrics, nepotism didn't get her on the staff. In fact, it almost kept her off of it. Leadership said it wouldn't be appropriate for her to work for her husband, so she spent some time at another hospital, where she conceived of a landmark 1,000-patient study to address the importance of doctor-patient communication. She also landed a sizeable grant to fund the project. In need of a higher patient volume, she came back to CHLA with her grant in hand, and got to work.
Korsch and 10 research assistants videotaped live doctor-patient encounters, then interviewed the patient families immediately after the meeting and again two to three weeks later. The results were stark; for patient families who said they were highly dissatisfied, only 17 percent were compliant with the doctor's orders. Her research showed that a doctor's effectiveness as a communicator had a direct connection to the quality of care the patient ended up receiving. The smartest doctors in the world were useless if they couldn't convince their patients that they had their best interests at heart.
Korsch's study was published in Scientific American, a magazine read by the general public in addition to the scientific community, and it received one of the largest responses to any of the magazine's articles at the time.
As a result of her groundbreaking findings, she set about to create teaching methods that would help pediatric residents realize that parents were as much patients as their sick child. She landed on a supremely effective teaching tool: videotaping residents during interactions with patients, reviewing the tapes and offering feedback.
"She was a pioneer in everything that she did," says Robert Adler, MD, MSEd, chief medical officer of the CHLA Health System and senior advisor to the chair of the Department of Pediatrics. Adler first met Korsch in 1973, when he was an intern at CHLA, and she helped shape his career, encouraging him to conduct his own research.
Though getting the medical community to embrace her findings was an uphill battle, she persevered, and her tenacity was recognized. Korsch was elected to the prestigious Institute of Medicine in 1981—CHLA's first-ever member, and the first female to be elected from the University of Southern California (USC). Among her many accolades, she received the Ambulatory Pediatric Association Distinguished Career Award, the American Academy of Pediatrics C. Anderson Aldrich Award, and the Faculty Lifetime Achievement Award from USC in 2006. She was also awarded the first-ever Children's Hospital Academic Affairs Appreciation for Longevity of Service Award in 2011.
"Many people ask me, 'You know, you've been teaching this for 50 years. Has communication gotten any better?'" said Korsch in the 2008 documentary. "I am not egocentric enough to think I personally have made a lot of difference, but I certainly was the one who drew attention to it as a problem, and was the first to attempt to deal with the problem."
She wrote numerous books and articles on the subject, and lectured around the world as well—and her drive for effective communication wasn't confined to the exam room.
"She was asked often times to speak in international forums," says Adler, "and she always made an effort to learn the language of whatever country she went to."
Already fluent in five or six languages, she would make it a priority to learn at least enough to have a conversation, Adler notes. "If she went to Poland, she learned Polish. If she went to Japan, she learned Japanese. Her commitment to communicating with people in their own language was remarkable."
Korsch turns 95 on March 30, 2016. Until only a few months earlier, she was still supervising residents in Continuity Clinic, where new doctors learn the skills of dealing with patients and families. Her health has necessitated that she finally retire fully from working, but the indelible mark she's left on CHLA and the entire field of medicine will cement her legacy for generations.
Many thanks to Caroline Harding Productions for archival interview footage. To view "Portrait of a Pioneer," the 2008 documentary on Barbara M. Korsch, MD, visit www.PortraitofaPioneer.com.
Timeline
Born March 30, 1921 in Jena, Germany
Arrived in United States in 1936 after fleeing Nazi Germany
Bachelor's Degree, Smith College, 1941
Medical Degree, Johns Hopkins University, 1944
Completed fellowship at Institute of Child Development, Cornell University, 1949
A founder and the first chair of the Ambulatory Pediatric Association, 1953
Came to work at Children's Hospital Los Angeles 1961
Professor of Pediatrics, Keck School of Medicine of the University of Southern California 1969-2012
Published landmark study on doctor-patient communication in Scientific American magazine, 1972
Division Head, General Pediatrics, 1981-1991
Elected to the prestigious Institute of Medicine of the National Academy of Sciences, 1981
Barbara M. Korsch Training/Research Award for USC faculty and trainees established in her honor, 1997
Published "The The Intelligent Patient's Guide to the Doctor-Patient Relationship: Learning How to Talk So Your Doctor Will Listen" with Caroline Harding, 1997
CHLA Academic Affairs Appreciation for Longevity of Service Award, 2011