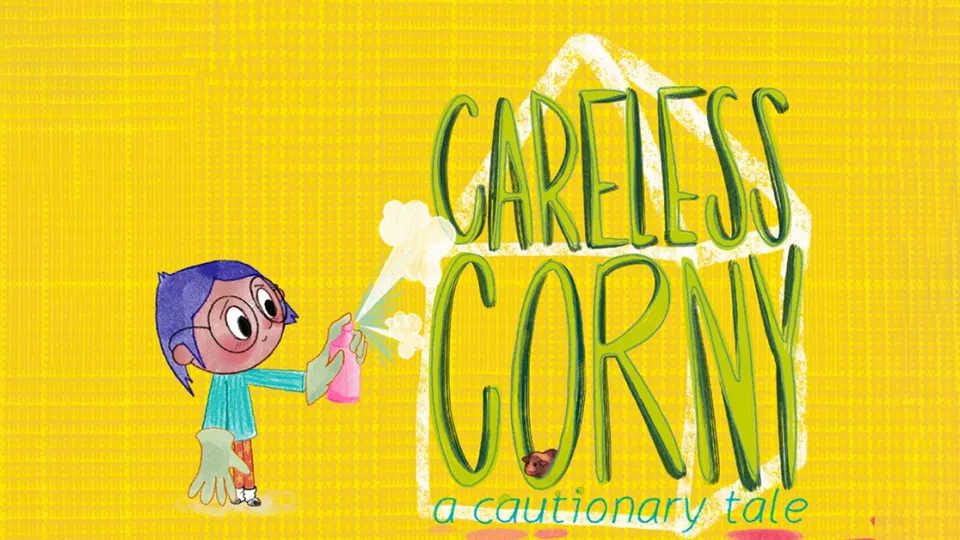 Work That Matters
CHLA Children's Book on COVID-19 Reaches Out to Kids and Adults
Helping children feel empowered to cope with challenging, often scary circumstances—like the worldwide pandemic of the novel coronavirus—is at the heart of Children's Hospital Los Angeles. So it makes perfect sense for the hospital to publish an illustrated children's book about the pandemic, called "Careless Corny: A Cautionary Tale."
The informative, entertaining book is designed to help children navigate the coronavirus pandemic and was written by staff members from the hospital's Family-Centered Care Support Services. The effort was led by Kyle Horne, CNP, who manages Literally Healing, the hospital's reading program that provides recreational and therapeutic reading materials to support patients and their family members.
"Books are a critical helping hand for kids dealing with change and anxiety," says Horne. "Through stories, they can begin to understand and process their emotions." His co-authors were Child Life Specialist Erin Shields, CCLS, and Art Therapist Nicole Albers, LMFT, ATR-BC. The story was illustrated by Rebecca Yeretzian-Santana, ATR, also an Art Therapist at the hospital.
"Careless Corny" is being given to patients in a softcover print version in English and Spanish. It also can be downloaded as a free e-book in English, Spanish, Arabic, Farsi, Armenian, Vietnamese, Korean, and traditional and simplified Chinese, at CHLA.org/CarelessCornyBook.
"Children's Hospital Los Angeles is not a publishing house," says Horne. "This book was created to further the work the hospital does daily to support the whole child and families."
The collaborators analyzed other books on the market about the coronavirus and felt they could create something unique and provide a message that kids need to hear, "with a balance of accurate medical information and acknowledgement of their feelings," says Horne.
"Careless Corny: A Cautionary Tale"does double-duty, helping children understand the issues they're facing while also reaching out to parents and caregivers with tools and tips to have difficult conversations with their child. "Sometimes just starting to talk about something is the hardest part," says Horne.
The hospital launched the book on May 5, #GivingTuesdayNow, a national day of fundraising in response to the pandemic. Every donation that day also funded delivery of a copy of the book to a hospitalized patient. Currently, CHLA is continuing to give copies to families who visit its Sunset Boulevard facility.
"Careless Corny"opens with a foreword from Academy Award-winning actress Natalie Portman, a longtime hospital supporter. "I'm thrilled that Children's Hospital Los Angeles is helping children deal with these big issues in language they can understand," she writes. In addition, Portman donated her time to narrate the story in a video presentation featured on the hospital's Facebook, Instagram and YouTube channels. On the day of its release, the story earned the most views on the hospital's Instagram TV feed ever.
The book tells the story of a young child who gets an unexpected visit from Corny Coronavirus, a bumbling green blob ready to spread germs everywhere ("I'm covered in 'em," Corny says.) The child is unsure what to do at first, but ignores Corny to attend school online, where there are lessons about health, such as washing hands and wearing a mask.
The writing team debated making Corny the "bad guy," a scary thing the child has to fight. "But we didn't want to put more fear in kids, there's enough out there already," says Horne. Another intentional choice was not featuring a sick or hospitalized child and, instead, focusing on a child's day-to-day life.
The child grows in confidence, eventually building a "six-foot slime shield" against Corny. At the same time, the story validates how kids may be feeling, from scared to frustrated to worried. No parents make an appearance, but there is one kindly adult presence—the child's Nana, via a video call, who assures "it won't be this way forever."
Helpful guidance for parents and caregivers is included at the end of the book. "Your child might not be able to tell you that they are stressed, but their behaviors will," one tip says. "Even a totally independent child might now seem clingier and more afraid of the dark."
Just one inspired response to the challenge of providing services during a pandemic, Cornyalso drew on talents from throughout the hospital to get it into production as quickly as possible, including staff from Nursing, Psychology, Marketing Communications and Infection Prevention and Control. "This book represents what makes Children's Hospital Los Angeles so wonderful—that all of these different departments came together to make it happen," says Horne.
The response so far has been overwhelmingly positive, and the book is being shared widely by kids and families, who report that it has met one of the creative team's biggest goals—kids are asking their parents to "read it again."
Click here to download your own e-copy of the book.