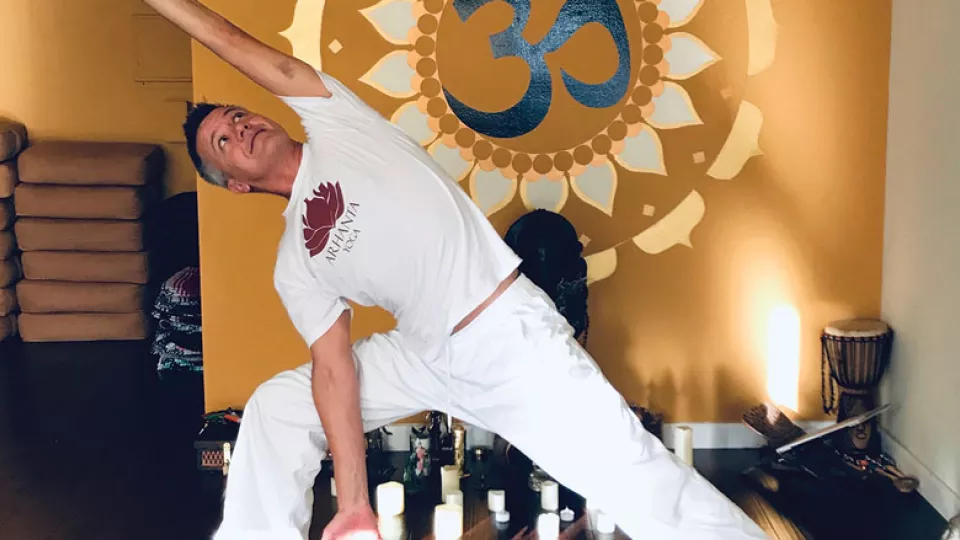 Work That Matters
Beyond the Mat – A Retreat for Mind and Body
For Michael Rokovich, BSN, RN, RNC, lead nurse in Surgical Admitting, yoga is so much more than fitness. It's an anchor—a way to find his center on a daily basis and especially during uncertain times.
Rokovich began his career as a restaurant manager in Texas after finishing college. It was only after the birth of his oldest daughter in 1990 that he thought about nursing. His daughter was born premature and spent almost three months in the hospital. During that time, Rokovich got to know the nurses and felt a calling for a career shift. It took 10 years, but he made it happen.
Throughout his career transition and the challenges of raising a family, Rokovich found himself relying on his one constant—yoga practice.
"It's not just exercise classes," says Rokovich, who received his hatha yoga teaching certificate last year. "It's a complete spiritual system. It has always made me feel calm and at peace."
He started by taking a few yoga classes and buying some yoga videos and continued with what he calls his "self study." After moving to Los Angeles, he took yoga classes with his wife. Last year, he completed his 200 hours of training for his teaching certificate.
"It's amazing to have had the opportunity to do this," Rokovich says. "To gain this knowledge and to be able to share it with other like-minded yogis has really boosted my personal practice."
The intensive training has taught Rokovich that the "mind and body are connected in a very intimate way" and that through deep breathing "you can gain control of the link between the subconscious and the conscious mind." Yoga especially empowers Rokovich's work at Children's Hospital Los Angeles. "As nurses, we need to be present with our patients at this moment and that's what yoga teaches you—be here now."
Find your career at CHLA
Join a hospital where the work you do matters. Visit Jobs.CHLA.org and apply today!