Health Screenings Ensure Staff, Visitors at CHLA Are Free of COVID-19 Symptoms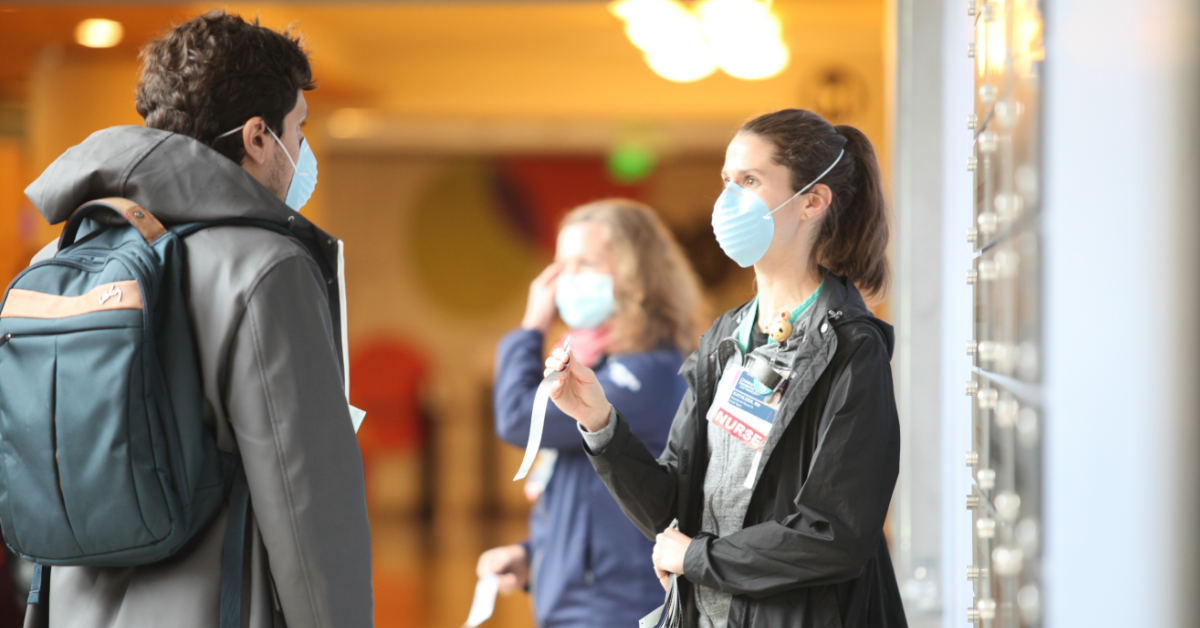 The quick mobilization of screenings by CHLA's nursing team promotes a safe care environment during the novel coronavirus pandemic.
By Monica Rizzo
Since March 17, more than 2,500 employees and around 1,000 visitors a day have been greeted by team members who check symptoms and ask them a series of questions about their health, their family's health and their fatigue level.
If no symptoms exist, the person is given a mask and allowed to enter the hospital. But if someone exhibits any symptoms of COVID-19, such as a fever, cough or respiratory issue, they are sent to a secondary screener who asks more in-depth questions and takes the person's temperature. Depending on that second screening, the person may be sent home or may get tested for the virus. These daily visitor and employee health screenings were developed in early March 2020 when the hospital's Emergency Preparedness team kicked into action.
Fab Four
"It's amazing how everyone pulled together for this," says Erika Cheung, BSN, RN, who works the night shift in the medical-surgical float pool. Cheung and fellow nurses Desiree Ritter, MHA, BSN, RN, NE-BC, Gayle Luker, MSN, RN, CPN, worked in conjunction with Quality Improvement and Patient Safety team member Chloe Lin, MHA, HACP, CLSSGB, PMP, to develop a screening system, troubleshoot potential problems, stay within a budget and develop an around-the-clock screening schedule to cover staff working day and night shifts.
In the weeks since its launch, the screening process has undergone some fine-tuning with adjustments to schedules, the types of health questions asked and the implementation of a universal masking protocol whereby every person who enters the hospital is issued one mask to wear that day.
"We're always trying to improve the process. The biggest challenge is having consistency from shift to shift, day to day," says Cheung.
Common goal
One thing that didn't come as a surprise to the team was the incredible work ethic of their fellow CHLA team members.
"Everyone understood the importance of this work and would commit long hours to help, even if it meant coming to work at 5 a.m.," says Lin. "The energy and positivity I've seen has really shown me what we are capable of as an organization"
"I am so proud to work at CHLA due to the support, care and compassion we have for each other," Luker adds. "Our team members rally together during difficult times."
Ritter says that CHLA feels like a second family to her and shares one recent memory of how the team members have supported each other.
"The greatest team spirit I saw was in the evening when two of our managers, Cheryl and Dixie, started cheering for the night shift employees entering the hospital, welcoming them and telling them they were appreciated and to have an awesome night," Ritter recalls. "It was contagious and the whole screening crew joined in, including student nurses who were helping. The night staff said they felt so welcome and had huge smiles on their faces. What a great way to start their shift."