Trainee Spotlight: Samantha Hurwitz, MS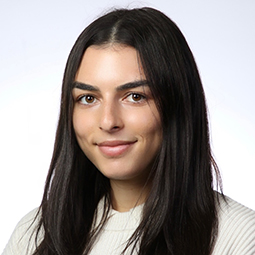 Samantha Hurwitz, MS
Samantha is a PhD student exploring a potential therapeutic target in drug-resistant leukemia.
From a young age, Samantha experienced firsthand the devastation that cancer can inflict on families. When she was 13, her brother was diagnosed with Hodgkin's lymphoma. Five years later, when she was just 18, she lost her mother to colon cancer.
Her response? She hit the books—and immersed herself in science.
"Seeing both my mother and brother endure destructive and toxic therapies to abolish their cancer instilled a drive in me to want to provide more promising and tolerable options for patients," Samantha shares. "My goal is to be at the forefront of clinical discoveries that can transform the lives of cancer patients."
After earning a master's degree in stem cells and regenerative medicine at USC, she joined the USC Cancer Biology and Genomics Program. Now a second-year PhD student in the program, Samantha works with Yong-Mi Kim, MD, PhD, MPH, on preclinical studies aimed at understanding the role of transducin beta-like protein 1 (TBL1) in drug resistant B-cell acute lymphoblastic leukemia.
"The goal is to evaluate this protein as a potential therapeutic target that could eliminate drug resistance and relapse in this cancer," she explains.
Born and raised in Los Angeles, Samantha calls herself "a big foodie" and loves to try new restaurants around the city. She also enjoys hiking and going to the beach.