2020: LIFE AFFECTS RESEARCH
How national and international events influenced the work of The Saban Research Institute
Researchers spend their careers discovering information that benefits society. At an academic medical center like Children's Hospital Los Angeles, investigators are constantly working on ways to address patients' unmet medical needs observed by their clinical colleagues. Even discovery research—which is geared toward gaining a deeper understanding of basic biology—is conducted with the long view toward improving the lives of patients.
This year, scientists at The Saban Research Institute focused on needs that were both close and far reaching. These ranged from identifying and battling the effects of SARS-CoV-2, the virus behind COVID-19, to taking a leading role in tracing its spread and working to contain it. This work had both a local and global reach.
In addition to the pandemic, there were other occurrences that changed people's lives and influenced the work done at our institution. This timeline depicts how some major events of 2020 helped shape research activities.
JANUARY
JAN 9
The World Health Organization (WHO) announces the first reports of a novel coronavirus causing severe pneumonia-like cases in Wuhan, China.
JAN 21
The U.S. Centers for Disease Control and Prevention (CDC) confirms the first case of COVID-19 in the United States.
JAN 23
China initiates lockdown in Wuhan.
JAN 31
WHO declares a global public health emergency.
FEBRUARY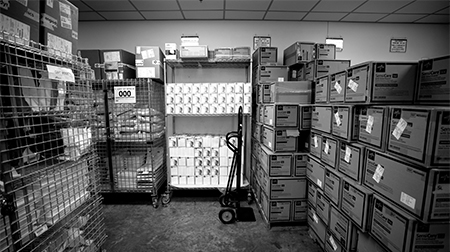 Members of CHLA's Department of Pathology and Lab Medicine recognize the beginnings of a pandemic. They begin stocking up on test supplies and reagents and developing an in-house COVID-19 test.
FEB 11
The new virus is named SARS-CoV-2.
FEB 23
Italy sees its first major surge.
FEB 24
Iran emerges with a surge of cases.
MARCH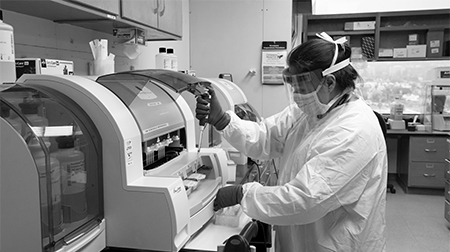 MAR 13 - The COVID-19 test developed by the Department of Pathology and Laboratory Medicine receives emergency use authorization (EUA) and is offered to hospital staff and patients.
MAR 11
The WHO declares COVID-19 a pandemic.
MAR 13
President Donald Trump declares a national emergency.
MAR 13
Los Angeles Unified School District announces that all schools will close.
MAR 17
The Centers for Medicare & Medicaid Services expands U.S. telehealth rules, setting the stage for quick, large-scale adoption of virtual visits.
MAR 19
California announces "Safer at Home" orders that mandate residents to stay home unless work or shopping is essential.
Work published by our Pathology and Laboratory Medicine team later showed that measures like these limited the spread of new viral variants.
MAR 26
The United States leads the world in confirmed COVID-19 cases.
MAR 20
The Saban Research Institute shuts down its laboratories to limit the spread of SARS-CoV-2. Amid a worldwide shortage of personal protective equipment, the research enterprise gives its supplies of masks, gloves and wipes to be used by staff for clinical care at Children's Hospital Los Angeles.
APRIL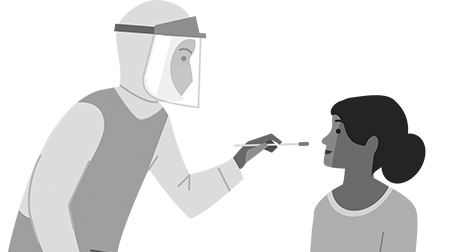 APR 10 - The Department of Pathology and Laboratory Medicine begins offering SARS-CoV-2 whole-genome sequencing to Children's Hospital Los Angeles and eight other children's hospitals around the nation to help track the virus.
APR 2
Total cumulative cases of COVID -19 pass 1 million across 171 countries and six continents. The virus's death toll passes 51,000 worldwide.
APR 5
The Department of Pathology and Laboratory Medicine begins offering SARS-CoV-2 antibody testing to CHLA team members if required.
APR 15
Clinical trials continue at CHLA, with some visits shifted to virtual meetings.
APR 16
Tracked global deaths from the virus exceed 200,000 people, with more than 2.9 million sickened.
MAY
MAY 9
The FDA grants an EUA to Rutgers Clinical Genomics Laboratory for a saliva-based test that can be used at home.
Our Pathology and Laboratory Medicine team conducted research to compare saliva versus nasal swab testing and began offering saliva-based tests in the fall.
MAY 13
CHLA holds a virtual press conference to discuss multisystem inflammatory syndrome in children (MIS-C), a rare but serious complication occurring in some children who have recovered from COVID-19.
MAY 15
U.S. launches Operation Warp Speed to develop a COVID-19 vaccine.
MAY 26
Large-scale Black Lives Matter demonstrations begin in the wake of George Floyd's murder, one of multiple high-profile killings of Black people that sparked the movement.
MAY 27
U.S. deaths from the virus pass 100,000, more than any other nation.
JUNE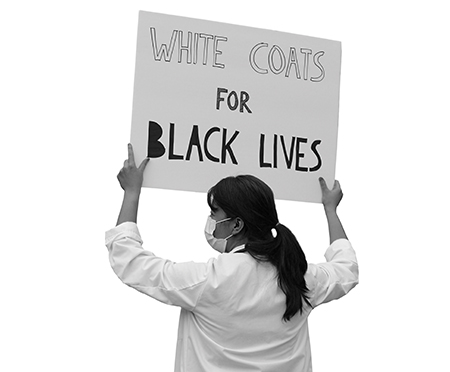 JUN 5
Medical professionals gather to protest racism as part of White Coats for Black Lives.
JUN 10
U.S. COVID-19 cases top 2 million.
JUN 24
The Saban Research Institute announces a phased recovery for the research enterprise, with some investigators returning to their labs.
JULY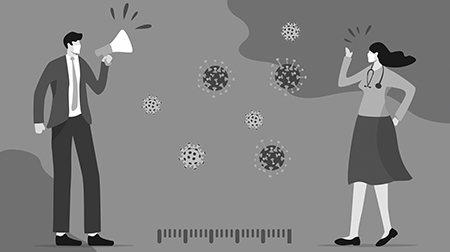 JUL 13 - The Saban Research Institute officially reopens with masking, social distancing and other safety guidelines.
JUL 2
California is among several states that postpone or reverse reopening plans.
Research conducted by Pathology and Laboratory Medicine shows that these safety measures limited spread of SARS-CoV-2 variants.
JUL 7
The United States surpasses 3 million cases.
JUL 9
WHO announces that SARS-CoV-2 can be transmitted by air and by asymptomatic people.
JUL 14
Phase 1 and 2 trial data from Moderna's vaccine show promise.
JUL 21
CHLA adds its ongoing commitment to the community and underserved populations to its mission statement.
JUL 22
U.S. Department of Health and Human Services and the Department of Defense announce a partnership with Pfizer and BioNTech for 100 million vaccine doses.
AUGUST
AUG 15
The FDA issues an EUA for a saliva COVID-19 test.
AUG 16
The CDC starts to develop a vaccine distribution plan.
AUG 17
COVID-19 becomes the third-leading cause of death in the United States, behind heart disease and cancer.
SEPTEMBER
SEP 3
With the largest pediatric COVID-19 study in the United States to date, the Pathology and Laboratory Medicine team publishes data showing that early safety measures and travel restrictions limited the initial spread of COVID-19 in states like California and Washington.
SEP 14
Pfizer and BioNTech announce the expansion of a phase 3 trial of their COVID-19 vaccine.
SEP 23
A study in Texas finds a more contagious strain of the virus.
Consistent monitoring of viral genomics makes findings like this possible.
SEP 27
Armenian and Azerbaijani forces clash in Nagorno-Karabakh.
SEP 28
Global deaths from COVID-19 surpass 1 million.
Pathology and Laboratory Medicine continues to genetically sequence every COVID-19 positive sample from Children's Hospital Los Angeles and many from the greater Los Angeles community, and to contribute findings to national and international databases.
OCTOBER
OCT 2
President Trump and Melania Trump test positive for COVID -19. The President is hospitalized and returns to the White House Oct. 5.
OCT 15
The U.S. reports 60,000 new COVID-19 cases in a day.
OCT 19
Global cases top 40 million, with more than 1.1 million killed by the virus.
NOVEMBER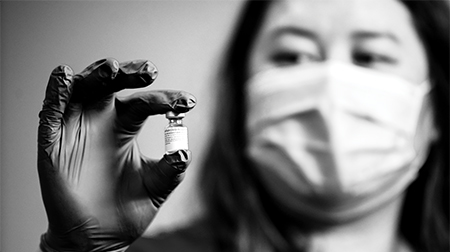 NOV 3
California voters approve Proposition 14, providing $5.5 billion for stem cell research.
NOV 4
The U.S. hits a new record high of 100,000 new cases reported in one day.
NOV 16
Moderna announces that its vaccine reduces the risk of infection by 94.5%.
NOV 18
Pfizer and BioNTech release data demonstrating their vaccine is 95% effective.
NOV 20
Vigil for Peace for Armenia and Artsakh.
DECEMBER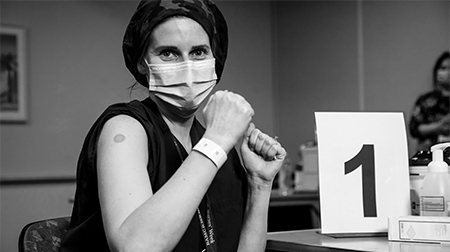 DEC 8
The U.K. begins vaccinations.
DEC 11
FDA approves emergency use authorization for the Pfizer/BioNTech vaccine in the U.S.
DEC 17
The first CHLA team members begin receiving the COVID-19 vaccine.
DEC 18
FDA approves emergency use authorization for the Moderna vaccine in the U.S.
DEC 21
The U.K. announces a new variant of the virus, B.1.1.7, is spreading and more contagious.
Consistent monitoring of viral genomics makes findings like this possible.