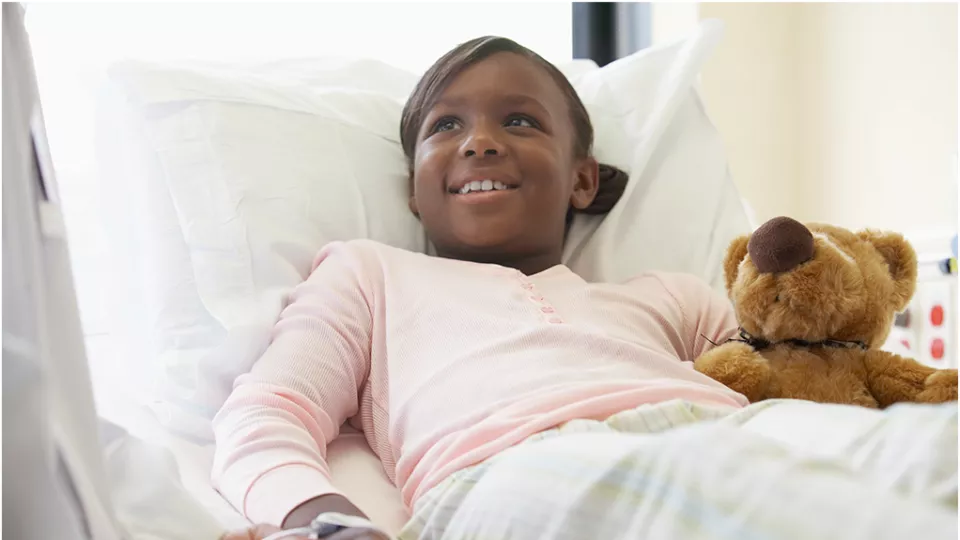 Research and Breakthroughs
Reducing Use of Opioids Following Appendectomy
Some hospitals have a specific process for when and how to prescribe opioids after appendix surgery, while other hospitals leave these decisions to the individual surgeons. Ten pediatric hospitals in the Western United States and led by Children's Hospital Los Angeles participated in a study to determine if minimizing and standardizing opioid prescriptions could be done safely while controlling patients' pain and avoiding additional hospital visits.   
   
Appendectomy is the most common operation for children, with approximately 80,000 children undergoing this surgery at both pediatric and non-pediatric hospitals. The study evaluated 1,524 children under 18 years of age who had an appendectomy during 2019 at 10 hospitals in the Western Pediatric Surgery Research Consortium. Collectively, these hospitals perform approximately 3,500 appendectomies per year.  
   
"Our goal is to provide children with effective pain management following surgery without over-reliance on opioids, and we showed that goal is more than possible," said lead author Lorraine Kelley-Quon, MD, MSHS, FACS, FAAP, pediatric surgeon at Children's Hospital Los Angeles. In 2020, Dr. Kelley-Quon was instrumental in crafting guidelines with the American Pediatric Surgical Association that identified laparoscopic appendectomy, a minimally invasive surgery, as an opportunity for an opioid-free recovery in children.  
   
In their effort to change prescribing practices, the participating hospitals used three interventions. Study surgeons educated other surgical faculty and advanced practice providers at each hospital about the risks associated with prescription opioids and on the importance of minimizing or eliminating opioid usage after an appendectomy. They also instructed patient families to use over the counter medications such as ibuprofen and acetaminophen when returning home from the hospital.  Finally, the team surveyed parents after returning home on how effective post-surgical pain control was for their children.  
   
The year-long project achieved a significant decrease in opioid prescriptions after appendectomies; overall prescribing dropped from 18.2% to 4.0%. In hospitals that were not using a prescribing protocol, opioid prescriptions declined from 37.9% to 8.8%, and in hospitals with protocols already in place, prescriptions also went down, from 2.7% to 0.8%.    
   
In addition, participating hospitals closely tracked post-surgical emergency room (ER) visits and complicated appendicitis cases, where quality improvement measures also achieved lower rates of opioid usage.   
   
"We successfully reduced opioid use while maintaining parents' satisfaction with pain management and without increasing post-surgical emergency room visits," said Dr. Kelley-Quon, who is also an assistant professor of surgery and population and public health sciences at the Keck School of Medicine of USC.
The study was published in the Journal of the American College of Surgeons. Other participating hospitals include: Phoenix Children's Hospital, University of Utah Primary Children's Hospital, Rady Children's Hospital San Diego, Lucile Packard Children's Hospital, UCSF Benioff Children's Hospital, Seattle Children's Hospital, Children's Hospital Colorado and Oregon Health & Science University.