U.S. News & World Report
Named One of Nation's Top Five Best Children's Hospitals by U.S. News & World Report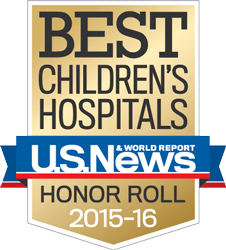 For the third year in a row, CHLA has been named to the top five of U.S. News & World Report's prestigious national Honor Roll of the best children's hospitals.
Only 10 children's hospitals in the United States achieved Honor Roll status for 2014-15. CHLA has been selected for the esteemed list every year since it launched in 2009, and has been included among the nation's best children's hospitals annually since the magazine began its rankings in 1990, 25 years ago.
We are pleased this year to be: 
The No. 5-ranked children's hospital for the third straight year 
One of only 10 children's hospitals in the nation named to the Honor Roll
The only pediatric medical center in California to make the Honor Roll list
Review the rankings on the U.S. News & World Report website.
Specialty Care Rankings
Message from the CEO
"This acknowledgement by U.S. News & World Report magazine recognizes Children's Hospital Los Angeles as a world class institution in health care for children. Our success is a reflection of the outstanding skills of our doctors, nurses, clinical staff and physician support team who helped to maintain this institution's top five national ranking and our title of 'best' among pediatric medical institutions."
Richard D. Cordova, FACHE
President and CEO
The national magazine ranks children's hospitals annually for their clinical expertise and patient outcomes in 10 different medical specialties (listed below) and Children's Hospital Los Angeles was ranked highly in all 10 categories.
About the Rankings
Each year, U.S. News & World Report invites more than 183 hospitals to complete its survey and be considered for ranking. The methodology for the rankings is adjusted each year to reflect best practices in the industry along with differences in pediatric specialty care as compared to adult health care, but typically uses an algorithm that scores data related to:
Reputation
Clinical outcomes, such as the ability to prevent complications and infections 
Care-related measures, such as nursing, advanced technology, credentialing and other factors
Hospitals are evaluated based on a combination of opinions and recommendations gathered from pediatric specialists and data collected from a comprehensive survey.