Children's Orthopaedic Center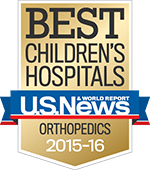 The Children's Orthopaedic Center at Children's Hospital Los Angeles provides the most comprehensive pediatric orthopedic care in the western United States. Our team of surgeons, nurses, rehabilitation experts, physical therapists, biomedical engineers and numerous other collaborating support staff specializes in every ailment associated with orthopaedics, including fractures, injuries, spine disorders, neuromuscular weakness, tumors, and hip, hand and joint abnormalities.
The program receives high honors annually from U.S. News & World Report and is regularly ranked among the elite children's orthopaedic programs nationwide, confirming the excellence and scope of our patient care. It also speaks to our reputation among our peers, our vigilance in preventing surgical complications, our use of the most advanced technologies and our supportive relationships with our patient families.
Bone and Soft Tissue Program

Hand and Upper Extremity Program

John C. Wilson, Jr. Motion Analysis Laboratory