Administrative Fellowship
About the Fellowship
The Administrative Fellowship at Children's Hospital Los Angeles (CHLA) provides a broad range of health care administration experiences both relevant and challenging over the course of the twelve month program. The Fellow will be tasked to lead prioritized enterprise initiatives, an approach intended to help the Fellow develop marketable project management, analytical, leadership and interpersonal skills. Understanding the importance of professional mentorship, the Fellow will also regularly meet with executive and enterprise-wide leadership throughout their rotations. Ultimately, through visible, tangible project work and network development, the Fellowship aims to identify promising candidates for future leadership positions within CHLA.
Learn More About the Training Program
The Fellowship offers a rotation based experience with the option to select projects based on specific areas of interest and to the needs of the enterprise while reporting directly to the CEO. Each rotation will have an executive sponsor who will help with define projects, create goals, and obtain results over a 3-4 month period. This structure aims to provide a well-rounded understanding of organizational settings distinct in their challenges and function within CHLA. Potential departmental rotations and projects are as follows:
Finance
Clinical and Administrative Operations
Ambulatory Operations
Decision Support Services Supply Chain Management
Strategy and Health System Development
Human Resources
Compliance
Medical Group Operations
Information Systems
Research Administration
Education Administration
Patient Quality and Safety
Marketing and Communication
Throughout the Fellowship, the Fellow will have the opportunity to shadow key leaders of the organization, attend high level leadership meetings. The Fellow will experience different managerial and leadership styles to develop an understanding of their own personal style.
The Fellowship is a full-time salaried position beginning in July, with flexibility for exact start date. The compensation and benefits package will be competitive, including extending benefits to dependents. Vacation and sick leave will accrue as a normal full-time employee.
Bachelor's Degree
Candidates must complete their graduate course work from a Commission on Accreditation of Healthcare Management Education and/or Association of University Programs in Health Administration-accredited program (e.g., M.H.A., M.P.H., M.B.A., etc.) prior to the start of the applied Fellowship year
Applicants with relevant hospital, consulting, and managed care experience will be given preference
Ability to communicate effectively and tactfully both verbally and in writing
Proficiency in Microsoft Word, Excel, and PowerPoint
Ability to maintain confidentiality of sensitive information
Must have strong follow-through, initiative, and the ability to work independently
Clayton Marshall, MHA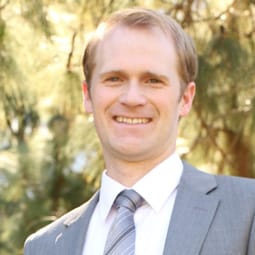 Clayton Marshall graduated from the Price School of Public Policy at USC with a Masters of Health Administration in 2015. He has been with CHLA since 2014; first as an administrative resident in our Department of Academic Affairs, then as a financial analyst in General Pediatrics Services Division. His experience is in medical billing, healthcare research, process improvement and finance.
Nahal Sabrkhani, MPH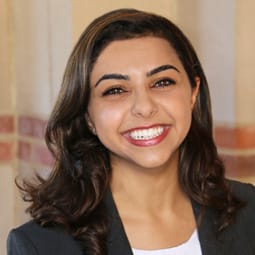 Nahal Sabrkhani graduated from the UCLA Fielding School of Public Health with a Master of Public Health in Health Policy and Management. She previously interned at the Los Angeles County Martin Luther King, Jr. Medical Center working on process improvement in transitions of care.
How to Apply
The CHLA Administrative Fellowship program offers a tremendous opportunity for demanding, relevant professional development.
Submission of an application packet and an online job application is required. All components of the application must be received no later than February 1, 2017.
To apply, qualified individuals should compile the following materials:
A personal statement addressing your interest and qualifications for the position. Please also address what you hope to gain and achieve from the Fellowship (2 pages maximum, double spaced)
Resume
Official Graduate School Transcript
One academic and one professional letter of recommendation
The application packet must be submitted via email to adminfellowship@chla.usc.edu
Please mail the physical copies of your original school transcripts to:
Human Resources
Re: Administrative Fellowship
4650 Sunset Blvd.
MS #48
Los Angeles, CA 90027
You must also complete an online job application on the Children's Hospital Los Angeles careers website at https://jobs.chla.org. Search for keyword: Administrative Fellowship