Children's Center for Cancer and Blood Diseases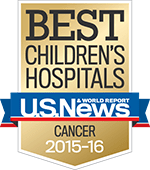 For more than five decades our physicians, researchers and staff at the Children's Center for Cancer and Blood Diseases at Children's Hospital Los Angeles (CHLA) have worked to increase cure rates and improve quality of survival for children, adolescents, and young adults through innovative research, outstanding clinical care, academic excellence and global leadership. We are the largest pediatric hematology, oncology and blood and marrow transplant program in the western United States. Since 2008 our program has continuously ranked as a top 10 hospital in the nation for pediatric cancer care by U.S. News & World Report. CHLA has been affiliated with the Keck School of Medicine at the University of Southern California (USC) since 1932 and the Center is the pediatric component of the National Cancer Institute (NCI)-designated USC-Norris Comprehensive Cancer Center.
Primary Mission
Our Center has dedicated disease-specific teams that are composed of physicians, nurses, social workers, and other caregivers with specialized expertise. Each team unites state-of-the-art diagnosis and treatment to provide patients and their families with the most current and comprehensive multidisciplinary medical care and support.
We have one of the largest programs of clinical trials for children with cancer and blood disorders in the U.S. The Center's Clinical Trials Program gives our patients access to the most current and promising therapies. We are the leading international pediatric consortia to include: Therapeutic Advances in Childhood Leukemia & Lymphoma (TACL); and Pediatric Blood and Marrow Transplantation Consortium (PBMTC); New Approaches to Neuroblastoma Therapy (NANT). Additionally, we are part of 13 other leading pediatric hematology-oncology clinical trials consortia. Our goal is to give the patients we serve, as well as children with cancer and blood disorders around the globe, the best possible chance of survival and improved quality of life during and after treatment.
Dramatic advances in cancer research and treatment over the past two decades have made it possible for more children to survive. This reality fuels the lifesaving scientific research and clinical trials conducted at the Children's Center for Cancer and Blood Diseases (CCCBD) of Children's Hospital Los Angeles.
We offer access to the latest treatment options being tested in clinical trials through our participation in national and international research consortia, including Children's Oncology Group (COG). The Children's Center for Cancer and Blood Diseases is one of the largest and most influential members of the COG, a cooperative of 237 of the country's most prestigious pediatric research centers. We are the only hospital in the nation to serve as the headquarters for three of these multicenter consortia.
Our bench-to-bedside approach to problem-solving integrates scientific and clinical expertise–taking the best ideas from the laboratory to the patient in the form of promising new treatments.
The CCCBD's research faculty is working to discover and develop new ways to treat pediatric cancer and blood diseases.
Home to more major, multicentered clinical trials and research consortia than any other program of its kind in the country, the Center collaborates closely with other pediatric hematologyoncology programs across North America and around the world. It also continues to operate one of the nation's largest pediatric cancer and blood disorder programs, providing care and access to new therapies to the many children and their families who are treated by the renowned experts at CHLA.
Within this environment of leading-edge care and research, the CCCBD trains the next generation of pediatric specialists, offering hope—and health—to generations of children to come.
As an innovative hub for translational research and treatment, the Center turned to the nation's leading medical research institution in its search for director. After serving 14 years as clinical director of the Pediatric Oncology Branch of the National Cancer Institute (NCI) at the National Institutes of Health (NIH), internationally renowned pediatric hematologist-oncologist Alan S. Wayne, MD, joined CHLA and the University of Southern California (USC) in July 2013. While at the NIH, Wayne directed a leading-edge research program developing new treatments for blood cancers and conducting multiple clinical trials—studies that led to complete remissions for many patients.
Children's Hospital Los Angeles is a top ranked pediatric hospital and our doctors also consistently appear on the Best Doctors in America and Pasadena Magazine "Top Docs" lists. Experts at our Center treat the most complex and rare conditions. Because of our expertise, families come here from all over Southern California, the United States and the world.
We provide care for more than 1,100 new patients each year and handle approximately 25,000 outpatient visits annually. Our pediatric Hematology and Oncology divisions are among the largest of their kind in the western U.S., serving as the leading referral centers in the region.
Treating a child or adolescent who has cancer or a blood disorder is different than treating an adult. Each decision must be designed with the child's development in mind. With 50-plus years of pediatric experience, the Children's Center for Cancer and Blood Diseases strives to help each child return to as normal a life as possible, as soon as possible.
We have been working to improve cure rates and quality of life, creating hope and building healthier futures for children, adolescents and young adults with malignancies and blood disorders.
Housed at one of the top pediatric research and teaching institutions in the world, the Children's Center for Cancer and Blood Diseases has pioneered advances that have led to dramatic improvements in survival rates and quality of life for children with cancer and blood diseases.
We were the first to identify a component of the cell that can be used to predict diagnosis or outcomes in certain childhood cancers. In addition, we were the first institution to explore many care protocols that have now become the standard of care-proof that we are always pushing the forefront of care further.
Bone Marrow Transplant
Use of non-irradiation conditioning bone marrow transplant regimens for children with acute lymphoblastic leukemia (ALL) (which resulted in a decrease in the long-term side effects of treatment)
We were among the first institutions int he nation to use bone marrow transplantation to treat:
pediatric blood diseases
genetic diseases
neuroblastoma
Leukemia Advances
We were among the first institutions to develop and provide:
Modern chemotherapy to children with leukemia in the Western United States
The first protected-environment units for children undergoing intensive chemotherapy and stem cell transplant
A multidisciplinary approach for treating pediatric sarcomas of the bladder and prostate which yields a much better survival rate and reduces the need to remove these organs, leaving the child anatomically intact
The first pelvic bone salvage protocols for children with bone tumors, leading to pioneering limb-saving techniques
Neuroblastoma
A neuroblastoma treatment regimen that has increased survival rates to 65% (this treatment is now used nationwide and includes a high-dose chemotherapy and local irradiation protcol - total body irradiation is not used)
Use of retinoic acid as a post-transplant therapy for neuroblastoma (a treatment that was found to decrease recurrence of disease)
Use of gene therapy for recurring brain tumors
Discovered that bone marrow can be removed, purged of cancer cells and then returned to the patient to successfully treat neuroblastoma (brain and nerve cell cancer)
Retinoblastoma
Combining laser technology and chemotherapy for treatment of retinoblastoma, significantly reducing the need for enucleation (clinicians have heralded this as the most significant therapeutic advance in the treatment of retinoblastoma in 25 years)
Use of minimally-invasive surgical techniques (laproscopy and thoracoscopy) in biopsy, staging, and treatment
Support Programs
We were the first institution to develop a comprehensive psychosocial support program specifically geared towards the consequences of childhood and adolescent cancers and blood diseases
The Children's Center for Cancer and Blood Diseases is educating the next generation of pediatric oncologists, radiation oncologists and hematologists.
Fellowships
We offer a pediatric hematology-oncology fellowship approved by the Accreditation Council for Graduate Medical Education, along with training for pediatric residents, behavioral science trainees and other health professionals.
For more than 30 years, our Summer Oncology Fellowship Program – sponsored by Children's Hospital and the USC Keck School of Medicine – has attracted top students from universities and medical schools nationwide. Students participate in clinical or laboratory research studies.
Research Training
We provide research opportunities in hematology/oncology for postdoctoral fellows. A fellowship training grant from the California Institute for Regenerative Medicine supports post-doctoral scholars exploring therapeutic uses of stem cells.
International
The Center mentors trainees from around the world, including Poland, Russia, China, Italy and Brazil, who then take their knowledge back to their countries to help treat and cure children. We have cooperative training and research programs with major pediatric medical institutions in China, Russia, Brazil, Mongolia, Italy and Poland. Our faculty routinely lecture in other countries, and we welcome medical observers from abroad.
The Children's Center for Cancer and Blood Diseases is supported by a range of hospital diagnostic and support services.
Blood Donor Center
The hospital's Blood Donor Center collects blood and platelet donations at the hospital and in community blood drives to help children who need these vital blood components. Transfusion medicine specialists prepare blood for use, test for compatibility and manage the platelet, red cell and plasma inventory. Each year, caring for children hospital-wide requires 20,000 units of blood or blood components.
Cancer Support Resources
The HOPE Behavioral Health, Neuropsychology and Education Service provides compassionate psychosocial care and support for patients diagnosed and treated in our Children's Center for Cancer and Blood Diseases.
Dentistry
The Division of Dentistry and Orthodontics is aligned with the acclaimed USC School of Dentistry to provide routine and specialized dental and orthodontic care to 3,500 children and adolescents each year, including those with medically complicating conditions such as cancer and hemophilia. Many of our patients are unable to see a general pediatric dentist in the community. The Division's expert staff rounds out our program of care.
Pain Management
When necessary, we call upon the expert services of the Comfort, Pain Management and Palliative Care Program. It provides round-the-clock consultation on appropriate pain management therapies and the use of such complimentary medicine modalities as massage, pet therapy and other wellness techniques.
Pathology
The Department of Pathology and Laboratory Medicine reinforces our capabilities for accurate and timely diagnoses. A team clinical and anatomical pathologists, led by an expert in cancer cell biology, is specially trained to test for illness and identify disease or abnormal growths in tissues. Among their advanced diagnostic techniques is molecular genetics, which studies the structure and function of genes at a molecular level.
Pharmacy
Clinical pharmacists located within our clinic on the 5th floor assist with formulations for drug treatments, using protocols for best practice cancer care. Pharmacists optimize the protocol based on each child's height, weight and kidney function.
Surgical Expertise
When surgery is an appropriate treatment option, patients are seen by the expert surgeons in the Department of Surgery. This busy, accomplished department performs some 14,000 pediatric surgeries a year, nearly twice that of its peers. Surgeons are highly experienced in treating children of all ages – from infants and school-aged children to young adults – and in intervening for complicated cancers.
Oncologists and surgeons meet in weekly sessions to ensure that any surgical plan is integrated into a patient's overall plan of care. Surgeons from different disciplines become involved in oncology cases and routinely exchange ideas on treatment approaches. These include the latest in minimally invasive techniques, one focus of research and innovation for this accomplished Department.
Hospital surgeons are members of oncology study groups in the nationwide Children's Oncology Group (COG), a source for new treatment protocols – knowledge they bring to benefit our young patients.
Third-Party Support
Ronald McDonald House Charities®
Many of our patients' families stay at the Los Angeles Ronald McDonald House™ while their children receive treatment at Children's Hospital Los Angeles. Programs of Ronald McDonald House Charities® of Southern California also include Camp Ronald McDonald for Good Times, which provides free, medically supervised, residential camp sessions.
Padres Contra El Cáncer
Founded in 1985, the nonprofit Padres Contra El Cáncer provides primarily Spanish-speaking families with the resources to combat cancer – the only Latino program of its kind in the U.S. Its services include counseling, transportation, social services assistance and emotional support in a linguistically and culturally effective manner.