About Us
A Pediatric Academic Medical Center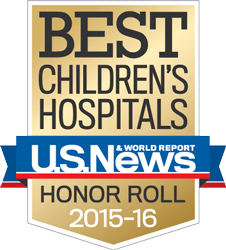 Children's Hospital Los Angeles (CHLA) is a 501(c)(3) nonprofit institution that provides pediatric health care to more than 107,000 children each year in a setting designed just for their needs. Our history began in 1901 in a small house on the corner of Alpine and Castelar Streets (now Hill St. in Chinatown) and continues today with an urban campus that is home to medical experts who have developed more than 350 pediatric specialty programs and services to meet the needs of our patients. 
CHLA is a provider of more than $125 million in community benefits annually to children and families. As the first and largest pediatric hospital in Southern California, CHLA relies on the generosity of philanthropists in the community to support compassionate patient care, leading-edge education of the caregivers of tomorrow and innovative research efforts that impact children at our hospital and around the world.
Keck School of Medicine of the University of Southern California
Children's Hospital Los Angeles is among the world's finest pediatric

academic medical centers due in large part to its association with Keck Medicine of the University of Southern California for three-quarters of a century.
Both organizations work together on innovative programs, with benefits that reach throughout this community and well beyond. In the meantime, our affiliation with Keck Medicine has resulted in CHLA being a premier teaching hospital, training the future caregivers for the children of tomorrow.
Providence Tarzana Medical Center

CHLA launched a partnership with Providence Tarzana Medical Center in 2013 to enhance pediatric care for children and families in the San Fernando Valley. Through this partnership, physicians of the CHLA Medical Group provide medical oversight and coverage for the medical center's three inpatient pediatric units:
Pediatric Unit
Pediatric Intensive Care Unit (PICU)
Neonatal Intensive Care Unit (NICU)
Children's Hospital Los Angeles has a reputation as an award-winning hospital. Whether it is for our national rankings for providing significant and comprehensive medical care services and programs that meet a sick child's entire needs or continuing to raise the bar nationally on our patient safety and quality health care programs within our walls, we continue to be a hospital that sets the standard for care.
U.S. News & World Report
Our hospital has been ranked as a top health care facility for children by U.S. News & World Report magazine every year since the magazine began ranking pediatric hospitals in 1990. In U.S. News & World Report's most recent rankings, we were ranked the No. 1 hospital in California for caring for children.
Great Hospitals
Becker's Hospital Review listed Children's Hospital Los Angeles as one of the "100 Great Hospitals in America". We were the only freestanding children's hospital in California to make the list.
Physician Awards
The Medical Staff at Children's Hospital Los Angeles includes 528 physicians - 94% are board-certified in their specialty or specialties. Our faculty members are regularly ranked among the leading healthcare practitioners in the nation by their peers, and listed in distinguished publications such as Best Doctors in America and America's Top Doctors.
Excellence in Nursing

The American Nurses Credentialing Center has accorded our hospital with Magnet Recognition®. Magnet® status is used as a national benchmark of the quality of care provided by a hospital's patient care services staff members.
Research Leaders
During the last 15 years, our researchers have advanced winning grant proposals such that, in the most recent year, CHLA was the eighth highest recipient of grand funding from the National Institutes of Health (NIH). We are also pleased to have new scientists elected into the Society for Pediatric Research and several premier researchers elected as members of the Institute of Medicine.
Lantern Award
The Emergency Nurses Association bestows the Lantern Award 2013-2016 to our emergency department because we exemplify exceptional practice and innovative performance in the core areas of nursing leadership, practice, education advocacy and research.
Beacon Award

The nurses of our Pediatric Intensive Care Unit (PICU) were honored with the 2009-2010 Beacon Award for Critical Care Excellence and Cardiothoracic Intensive Care Unit (CTICU) received the Gold Beacon in 2013.
Imagine magazine is our institution's annual report covering our groundbreaking efforts to providing state-of-the-art care for children, lead national and international research and train tomorrow's caregivers. The publication also represents some of our best storytelling, chronicling our unique patient experiences, highlighting our superior care for children and documenting our breakthroughs in research.
Access the Report (Digital Reader)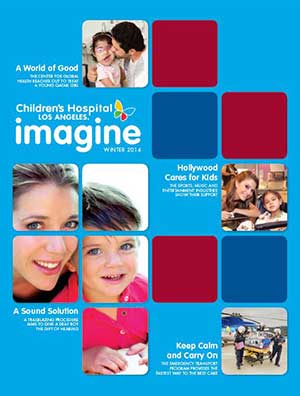 Children's Hospital Los Angeles is a non-profit, private pediatric hospital under the leadership of a volunteer Board of Trustees, consisting of community leaders and physicians. The Board is responsible for establishing the vision, mission, and goals of the hospital,ensuring the highest quality patient care, securing the financial health of the hospital, building positive community relationships, ensuring qualified and competent executive management performance and fundraising to fulfill the hospital's mission.
As a pediatric academic medical center, we oversee care through five departments and divisions within each.
Education is a cornerstone of the mission of CHLA. We are one of the country's premier teaching hospitals. In addition to being the pediatric training center for medical students at the Keck School of Medicine of the University of Southern California since 1932, we are the founding hospital of the Versant RN Residency in Pediatrics as well as home to a vast array of internships, residencies and fellowship programs to support the training of tomorrow's caregivers.
Administrative Leadership
Paul S. Viviano
President and Chief Executive Officer
David Davis, RN, MN
Vice President of Quality Improvement and Patient Safety and Chief Quality Officer
Myra Gregorian, MA, SPHR
Chief Human Resources Officer
Mary Dee Hacker, RN, MBA, NEA-BC, FAAN
Vice President of Patient Care Services and Chief Nursing Officer
Keith M. Hobbs, MBA, FACHE
Vice President of Ancillary and Support Services
Lara Khouri, MBA, MPH
Vice President of Health System Development and Integration and Chief Strategy Officer
T.J. Malseed
Vice President and Chief Information Officer
Gail L. Margolis, Esq.
Vice President of Government, Business and Community Relations
DeAnn S. Marshall, MHA
Senior Vice President and Chief Development and Marketing Officer
Grace Oh, JD, MBA
Senior Vice President, General Counsel and Corporate Secretary
Smitha Ravipudi, MPH
Vice President, Access, Ambulatory and Network Operations
James E. Stein, MD, MSc, FACS, FAAP
Chief Medical Quality Officer
Lannie Tonnu, MBA, CPA, CGMA
Senior Vice President of Finance and Chief Financial Officer
Medical Leadership
Robert Adler, MD, MS
Chief Medical Officer, CHLA Health System; Senior Advisor to the Department of Pediatrics
Ara Balkian, MD, MBA
Chief Medical Director, Inpatient Operations
Henri Ford, MD, MHA
Vice President and Chief of Surgery; Head, Department of Surgery
Alexander Judkins, MD, FRCP
Pathologist in Chief; Head, Department of Pathology and Laboratory Medicine
D. Brent Polk, MD
Pediatrician in Chief; Head, Department of Pediatrics; Director of The Saban Research Institute
Marvin D. Nelson, MD, MBA
Radiologist in Chief; Head, Department of Radiology and Imaging
Randall D. Wetzel, MB, BS, FCCM, FAAP
Anesthesiologist in Chief; Head, Department of Anesthesiology Critical Care Medicine

Research Leadership
D. Brent Polk, MD
Pediatrician in Chief; Head, Department of Pediatrics; Director of The Saban Research Institute
Michele Kipke, PhD
Vice Chair of Research; Director of Community, Health Outcomes and Intervention Research; Deputy Director of the Southern California Clinical and Translational Science Institute
Children's Hospital Los Angeles (CHLA) is one of the only hospitals in Los Angeles and its surrounding region that is entirely focused on the care and treatment of children.
Every element of our facility is designed to care for a developing child's needs. The most important people supporting a child's recovery are their family and loved ones.
The 114-year history of CHLA is a story of exceptional leaders advancing and transforming a community in support of the health of children.
Children's Hospital was founded at a time when few people thought a hospital for children was possible, let alone that it could -- or would -- evolve into one of the world's outstanding pediatric healthcare facilities.
Mission
We create hope and build healthier futures.
As a leading academic children's hospital, we fulfill our mission by:
Caring for children, adolescents, young adults, families and each other
Advancing knowledge
Preparing future generations
Building our financial strength
Values
We achieve our best together.
We are hopeful and compassionate.
We are learners leading transformation.
We are stewards of the lives and resources entrusted to us.
We serve with great care.
Families bring their children to CHLA because we are the home hospital for physicians of the Children's Hospital Los Angeles Medical Group. Many of our physicians are pediatric faculty of the Keck School of Medicine of the University of Southern California.
Collectively, more than 700 clinical experts and house staff reflect the diversity of our patient population and community. All care about the welfare of children.
The Saban Research Institute
CHLA is home to The Saban Research Institute, made up of the H. Russell and Jeanne R. Smith Research Tower and the Saban Building. The Institute represents one of the largest and most productive pediatric research facilities in the United States and is eighth in the nation among children's hospitals in procuring National Institutes of Health (NIH) grant funding. Find out more about The Saban Research Institute.
Clinical Trials
With an international team of 100 researchers and physicians, CHLA is making significant strides in combating cancer, brain disorders, obesity and diabetes, among other devastating pediatric health conditions. Search for clinical trials.