Heart Ambassadors

Heart Ambassadors
The mission of the Heart Ambassadors is to join together to support each other and help give the Heart Institute of Children's Hospital Los Angeles the best tools to care for our children. We are an official group of the Ambassadors program, made up of families and friends who have been touched by the expert care that is only found at the Heart Institute.
Our Initiatives
Our first successful project supported the next generation of pediatric cardiologists by funding the Interventional Cardiology Fellowship Program. In July 2014, Frank Ing, MD trained a fellow to be fully capable of performing interventional procedures for congenital heart disease, and also to advance the field of cardiac interventions in congenital heart disease through academic endeavors.
Get Involved
We invite you to join the Heart Ambassadors on this journey of hope and help ensure excellence in pediatric care today and for future generations. Share your enthusiasm by creating your own personalized fundraising page or host a fundraiser event in support of CHLA. For more information, contact talnasser@chla.usc.edu.
Heart Ambassadors Welcome Dr. Kantor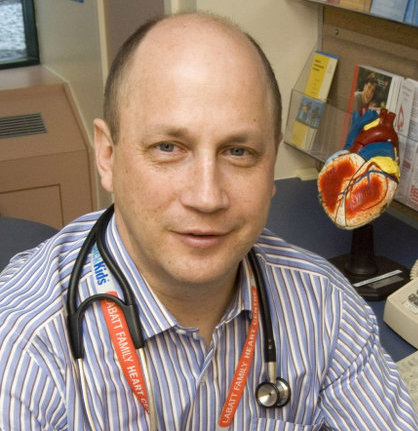 We are thrilled to welcome Paul F. Kantor, MBBCh, MSc, FRCPC, as the new Chief of the Division of Cardiology and Co-Director of the Heart Institute at Children's Hospital Los Angeles, effective Jan. 12, 2019. Dr. Kantor will also serve as Professor of Pediatrics at the Keck School of Medicine of USC. 
In this role, Dr. Kantor will further develop CHLA's successful clinical, research and academic program serving the Heart Institute's large and diverse patient population. He will provide leadership for the Division, overseeing clinical care delivery and quality, budget and financial performance, strategic planning, recruitment and program development, and will ensure the integration of training and research programs with clinical services throughout the hospital. Dr. Kantor will also lead the Division's support of the Department of Pediatrics' academic goals in research, education, and faculty recruitment and development.
As Co-Director of the Heart Institute at CHLA, Dr. Kantor will work with Co-Director Vaughn Starnes, MD, in supervising and directing the Heart Institute service line, consisting of more than 500 personnel including cardiac surgeons, cardiologists, pediatric anesthesiologists, pediatric cardiac intensivists, pediatric cardiac nurse practitioners, nurses, and ancillary staff in Nutrition, Pharmacy, Respiratory Care and more.
About the Heart Institute
The Heart Institute at Children's Hospital Los Angeles is one of the top-ranked pediatric heart programs in the nation - with a long history of exceptional and innovative care for the most complex pediatric cardiac conditions.
We treat patients from fetus to young adulthood and serve as a major tertiary referral center for all forms of congenital and acquired heart disease.
Founding Heart Ambassadors have taken a leadership role to accelerate innovations in pediatric cardiology by signing a commitment of $25,000 or more to the Heart Institute over 5 years.
On behalf of Children's Hospital Los Angeles, we'd like to extend our heartfelt thanks to our founding members.
Abraham and Emily Aguilar
Richard and Corina Aguilar
Danielle and David Allison
Beating Hearts Foundation
Cheryl and Bart Dickins
Virginia and Ryan Gallagher
Jennifer and Stephen Gates
Kerry Kennedy and Brad Goldberg
Priyanka and Karan Khanna
Heather McGrath/The Legacy Foundation
Jennifer and Buck Page/The Alderson Family Foundation
Frankie Cohen and Jean-Francois Pelletier
Megan and Christopher Pierson
Save the Heartbeat Foundation
Danielle and Eric Slutzky
Debbi and Brian Stern
Tammy and Kenneth Tsunoda
Wells Fargo Foundation
Kelly Zajfen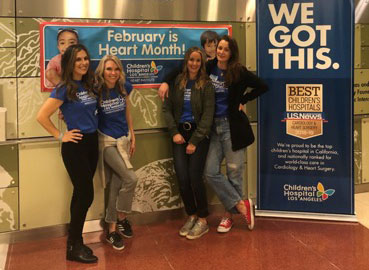 (Pictured from left to right: Danielle Maloof, Ginny Gallagher, Megan Pierson, and Kelly Zajfen)
On February 5, 2019, the Heart Ambassadors delivered backpacks and blankets to the Heart Institute at Children's Hospital Los Angeles in honor of Heart Month. Thanks to the efforts of the students at Mariners Christian School, backpacks filled with toys, books, and treats were delivered to the children and families we serve. We are so grateful to our Heart Ambassadors for taking time from their day to bring smiles and hope to our patients and their families.