Heart Ambassadors
We are a community of families and friends of the Heart Institute at Children's Hospital Los Angeles, inspired to fund initiatives that will improve and revolutionize pediatric cardiology today and for future generations.
Unite With Us!
Together, we can achieve more! Join us today and learn how you can help bring hope for all heart families.
Our Initiatives
The Heart Ambassadors are proud to announce our commitment to build a Hybrid Surgery Suite at Children's Hospital Los Angeles. Beginning in February 2014, we'll work together to raise $2 million as our investment for a brighter future for all kids with heart defects.
The Hybrid Surgery Center represents a significant leap for the Heart Institute at Children's Hospital Los Angeles, providing the ideal environment for our cardiothoracic surgeons to partner with our interventional cardiologists to provide less invasive therapies, reduce patient recovery time and improve outcomes for infants and children with a congenital cardiac defect.
Our first successful project supports the next generation of pediatric cardiologists by funding the Interventional Cardiology Fellowship Program led by Frank Ing, MD. In July 2014, Ing trained a fellow to be fully capable of performing interventional procedures for congenital heart disease, and also to advance the field of cardiac interventions in congenital heart disease through academic endeavors.
We believe that together, we can achieve more. We are a growing community of grateful patient families and friends of the Heart Institute. We welcome you to join us in this journey. See below to find out how you can get involved today.
More Ways To Get Involved
We welcome support at any gift level. Any amount makes a difference and brings new hope to all kids and families at the Heart Institute by helping to build the new Hybrid Surgery Center.
You can also join a growing online community by sharing your story and bring awareness to our cause. It's free to create a personal page, share with your network and raise critical dollars for the new Hybrid Surgery Suite at the Heart Institute. 
Co-Chair Leaders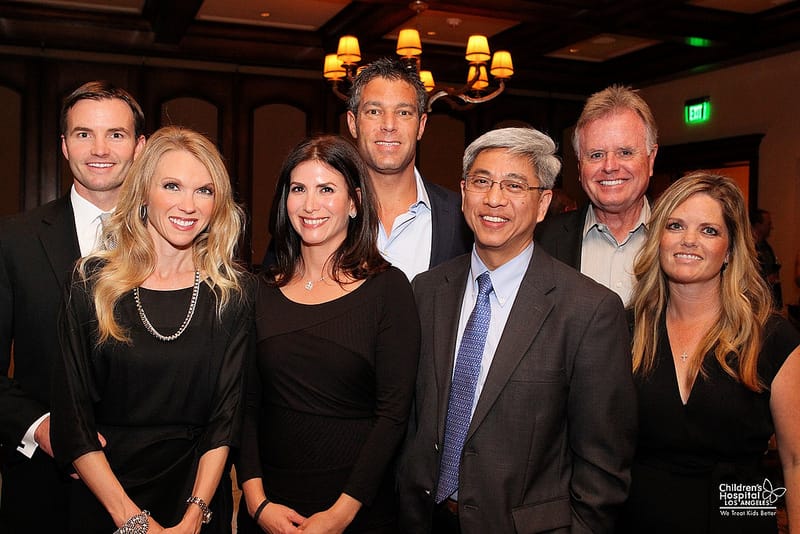 L to R: Ryan Gallagher, Virginia Gallagher, Debbi Stern, Brian Stern, Dr. Frank Ing, Buck Page, Jennifer Page
Become a Founding Member
Founding Heart Ambassadors have taken a leadership role with the Co-Chairs to accelerate innovations in pediatric cardiology by signing a commitment of $25,000 or more to the Heart Institute over 5 years. They help steer the priorities of this Ambassadors Leadership Group under the direction of the Co-Chairs.
Abraham and Emily Aguilar
Richard and Corina Aguilar
Danielle and David Allison
Cheryl and Bart Dickins 
Beating Hearts Foundation
Virginia and Ryan Gallagher
Jennifer and Stephen Gates
Kerry Kennedy and Brad Goldberg
Priyanka and Karan Khanna
Heather and Sean McGrath / The Legacy Foundation
Jennifer and Buck Page / The Alderson Family Foundation
Frankie Cohen and Jean-Francois Pelletier
Megan and Christopher Pierson
Danielle and Eric Slutzky
Debbi and Brian Stern
Tammy and Kenneth Tsunoda
Wells Fargo Foundation
About The Heart Institute
For more than 80 years, experts at The Heart Institute at Children's Hospital Los Angeles have provided patients from around the world with the most advanced, life-saving treatments available. Ranked among the top in the nation for pediatric cardiology and heart surgery, the Institute provides children of all ages -- from the unborn to young adults -- with comprehensive care in a single location.