WHOLEHEARTED

By Candace Pearson
Surgeons at Children's Hospital Los Angeles are tapping into regenerative medicine to give newborns with a rare heart defect a better chance at a longer life.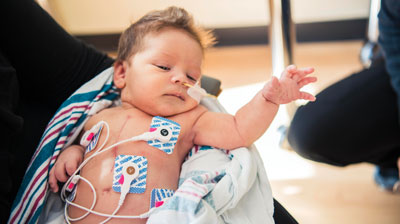 Jasmine Garcia, following her first open-heart surgery
Jasmine Garcia and her parents, Amy Guillen and Ray Garcia, find themselves unexpectedly on the leading edge of science. Jasmine came into this world on Dec. 22, 2017, at a robust 8 pounds, 10 ounces and 19.5 inches long—statistics that on the surface concealed a big problem within her tiny body. Jasmine was born with half a heart.
She is one of about 1,000 children diagnosed in the United States each year with hypoplastic left heart syndrome (HLHS). In this rare and complex congenital heart defect, the left side of the heart is severely underdeveloped and can't do its job of pumping oxygen-rich blood from the lungs to the rest of the body.
There is no cure for HLHS. However, a sophisticated surgical intervention introduced three decades ago reroutes the heart's plumbing to enlist the right ventricle as the main pumping chamber to the body. Unfortunately, this workaround is not a permanent solution.
Personalized medicine for HLHS
Now a bold experiment is attempting to supercharge that pioneering surgery with the power of stem cells. The goal: create a stronger heart that may help postpone or even prevent future heart failure in HLHS children. "This marks a paradigm shift in the way we are thinking about these congenital heart defects," says Ram Kumar Subramanyan, MD, PhD, cardiothoracic surgeon and regenerative medicine investigator in the Heart Institute at Children's Hospital Los Angeles. "We have gotten so good at surgically caring for these patients; who better to push the envelope with biological therapy?"
Pushing the envelope includes participating in the multicenter HLHS Consortium, launched by the Mayo Clinic in Minneapolis with a phase 1 clinical trial to test the safety and feasibility of using a baby's own umbilical cord blood cells to trigger the growth of new heart muscle.
A Second Chance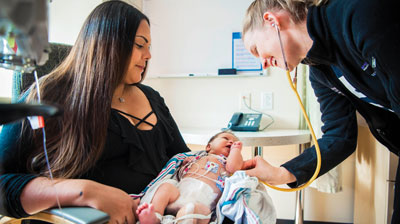 Katie Moser, RN, examines infant Jasmine Garcia as her mother, Amy Guillen, looks on.
In September 2017, 20 weeks into her pregnancy, Guillen went for what she thought would be a routine ultrasound at a local hospital. When doctors spotted the signs of HLHS, they sent her and Garcia to the Heart Institute, where specialists confirmed the diagnosis.
"It was very hard to hear at first," says Guillen. Then Subramanyan told the parents about the stem cell study. They signed on immediately. "I couldn't see any downside," Guillen adds. "I believe this is a second chance for our daughter and her future."
That second chance is taking place at one of the leading, high-volume treatment centers for complex HLHS cases. The Heart Institute first performed the three-part surgery in 1992.
"Today, we have better approaches to protect the heart and brain during surgery, and the surgical techniques have been refined significantly," says Vaughn Starnes, MD, co- director of the Heart Institute.
Yet even the most advanced techniques and cardiothoracic critical care apparently can't beat the passage of time.
As HLHS children grow older, their reconstructed hearts have been working overtime. By adolescence, many survivors are showing signs of cardiopulmonary deterioration. For some, that means the need for a heart transplant. "We're looking at new and alternative approaches to tackle this vexing problem," says Starnes.
Those novel approaches include investigating cellular and molecular-level factors that impact HLHS outcomes. "What if we can teach the right ventricle to grow extra muscle while it still can?" says Subramanyan. The question is based on the finding that the newborn heart appears capable of making new muscle cells for the first year or so—"before we lose that ability for the rest of our lives."
A team approach to move further, faster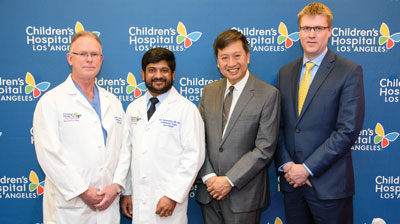 Left to right: Vaughn Starnes, MD, Ram Kumar Subramanyan, MD, PhD, and Pierre Wong, MD, of the Heart Institute at Children's Hospital Los Angeles with Timothy Nelson, MD, PhD, of the Mayo Clinic
No one center alone can accumulate enough patients to accelerate innovation. "The HLHS Consortium enables us to take the science and technology and teams of people to other centers of excellence, and interact with more families at more locations," says Timothy Nelson, MD, PhD, director of the Todd and Karen Wanek Family Program for Hypoplastic Left Heart Syndrome at the Mayo Clinic.
The Consortium is a group of strategically located centers with the unique capacity to implement the study procedures. Working together, up to seven regional centers will enroll about 20 children. CHLA is the only West Coast member organization. "We want to be at the forefront in treating this complex disease process," says Starnes. "We're proud to be part of this select group of institutions."
At 5 days old, Jasmine had her first open-heart surgery at CHLA. A sample of her umbilical cord blood was collected at birth, then processed at the Mayo Clinic to create highly concentrated stem cells. Those cells were frozen and stored until Jasmine's second reconstructive surgery at 6 months of age. On July 9, 2018, Jasmine underwent her second surgery. On that day, the stem cells that had been collected previously were delivered directly into her heart.
Once injected, the stem cells don't actually become new muscle—"they're not the seed," explains Subramanyan, "they're the fertilizer." Current thinking, based in part on pre-clinical studies, is that the stem cells stimulate the muscle tissue that already knows to multiply.
Jasmine's third surgery will take place at about 3 years old. She and other newborns in the study will be monitored closely as they grow. If the investigators' hypothesis is correct, they will see these hearts getting stronger, evidenced by thickening of the heart wall.
"I feel very hopeful," Guillen says with a smile. "I have read about stem cells having amazing promise in other diseases. Why not the heart?"

To learn more about the HLHS clinical trial, visit CHLA.org/HLHS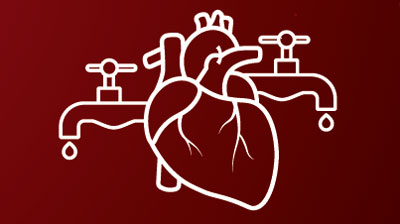 The healthy human heart is a muscle with two hardworking pumps. The right ventricle normally pumps oxygen-poor blood from the heart to the lungs. The left side receives oxygenated blood from the lungs, then sends it out to the entire body. When the left side is underdeveloped, as in hypoplastic left heart syndrome (HLHS), that blood flow is impaired. With surgery, the right ventricle takes on the duty of pumping oxygenated blood to the entire body.
In a healthy heart, the left ventricle is thick with muscle. But the right ventricle has less muscle, making it less equipped for this strenuous job. By injecting stem cells into the right ventricle of a baby with HLHS, scientists hope to increase muscle in this area, making it better able to perform the double duty required.