What's Driving Josie Hull?
Propelled by her stand-up wheelchair, her indomitable mother and her own unfaltering spirit, the former conjoined twin is pursuing a life beyond all expectation.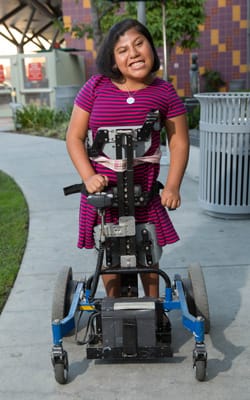 Josie Hull is giggling, which seems an odd thing to be doing, considering she's in the midst of a seizure that has interrupted her lunch. The giggling, you learn afterward, is an involuntary response—but then again, those who know Josie will say it's only appropriate, in keeping with the cheerful disposition with which she bears every circumstance.
Her mother, Jenny, repeats a line from Josie's neurologist: "Dr. Mitchell says, 'Even her seizures are happy.'"
Within 20 seconds, the seizure ends. Josie announces, "Done," and returns to her soup. These short-lived "focal" seizures—coming in doses of 20 to 30 a day—are among the many afflictions that have kept Josie in treatment at Children's Hospital Los Angeles for more than a decade, since being surgically separated from her conjoined twin sister, Teresa, at age 1. The story of the two Guatemalan girls born attached at the head was covered at length at the time of the procedure. Their biological parents gave both sisters over to families in Southern California, where they would have a better chance at survival. After returning home for a visit following the surgery, Teresa contracted a devastating case of meningitis. The illness left her unable to walk or talk.
Josie has been more fortunate—though only by comparison. The separation took a hunk of bone from her skull, leaving her brain vulnerable to injury. She has endured spinal fusions, hip surgery and epilepsy. Thankfully, the violent grand mal seizures that once menaced her are under control.
At 14, she has grown into a life no one predicted for her: that of a mainstream middle schooler. Little gets in her way as she rambles about on her Standing Dani, described by its manufacturer as a "mobile prone stander"; to translate, imagine a wheelchair crossed with a Segway. She attends a regular school, has regular classes, enjoys Disneyland, takes dance, and more often than not would rather be swimming. Everything she does defies what her brain scans suggest she should be doing.
"You look at her scans and don't think she'd be doing anything, frankly," says Wendy Mitchell, MD, CHLA's acting chief of Neurology, punching up pictures of Josie's brain and pointing out the deficits.
"There's no skull over here, and all of this tissue looks quite unusual. She's got a shunt here, then this big area—this cavity. All of this is missing, and this white splotch indicates areas that are abnormal."
Mitchell turns away from the images. "She looks better than the scans—but she always has."
---
"The real special people in this story are Jenny and Josie. It's amazing the level of commitment." —Mark Urata, MD, DDS
---
From curbside to bedside
Mitchell is one of several CHLA doctors Josie sees, led by Mark Urata, MD, DDS, chief of the Division of Plastic and Maxillofacial Surgery, who participated in the procedure at the University of California, Los Angeles, that separated Josie and her sister. Urata moved to Children's Hospital in 2004, and Jenny and Josie followed. He and Jenny became such friends that she sold him on the appeal of La Cañada Flintridge, her hometown. The two are now neighbors.
"I don't think there's two weeks that go by that I don't see Josie," he says, "either at my house or at some event where my kids are playing alongside her."
She also makes regular visits to his office. "The only thing she doesn't have is a layer of bone between her scalp and brain. We've been working with 3-D technology to see if we can print a replacement for her skull."
He deflects any plaudits he and his fellow physicians receive for treating Josie. "The real special people in this story are Jenny and Josie. It's amazing the level of commitment."
Her legal guardian since 2003, Jenny adopted Josie in 2006. As watchful as she is over her care and safety, she insists that Josie live like an ordinary teen, without undue compromises for her disabilities.
"I want her to live as independently as possible," Jenny says. "I want her to go to college, get married, have kids. I've never told her, 'You can't do that because …' No. Get out there and live."
---
"You look at her scans and don't think she'dbe doing anything, frankly. She looks better than the scans—but she always has." —Wendy Mitchell, MD
---

An enduring connection
Though they no longer share a blood supply, Jenny says that Josie and Teresa, who see each other regularly, have an intuitive telepathy that functions without words or proximity.
She recounts the time Josie awoke at 4:15 in the morning and lay awake the next four hours. Meanwhile, Jenny found out later, Teresa was in the hospital and in great distress.
"They thought they were losing her at 4 a.m.," she says. "At 7:55 they got her stabilized and she calmed down. Josie fell asleep at 8 o'clock. We had no idea what was going on. It was like Josie knew what was happening."
Even those who were never physically joined to Josie grow connected to her, Jenny says. "She's changed the lives of a lot of people just from her spirit."
That starts with her friends, some of whom date back to kindergarten. They all describe a social, popular girl whom they treat no differently than they do each other—nor allow anyone else to. "If they did, we would go after them," says her friend Rowan.
Several of Josie's friends help Jenny perform room makeovers for CHLA inpatients, refashioning the standard nondescript interior that Josie recalls from her own lengthy stays at the hospital. "When I was there, I just had a blank wall," she says.
Her friends also fundraise for CHLA through the Junior Ambassadors program. "They've been through so much with Josie," Jenny says. "Halo surgeries, hip surgeries, help with seizures. So they have been exposed, and through Josie it's not so scary anymore.
"Those kids don't flinch," she says, having just watched them hand out doughnuts at a CHLA event. "They had all kinds of kids come through, from bald to severe cerebral palsy—everything. They greet everyone with smiles on their faces and with human dignity."
Josie's friends see that her presence in their lives has opened their capacity for compassion and empathy—and gratitude. "It makes us more aware of how lucky we are to not be in a hospital," her friend Eli says. Another friend, Tara, speaks up. "Josie has made us, like …"
As she considers how to finish the thought, a third friend, Maddie, beats her to it: "Better."
If you Live L.A., Give L.A. Every dollar of your gift will help provide world-class care for every child that comes through our doors. Visit CHLA.org/GiveLA.