A game changer for patients and providers
An anxious adolescent showed up to have his blood drawn and was asked if he'd like to try virtual reality goggles. The boy agreed. A few minutes later he asked, "When are you going to take it?" According to Jeffrey I. Gold, PhD, the boy was surprised when he removed his headset and found that the blood sample had already been drawn and was on the table beside him.
In pediatric facilities throughout the country, children undergo necessary yet painful and distressing procedures every day, but very few non-pharmaceutical interventions have been determined to successfully manage the pain and anxiety associated with these procedures. To date, few clinical trials have been conducted to thoroughly study the effectiveness of these interventions.
Gold, a clinical psychologist and director of the Pediatric Pain Management Clinic in the Department of Anesthesiology Critical Care Medicine at Children's Hospital Los Angeles, has embarked on a new study to examine the effectiveness of virtual reality (VR) for children and adolescents undergoing painful procedures such as blood draws.
He and a team of researchers have hypothesized that patients using VR will report significantly less procedural pain and anticipatory anxiety, as well as lower heart rates and less behavioral distress, than patients receiving the standard of care, such as topical anesthetics.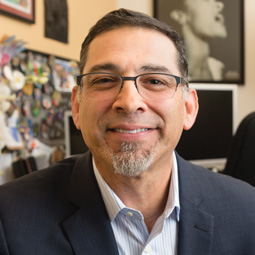 Jeffrey I. Gold, PhD
"Pain is not simple," says Gold. "Most people think pain is just about tissue damage, but the pain system is really a very complex and sophisticated network of signals cascading across many regions of the brain. It is an integrated chemical, physiological and behavioral response.
AppliedVR, a software solutions company, is supplying specialized headsets for the study and working with Gold to design and develop content for the virtual reality experience. Gold, who is also a professor of Anesthesiology, Pediatrics, and Psychiatry and Behavioral Sciences at the Keck School of Medicine of the University of Southern California (USC), explains that not everything produced for VR is valid for managing pain. "We're testing an 'environment' here that's being developed especially for the purposes of pain management."
Immersive VR allows the user to become an active participant in a virtual world as it captures the visual, auditory and tactile senses, as well as the limbic sense of emotion. "When someone is fully engaged and immersed in a VR experience, they are releasing endorphins," he says. "These endorphins can produce an opioid response that markedly reduces the patient's subjective pain."
Given the significant concerns about problematic opioid use in the U.S., Gold is hopeful that evidence-based support for non-pharmaceutical interventions such as VR may lead to improved procedural pain management and a decreased need for narcotics.
"While it has not yet been extensively tested in a pediatric population, preliminary evidence suggests that VR may be particularly effective for pain management among children and adolescents," he says. It's also safer and a lot more fun.
Although it doesn't occur often, emergency resuscitation is a high-stakes event in pediatric health care. Yet 80 percent of the pediatric emergencies nationwide are handled by medical professionals who lack significant training in pediatric emergency medicine.
"While everyone here at Children's Hospital Los Angeles is trained in pediatrics, when you consider the training provided to general EMS professionals—only 1 percent of their time is spent on pediatrics," says Joshua Sherman, MD, an emergency medicine physician with a penchant for simulation in medical education.
In collaboration with Oculus, a technology company, Sherman is diving into the world of virtual reality to design a VR resuscitation training program. The goal is to prepare physicians in training for high-stress situations in pediatric emergency care.
Together with Todd P. Chang, MD, MAcM, another CHLA emergency medicine physician, Sherman is working closely with game developers at Oculus, providing the technical and medical direction to accurately re-create a resuscitation room. The virtual environment will serve as the foundation for resuscitation training modules and will come complete with all the furnishings, equipment, monitors and staff found in a resuscitation room, as well as noise and distractions that convey a sense of chaos and stress.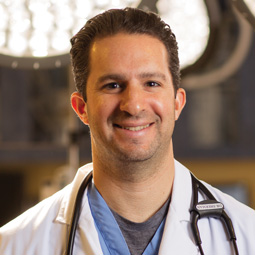 Joshua Sherman, MD
Once the environment is developed, the team will incorporate specially designed modules representing two high-acuity "code blue" scenarios, which are often encountered in a pediatric emergency room.
"Current methods of simulation training, including mannequins or screen-based computer games, are limited because the trainees don't necessarily feel the 'realness' of the experience," explains Chang, who is also an associate professor of Clinical Pediatrics at the Keck School of Medicine of USC. "The beauty of VR is that the simulation experience is entirely immersive—you literally put on a pair of VR goggles and you are instantly in the environment."
While wearing the goggles, a trainee sees the virtual resuscitation room in 360 degrees: Monitors are beeping, nurses and technicians are running in, and the patient's mother is pleading, "Please help my child!" The trainee proceeds through all the steps of managing the virtual patient's care in real time, and his or her performance is recorded and scored. At the end of the session, the trainee can review it and get instant feedback.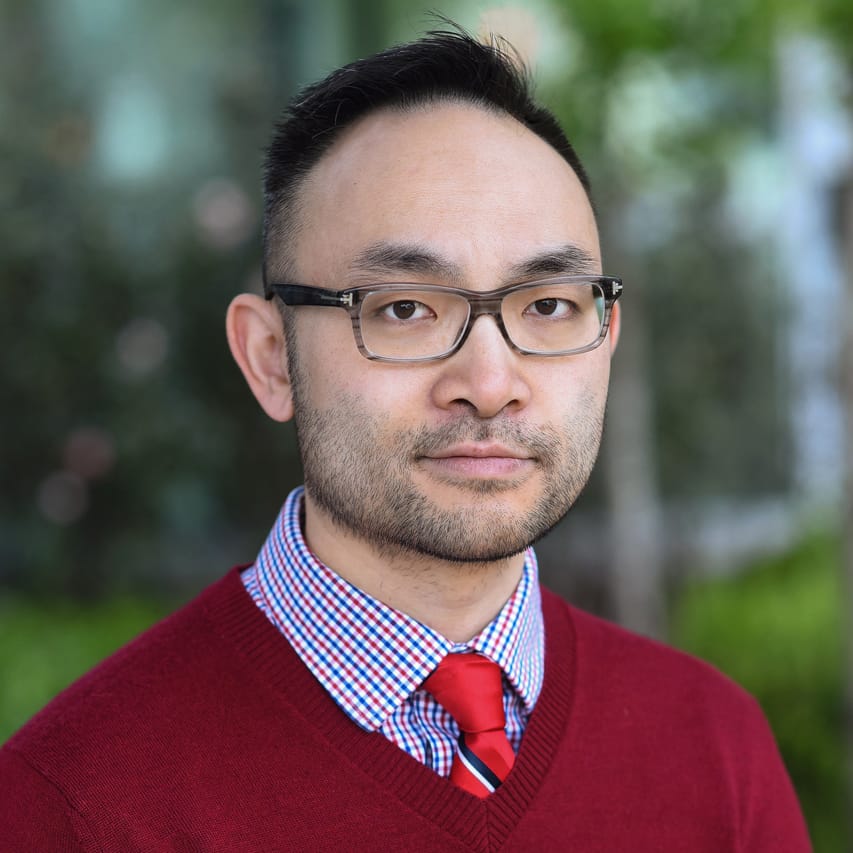 Todd Chang, MD
Once the game is fully developed, the investigators will run research studies to demonstrate its validity as a method of training and eventually compare it against the current standards of mannequin- and screen-based simulation training.
VR can also help solve the ethical challenge of placing a trainee in a high-risk resuscitation situation. Using the modules, trainees can practice working effectively in the medical environment while experiencing levels of stress and tension similar to what happens in an actual emergency department.
"We're using wearable technology—like a Fitbit on steroids—to monitor physiologic responses such as heart and breathing rates, and taking samples of salivary cortisol, a hormone marker of stress, from providers in real-life emergency situations and comparing them to stress-level parameters from trainees using our modules," says Sherman, who is also an assistant professor of Clinical Pediatrics at the Keck School of Medicine of USC.
Sherman and Chang believe that if trainees can use VR to practice resuscitation under levels of stress similar to what they will encounter in a busy emergency department, they will be able to recall those reflexes and perform safely and effectively when they encounter the real thing.