TRANSFORMING THE LIVES OF PATIENTS WITH HEMOPHILIA A

By Sara Nafie
For some patients, a new medication helps bleeding episodes decline from 30 each year – to zero.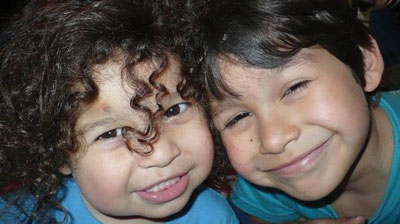 Left to right: Diego, age 3, and Ivan, age 6
Ivan Molina, 17, was diagnosed with hemophilia A when he was 9 months old. As soon as he started to crawl, the condition's telltale signs began to appear through bruises on his arms and legs. At that time, he was referred to Guy Young, MD, director of the Hemostasis and Thrombosis Center at Children's Hospital Los Angeles. A few years later, Ivan's younger brother, Diego Garcia, now 13, was also given the life- changing diagnosis.
The boys' maternal grandfather passed away from the condition when he was just 32, so their mom, Mayra Molina, knew there was a chance her children might inherit it. Yet nothing could have prepared her for the all-consuming responsibility of taking care of one child, and then another, with hemophilia.
Unfortunately, both Ivan and Diego developed inhibitors, or antibodies, to factor replacement therapy. To stop a bleed, intravenous bypassing agents—medications that circumvent the need for coagulation factor and take a different route to clotting—had to be given as often as every two to three hours. For each occurrence, the need for this around-the-clock diligence typically lasted three or four days. Mayra recalls that her older son had several serious bleeds in his joints every year.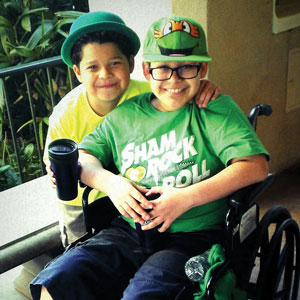 This photo, taken in 2012, shows Diego standing behind Ivan, who spent much of his life in a wheelchair until he began treatment with emicizumab
"Sometimes they'd get pain during the day but not want to stop playing, like most boys, so they'd finally come to me at night saying, 'Mom, it hurts. I can't take it.' We'd then start a 25-minute setup to make sure everything was sterile, prep the medication, then try to find a vein," Mayra recalls. "This would be at 2 or 3 in the morning, and sometimes it would be both boys but at different hours in the middle of the night. It was really, really difficult."
Mayra started hearing about a new medication for hemophilia a few years ago. At their very next appointment, she told Young, who treats both of her boys, "If the study opens at CHLA, I want my kids on it." Looking back she says, "I had hoped this would be the thing that changed everything, and so far it has."
Ivan started taking emicizumab in April 2016 as part of the HAVEN 1 study, and Diego began the drug as part of HAVEN 2 in August of the same year. In less than three weeks, the drug's benefits were obvious. Ivan's bruises disappeared and the swelling in his joints decreased. It has now been more than a year since the family has had to wake up in the middle of the night to treat a bleed.
Equally remarkable is that emicizumab is a simple, once-a-week injection into any area of fat on the body. A relentless and meticulous procedure that used to take hours and days to manage now has become a 10-second weekly routine.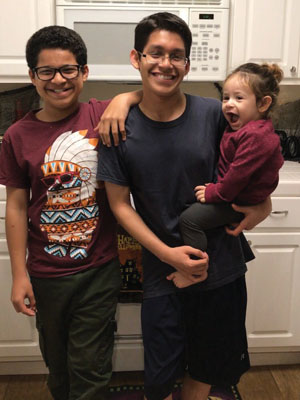 Left to right: Diego, Ivan and their sister, Angelina, in September 2017
In the five years before the study, Mayra estimates Ivan spent about 50 percent of his time in a wheelchair; in fact, the only time he "walked" to school was in his wheelchair with his mom pushing. Within the first month on the new medication, Ivan started trying to walk, and now he regularly walks a mile to school and a mile home every day.
"He has not used his wheelchair in over a year now," Mayra says. "Well, actually, that's not true. Last summer we were moving into a different apartment, and he used his wheelchair as a dolly to load boxes. All these years we have had to live in a first-floor apartment or somewhere with wheelchair access. And last week he carried 30-pound boxes up to our new third-floor apartment!"
Before taking emicizumab, Ivan was depressed, overweight and seemingly hopeless about his future. "It was like all he could do was watch his body deteriorate," Mayra reflects. Today he is motivated, physically fit, getting A's and B's in high school and doing the "normal teenage things" his mom never imagined for him—including having a steady girlfriend. "I don't want to say it's a cure, but if kids like mine are not having bleeds, they are no longer dealing with hemophilia."

To find out more about this research, visit CHLA.org/YoungLab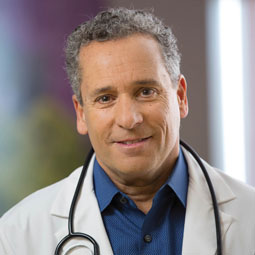 Guy Young, MD
CRISPR was first discovered in the DNA of bacteria in 1987, when scientists noticed a pattern of short, repeating, palindromic (reading the same forward and backward) DNA sequences separated by short, non-repeating "spacer" DNA sequences. Over the next five years, researchers realized that these repeats were present in many other single-celled organisms.
Approximately 20,000 people in the United States are living with hemophilia A, a genetic bleeding disorder caused by a deficiency in the clotting protein called factor VIII. For these people, what might otherwise be a minor bump or bruise can quickly become a life-threatening bleeding episode. In severe cases, spontaneous and recurrent bleeding in the same joint—most frequently the ankle, elbow or knee—leads to progressively debilitating pain and physical impairment.
Despite their inability to produce factor VIII naturally, most people with hemophilia A with access to factor replacement therapy have a normal life expectancy. But replacement factor VIII has a short half-life and must be administered intravenously two or three times per week to maintain normal coagulation, and even more frequently during an active bleed.
In about 30 percent of cases, patients develop antibodies or "inhibitors" that prevent replacement factor from working. Hemophilia A with inhibitors, therefore, must be treated with so-called bypassing agents that take a different pathway to coagulation and circumvent the route that is blocked by inhibitors. These agents promote blood clotting but are much less effective than replacement factor at stopping active bleeds.
In 2017, the U.S. Food and Drug Administration (FDA) approved an innovative new therapy, emicizumab, that revolutionized the treatment of hemophilia A with inhibitors. Guy Young, MD, director of the Hemostasis and Thrombosis Center at Children's Hospital Los Angeles, is part of the international team of hematologists that conducted the pivotal phase 3 clinical trials on this medication.
In these multicenter phase 3 studies, called HAVEN 1 and HAVEN 2, emicizumab was proven to be dramatically more effective than conventional therapies for preventing bleeding in patients with hemophilia A with inhibitors. Emicizumab is also easier to administer than bypassing agents since it is given subcutaneously (an injection under the skin rather than into a vein) and only once a week, rather than multiple times every week.
HAVEN 1 is now complete, having enrolled 109 males ages 12 years and older with hemophilia A with inhibitors. Children's Hospital Los Angeles, which treats the largest number of pediatric hemophilia patients in California, was one of the highest-enrolling sites in the world.
Results from HAVEN 1, published in the New England Journal of Medicine on July 10, 2017, were dramatic: Individuals treated with emicizumab experienced 87 percent fewer bleeds compared with patients treated with on-demand bypassing agents, and 79 percent fewer bleeds compared with prior prophylactic bypassing agents. Significantly, no anti-drug antibodies were detected.
HAVEN 2 is an ongoing follow-up study of emicizumab for patients younger than 12. Preliminary results are equally as promising as those from HAVEN 1. "This is the most significant advancement I have seen during my 20 years working in the field of hemophilia," says Young, who is also a professor of Pediatrics at the Keck School of Medicine of USC.
Based on final results from HAVEN 1 and preliminary results from HAVEN 2, Genentech's application for FDA approval of emicizumab was granted priority review and breakthrough therapy designations. Final approval of emicizumab under the trade name Hemlibra was announced on Nov. 16, 2017.
"Before this medication was licensed and widely available, we had families flying in from all over the country to get access to it," says Young. "Patients had been bleeding up to 30 times per year—to see that number drop to basically zero is really something."