TIME IS BRAIN

By Jennifer Marcus
Exploring new ways to prevent—and predict—epilepsy in children
For Douglas Nordli Jr., MD, chief of the Division of Pediatric Neurology at Children's Hospital Los Angeles, "time is brain." A recognized expert in the area of epilepsy, Nordli is acutely aware of the impact a certain type of febrile seizure can have on the developing brain. His research focuses on the early identification and aggressive treatment of children at highest risk.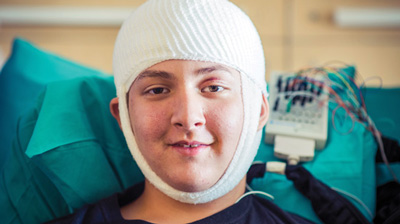 Electroencephalography (EEG) tests are just one of the tools doctors use to diagnose and monitor epilepsy.
Convulsions that happen during a fever, called febrile seizures, are fairly common, occurring in 2 to 4 percent of children under 5. Although the seizures are frightening to parents, most children who have simple febrile seizures develop appropriately and are not going to have other forms of neurological manifestations. Perhaps only 3 percent of them will develop epilepsy.
But Nordli is most concerned with febrile status epilepticus (FSE), a subgroup of prolonged or clustered febrile seizures. These seizures won't stop on their own, and even with medical intervention they may last for an hour or longer. FSE can occur in up to 5 percent of febrile seizure cases, and at least 40 percent of children who experience FSE will develop epilepsy.
By focusing on children with FSE, Nordli and his colleagues are working to answer a question that has long plagued neurologists: Why do people develop epilepsy?
For a decade, he and a team of specialists have been working on the National Institutes of Health-funded FEBSTAT study to determine the long-term consequences to the brain of prolonged febrile seizures in childhood. This multicenter, longitudinal study is led by Shlomo Shinnar, MD, PhD, from Montefiore Medical Center and the Albert Einstein College of Medicine in New York City. Nordli has now brought CHLA into the study as well.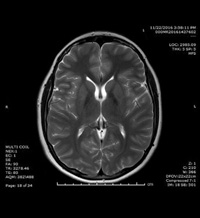 Normal MRI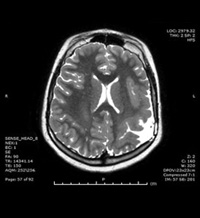 Abnormal MRI
In the study, Nordli and his colleagues are using neurodiagnostic tools to look for abnormal patterns of brain waves and to study changes to brain structure that occur during prolonged seizures. They have observed that the patient's right hippocampus—a small region of the temporal lobe primarily associated with memory and spatial navigation—appears to be brighter and slightly enlarged during prolonged seizures. They also found abnormal electroencephalography (EEG) patterns in these children, indicating altered brain activity and even brain injury.
"These findings are moving us toward the development of a biomarker for epilepsy," says Nordli. "If we can predict which children are at risk for developing catastrophic epilepsy, we can take steps to prevent it."
Nordli, a professor of Clinical Neurology at the Keck School of Medicine of the University of Southern California, is also employing newer technologies. Estimating that 40 to 60 percent of epilepsy cases can be identified through gene sequencing panels, he is collaborating with geneticists at CHLA's Center for Personalized Medicine on next-generation sequencing. The goal: improve understanding of how the genome influences the development and function of the nervous system.
"With the advent of precision medicine and novel diagnostic tools, this is a pivotal time in the field of child neurology," says Nordli. "Time is brain— and earlier detection of the risk will mean better long-term outcomes for children."

Watch how precision medicine is being used in the treatment of epilepsy: CHLA.org/EPILEPSY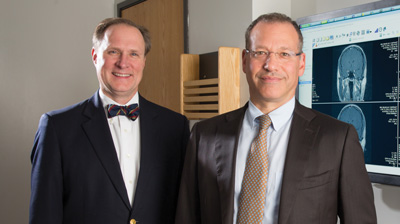 Douglas Nordli Jr., MD (left), and Mark D. Krieger, MD
Douglas Nordli Jr., MD, and Mark D. Krieger, MD, inaugural chair holder of the Billy and Audrey L. Wilder Endowed Chair of the Division of Neurosurgery, are co-directors of the newly established Neurological Institute at CHLA. The Institute provides a comprehensive continuum of care that brings together clinical services from Neurology, Neurosurgery, Psychiatry, Neuropsychology, Physical Therapy, Occupational Therapy, Dietetics and Social Work to support the care of children at CHLA.