The Saban Research Institute 18th Annual Poster Session
On June 3, 2013, research faculty and trainees gathered for The Saban Research Institute (TSRI) 18th Annual Poster Session, which drew the highest number of abstract submissions and attendance to date, covering the broad fields of basic, clinical and community research. A lunchtime presentation on the future of research at CHLA was delivered by the director of TSRI
In his speech, the director addressed the importance of interdisciplinary interaction in tackling the major issues in pediatric health within the context of CHLA's research priorities. He emphasized the CHLA value, "we achieve our best together," noting that collaboration is crucial to accelerating innovative research at the hospital.

"This poster session is incredibly useful because you can see what is going on in other labs, which can be helpful in directing your own research," says Nandini Girish, a TSRI research assistant.
Best Poster Award Competition
The 2013 Best Poster Award competition consisted of 12 finalists, out of which four winners were selected by a review panel of 11 faculty members. Posters were ranked based on the following criteria: significance, innovation, approach, clarity and oral presentation.
18th Annual Poster Session Best Poster Award Recipients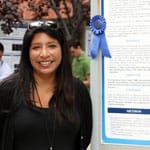 Anita Hamilton, PhD
Mentor: David Skaggs, MD
Poster Title: Novel Characterization of Microstructural Injury in Infant Abusive Head Trauma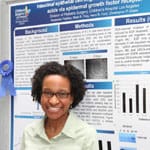 Stephanie Papillon, MD
Mentor: Christopher Gayer, MD, PhD
Poster Title: Intestinal Epithelial Cell Migration is Modulated by Bile Acids Via Epidermal Growth Factor Receptor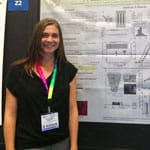 Celeste Stephany, BS
Mentor: Aaron McGee, PhD
Poster Title: The Role of Nogo-66 Receptor in the Development of Visual Acuity and Ocular Dominance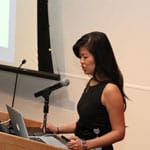 Nai Yu Tang, MD
Mentor: John Wood, MD, PhD
Poster Title: Abnormal Carotid Artery Dynamics and Endothelial Function in Pre-Pubertal Obese Children with Normal Echocardiograms