The Heart Institute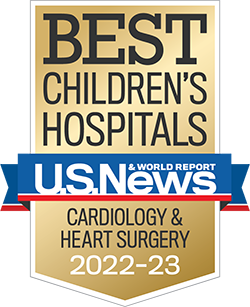 When your child has a heart condition, you want the best possible care. At Children's Hospital Los Angeles, your child receives exceptional treatment from top-ranked doctors and surgeons. The entire hospital is dedicated to treating children, so we specialize in providing a family-centered, child-friendly environment.
Our hospital continually sets and raises the standards for pediatric care. The Heart Institute routinely ranks among the top pediatric cardiology and heart surgery programs nationwide according to U.S. News & World Report. CHLA also ranks among the top 10 pediatric hospitals overall in the U.S.
We see patients from all 50 states and over 75 countries. Ours is the largest, highest-performing pediatric cardiac program in the Western U.S. This means that no matter the heart condition, our team has the experience needed to provide expert and effective care.

The Heart Institute: Why Choose Us
At Children's Hospital Los Angeles, your child has access to top doctors, advanced treatments and state-of-the-art facilities. We are known for our expertise in pediatric cardiology, pediatric catheterization, pediatric cardiothoracic surgery and fetal cardiology. At the Heart Institute, we also offer your child:
Expert, collaborative care: We have specialists in every area of cardiology, including experts who treat complex and rare conditions. From surgeons to anesthesiologists to nurses, every member of our team specializes in treating children's heart conditions. They work together to create effective treatment plans and provide holistic care. Meet our team.
Innovative, leading-edge treatments: We use the most advanced treatments and the latest technologies. Our commitment to research and innovation means that your child has access to treatments not offered anywhere else in the area, including groundbreaking clinical trials.
Exceptional outcomes: No matter what condition your child has, our doctors have seen it and successfully treated it in other children. Doctors from around the world refer patients to us thanks to our successful outcomes and low complication rates. For example, our survival rates for pediatric heart transplants are among the best in the country.
Child-focused environment: Children's Hospital is a freestanding pediatric hospital with cardiac services centrally located on a single floor. This setup means you don't have to bring your child to multiple facilities. Everything is conveniently located in one place. Our equipment is also designed for children, from child-sized blood pressure cuffs to an on-site playground.
Comprehensive child and family support: When your child has a heart condition, it affects the whole family. That's why we take a family-centered approach to care. We provide extensive support for your entire family, including Child Life specialists, education, support groups, and community and financial aid resources.

Our Locations
map
Children's Hospital's Cardiology Programs
We provide care from before birth until young adulthood, regardless of financial circumstances. Our advanced cardiology subspecialty programs include:
Learn more about our pediatric heart programs and services.

Children's Hospital's Cardiothoracic Surgery Programs
Our pediatric cardiothoracic surgeons are among the best and most experienced in the country. Our leading-edge cardiothoracic surgery subspecialty programs include:
Adult Congenital Heart Disease Program
Biventricular Repair or Conversion Program
Pediatric Thoracic and Chest Wall Deformities Program
Learn more about cardiothoracic surgery at Children's Hospital Los Angeles.

Awards and Recognitions
At Children's Hospital, we believe every child deserves the best possible care. We are committed to continual innovation to offer children the newest and best treatment options. That's why we're consistently listed as one of the top pediatric hospitals in the U.S.
U.S. News & World Report
U.S. News & World Report created its Best Children's Hospital program in 1990. CHLA has ranked among the top children's hospitals ever since. We are:
Among the top ranked programs in the country for cardiology and heart surgery
A top-10 hospital in the country on the Best Children's Hospitals Honor Roll
Beacon Award for Excellence
The American Association of Critical Care Nurses has also given our cardiothoracic ICU and cardiovascular acute care unit a top-level designation for the Beacon Award for Excellence. This award recognizes hospital units that use evidence-based practices to improve patient outcomes.
Our "Firsts"
We have decades of experience pioneering heart and lung care. We are proud to be the first medical center to:
Perform pediatric heart surgery on the West Coast
Perform a successful surgical treatment for transposition of the great arteries on the West Coast
Carry out the world's first living double-lung lobar transplant from two parents to their child in order to treat cystic fibrosis
Create a dedicated pediatric cardiothoracic ICU on the West Coast
Complete a pediatric combined heart-liver transplant in Southern California