The Dawn of Avery
After a lifetime of struggling with gender dysphoria, a teenager finds new hope—and begins a remarkable transition.
When Carolina Sanborn talks on the phone these days to her teenage son, Avery Wallace, his deep voice takes her aback.
"He calls me and says, 'Hey, Mom,'" she says, mimicking a low, male voice. She laughs. "It's amazing. He's literally transforming before our eyes."
Avery's deeper voice is just one of the changes his parents are noticing. The 16-year-old has broader shoulders, budding facial hair and bigger muscles. But while every adolescent goes through changes on the road to adulthood, for Avery, there's another kind of transition taking place: Avery is transgender.
Gender mismatch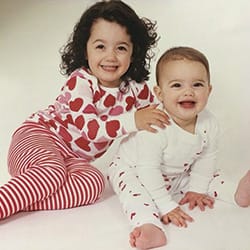 "Transgender" is a broad term for people whose internal sense of their gender doesn't match their birth sex. The medical diagnosis for those experiencing distress due to this incongruence is gender dysphoria. In Avery's case, it means that when he was born, his parents announced, "It's a girl!" But that was never how he felt.
"For as long as I can remember, I've felt like a boy, not a girl," the high school junior explains. "I never felt like I fit the category I was told I fit into. I've been a boy trapped in a girl's body."
From the time he was 2, Avery told his parents he wanted to be a boy. A star athlete, he played for years on a boys' Little League baseball team and insisted on wearing boyish haircuts and clothes and playing only with "boy" toys.
His parents had a simple explanation: Avery was a tomboy.
"That's what we said; that's what everyone said," says his dad, Jed. "The word 'transgender' was not on our radar."
But as middle school—and puberty—arrived, Avery's gender identity issues came to the forefront. Attending a new school, he struggled. He tried to "act girlie" to fit in, growing his hair long and wearing skirts. He was miserable.
"It was a lie," he says. "I was trying to be someone I wasn't, and that's the worst feeling you can ever have."
By eighth grade, he'd spiraled into depression. He began dressing more boyish again but couldn't make friends. He lived in fear of entering the girls' bathroom, where he was regularly bullied.
One night, he told his mom he wanted to kill himself.
"I didn't know what was wrong," Avery recalls. "I felt like a mistake. … I can only describe what I was feeling as torture."
Early intervention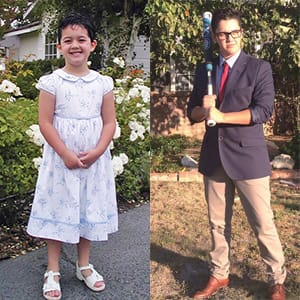 No one knows how prevalent gender dysphoria is, or why it occurs, though hormones and genetics are thought to play a role. But one thing is certain: It can cause intense despair.
According to the National Center for Transgender Equality and the National Gay and Lesbian Task Force, 41 percent of transgender people under the age of 21 in the U.S. have attempted suicide at least once in their lifetime. A United Kingdom survey found that 48 percent of transyouth under 26 had tried to end their lives.
Johanna Olson, MD, medical director of the Center for Transyouth Health and Development at Children's Hospital Los Angeles, is on a mission to lower those staggering numbers.
"Treatment saves people's lives," says Olson. "Young people just come to life. Patients have gone from being selectively mute to talking, from multiple psychiatric medications to none, and from failing out of school to college."
The rapidly growing Center, part of the Division of Adolescent and Young Adult Medicine, is the largest in the country for transgender youth. The Center promotes healthy futures for transyouth through hormonal intervention, mental health services, health education, peer support and advocacy.
The Division has been supporting transgender patients for 20 years, but in the past, it was primarily adults who underwent physical gender "transition." In recent years, medical protocols have been established for adolescents to make that transition through the use of "puberty-blocking" medications and cross-sex hormone therapy. The goal: help patients more closely align their bodies to their internal gender identity.
Treatment is individualized for each patient, under close physician supervision. Hormonal treatment is not for everyone, Olson cautions, and cross-sex behavior doesn't necessarily indicate a child is transgender. But when kids are "consistent, persistent and insistent" about their trans-identity over time, parents need to pay attention.
"Transgender kids often experience severe distress about the dissonance between their assigned sex at birth and their experienced gender," she explains. "As they get older, that stress gets worse."
---
"It was a real awakening. It literally connected all the dots, and I suddenly realized I wasn't alone. I said, 'That's me. I'm transgender.'" —Avery Wallace
---
Connecting the dots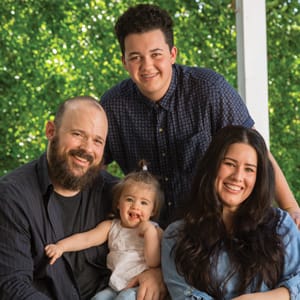 Avery initially attributed his depression to the bullying he experienced at school. His parents arranged for homeschooling, and he began seeing a therapist. Then, a few months later, he stumbled onto a YouTube documentary on transgender teen celebrity Jazz Jennings. He watched it, stunned.
"It was a real awakening," he says. "It literally connected all the dots, and I suddenly realized I wasn't alone. I said, 'That's me. I'm transgender.'"
Two nights later, he mustered up his courage to tell his dad and stepmother, and soon after, he told his mom and stepdad. To his immense relief, his parents—and all his family and friends—universally supported him.
"My first response was, 'I know,'" Jed says. "It's emotional. I was just grateful that Avery was able to identify with his truth at such a young age."
In search of help, they found Transforming Family, a transgender parent and youth support group affiliated with CHLA, and Avery became Olson's patient.
By the fall of 2014, Avery felt ready to begin a physical transition with testosterone treatments. But there was a catch: It would mean the end of his athletic career. Then 15, Avery was being recruited by NCAA Division I universities for a full scholarship to play women's softball. Testosterone is a performance-enhancing drug and would make him ineligible.
After a week, he'd made his decision.
"I knew that if I didn't transition, I would miss out on years of being who I really want to be," Avery explains. "And I wouldn't ever get those years back. I knew in my heart that this is what I had to do."
'It's been a miracle'
Six months into testosterone therapy, Avery is thriving.
Because his first name is gender-neutral, he decided to keep it, but he did change his middle name to Charles—honoring his mom by choosing a name that began with "C."
Although he quit softball, Avery loves writing and playing guitar and plans to apply to art schools for college. Most importantly, though, he wants to speak out as an advocate for transgender youth. His experience has been so life-changing, the word "transition" doesn't seem powerful enough. He calls it his "transcension."
"It's been a miracle to me," he says. "I'm really happy and content with myself. I become who I am more and more every day."
If you Live L.A., Give L.A. Every dollar of your gift will help provide world-class care for every child that comes through our doors. Visit CHLA.org/GiveLA.