THE ADOLESCENT BRAIN ON ... FOOTBALL

By Jennifer Marcus
Do repeated sports-related head impacts have cumulative effects on the developing brain?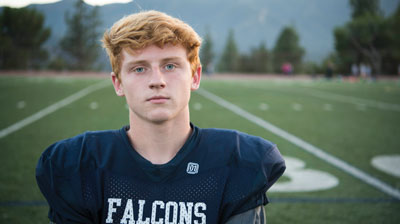 Max Herman
Max Herman, a high school freshman, was playing football when an opponent dove at him and tackled him hard, so hard that the electronic sensors in his football helmet rang out in alarm. Max was taken off the field for the remainder of the game.
Fortunately, Max's school is participating in a unique research study to assess the effects of repeated sports-related head impacts on the developing brain. So in addition to the standard checkup, Max also received a brain scan as part of his participation in the study.
Besides having the only pediatric concussion program in Los Angeles, Children's Hospital Los Angeles also has an active research program focused on the developing brain. Led by Bradley S. Peterson, MD, director of the Institute for the Developing Mind at The Saban Research Institute of Children's Hospital Los Angeles, a team of investigators has partnered with Crescenta Valley High School to follow young athletes over the course of their entire high school sports careers using a variety of tools—including brain imaging, cognitive and behavioral tests, and helmets equipped with electronic sensors to record head movement and any blows received during football games.
Study participants so far include 40 high school football players and a control group of 40 athletes not involved in contact sports—such as runners, swimmers and tennis players—with no prior history of concussion. The same number of players will be recruited each year as freshmen and followed throughout the course of their high school careers.
"There are still many unanswered questions about the effects that repeated head impacts have on children and adolescents," says Peterson. "Currently, we do not know whether the adolescent brain is more or less vulnerable than the adult brain to repeated head impacts."
To answer this question, Peterson has assembled a unique team of experts, including Tracy Zaslow, MD, medical director of CHLA's Sports Medicine Program and director of the Pediatric Sports Concussion Program and Clinic; Ravi Bansal, PhD, an expert in brain image processing technologies at CHLA; David A. Baron, MSEd, DO, director of the Global Center for Exercise, Psychiatry and Sport in the Department of Psychiatry at the Keck School of Medicine of USC; and Cynthia A. Bir, PhD, director of the Biomechanics Injury Research Laboratory at USC.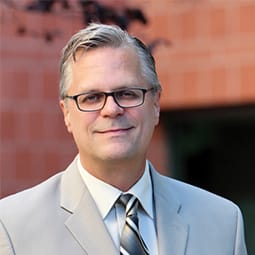 "The brain has its own natural repair mechanisms just like any other organ in the body."

– Bradley Peterson, MD
Establishing a baseline for each player
In one of the most distinctive aspects of the study, researchers are conducting magnetic resonance imaging (MRI) scans and cognitive and behavioral tests on participants at the beginning of each football season, including prior to the freshman year, before any head impacts have been sustained. This information establishes a critical baseline against which they can compare subsequent data each year, as well as within 36 hours of any suspected concussion.
The objective is to assess how the number and magnitude of head impacts affect the long-term developmental trajectory of brain structure and function in football players relative to the group of control athletes.
In the lab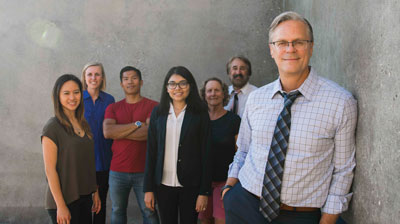 Members of the research team (left to right): Karen Li, Kelsey McAlister, MS, Zachary Toth, MPA, Bernice Flores, Patricia Baron, David Baron, MSEd, DO, and Bradley Peterson, MD
According to Peterson, the information gathered by the MRI scans and cognitive tests throughout the study will reveal new and important details about how the brain develops differently in adolescents with and without repeated head impacts. It will also provide information about the brain's natural protective and repair mechanisms in response to the impacts.
"The brain has its own natural repair mechanisms just like any other organ in the body. It's critically important to understand how the brain is able to protect itself and repair minor injuries on its own. We're also looking at how these intrinsic processes may be aided by factors that can be controlled, such as hydration, nutrition, and the amount and quality of sleep," says Peterson. The investigators are looking at brain structure, connectivity, function, blood flow, metabolism and myelin content—the fatty substance that coats the white matter in the brain and enables information to be transmitted along nerve cells quickly and accurately.
"A lot of evidence suggests that myelin and the portions of nerve cells it covers are disrupted by repeated head impacts," says Peterson. "We're interested in finding out how this affects critical-thinking skills, problem solving and emotional development, and we're especially interested in learning how to protect myelin for these kids."
On the field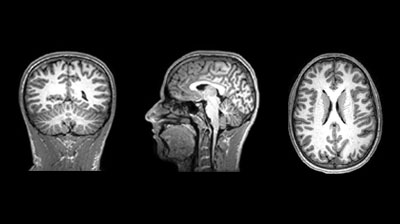 Coronal, sagittal and axial brain scans
Study participants like Max are issued state-of-the-art football helmets equipped with highly sensitive electronic sensors—now commonly worn by college and professional athletes. The sensors record all movements of the head and especially impacts to the head, including those not strong enough to cause a concussion.
"During any football practice or game, each student has many head impacts, and those vary by position on the team," explains Peterson. "Certain player positions have more frequent and severe impacts, but we're measuring all the athletes and getting critical readings on every single movement of a player's head."
The research team will obtain very detailed measures of every hit, along with detailed video recordings from five angles across the football field, for every practice and every game. For each head impact, the study team will know the direction, speed and rotation of head movements, as well as the accelerations and decelerations that cause the brain to jostle around inside the skull.
Biomechanics experts on the research team will be able to analyze these measures to understand what kinds of head motions create the biggest problems for the athletes.
In life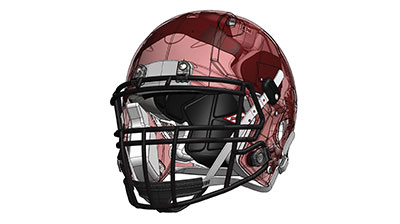 Rendering of the football helmet with sensors
"We're working to keep these kids healthy and safe and able to continue participating in contact sports," says Peterson.
Armed with the breadth of data being collected, he is confident that the detailed analyses his team conducts will be able to identify the kinds of injuries that are most harmful to the brain, and what kinds of tackles and other football maneuvers are more dangerous than others. This will hopefully inform policies regarding training practices and rules and regulations governing the game, resulting in improved player safety.
In spite of the hard hit Max took last season, his MRIs and other tests came back normal, allowing him to get back to math, guitar and his dream of pursuing a football scholarship.
According to Max's mom, Nicole Herman, Peterson's work is making a difference in how she feels about her son playing football. The intense monitoring that study participants receive "makes me feel a whole lot safer about letting my son go out there and play contact sports."

To learn more about this research, visit CHLA.org/PetersonLab