The 2017 Haunted Halloween Bash, hosted by Gigi Gorgeous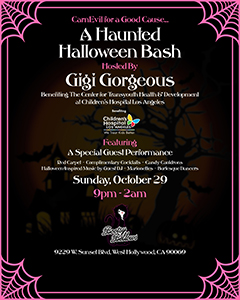 On Sunday, October 29th, famed LGBTQ+ advocate and transgender star Gigi Gorgeous will host a red carpet haunted Halloween bash at the 60's era art deco nightclub Bootsy Bellows in West Hollywood (a joint venture of David Arquette, and business moguls John Terzian and Brian Toll) featuring costumed burlesque dancers, DJ's, live musical acts, photo booth and puppets. Guests will enjoy sponsored cocktails, candy cauldrons, Halloween-inspired music spun by DJ Whitney Day and John Renaud, celebrity guests and a live, up-close-and-personal musical performance by Justin Tranter and Jiggly Caliente—all in an intimate setting.intimate setting.
100 % of the evening's proceeds will support Children's Hospital Los Angeles' Center for Transyouth Health & Development.
With more than 900 patients in the program and over 150 on the wait list, it is the largest program in the world providing comprehensive care to transgender and gender non-confirming youth—many of whom are experiencing or at-risk for homelessness, suicide, abuse and other preventable dangers. The program also conducts research, advocacy and training for healthcare providers to create a more compassionate and supportive community for the transgender population.
$25 donation at the door for entry, $1,500 minimum for bottle service. Click here to purchase in advance. Must be 21 or older to attend.
Can't attend but want to support? Click here to donate
For any questions about the event, please contact Lyndsay Hutchison at lhutchison@chla.usc.edu or 323.361.4121
Event Sponsors