STAR Service - Specialty Treatment Answers and Recommendations

Services for referring providers who need support for challenging diagnoses.
The Children's Hospital Los Angeles Specialty Treatment Answers and Recommendations (STAR) Service is a specialty consultation service developed to help community pediatricians and families identify a child's specialized medical needs. Our team combines years of experience in helping our care partners and families find answers and cope with clinical questions and anomalies.
The STAR physician team specializes in diagnosing and treating multisystem diseases, complex single-system problems and basic pediatric problems through a multidisciplinary and collaborative approach with other subspecialists and clinicians. Their experience complements the referring physician's and family's knowledge of the patient and provides a fresh perspective on what may be a challenging diagnosis and potential treatment plan.
STAR Service is currently provided at Children's Hospital Los Angeles' main campus, where we offer access to state-of-the-art diagnostic equipment and world-renowned pediatric subspecialists for support to determine the best possible advanced treatment.
How It Works
Our clinical team will evaluate each patient using the following three-step process:
Medical Record Request and Review
Our staff will work with each referring provider and family to obtain all relevant medical record documentation for review prior to the visit.
Physical Diagnostic Exam
Our STAR exam is designed as a "one-stop" assessment. A physician from our STAR Service will see the patient and order necessary tests and/or subspecialty consultations based on the needs of the child. Our clinical team will coordinate the child's care and can access a full range of specialists and services to best meet the needs of each patient.
Family Conference and Communication with Primary Care Physician
Our STAR team reviews all findings with the referring physician and patient's family and suggests a comprehensive treatment plan for ongoing care.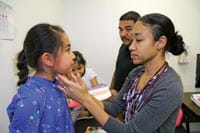 Referral Requirements
Referrals may be required from primary care physicians. Referrals for patients enrolled in managed care insurance plans may require authorization from the insurance provider and primary care physician.
All necessary referral and authorization forms must be received before the patient's visit.
For accurate provider numbers or more information, call 1-888-631-2452.

Insurance Information
Children's Hospital Los Angeles and Children's Hospital Los Angeles Medical Group are proud and actively authorized to be the pediatric provider for nearly all the major health plans and medical groups in the area. We have contracts with more than 250 health plans and medical groups. See a complete listing of plans.
If your health plan or medical group is not listed, please contact the customer service phone number listed on your health insurance card to verify that our hospital and physicians are part of your provider network.
If you have an insurance benefit plan that allows you to access health care services from providers that are not contracted ("out-of-network") with your health plan or medical group or, if you do not have health insurance and will be paying for our services directly, you may speak with a hospital financial counselor regarding coverage and a rate quote for your child's visit.
What to Bring
Due to the complex nature of pediatric specialty care, our experts often request that parents or referring pediatricians provide additional detailed health information prior to first-time visits. Our staff will confirm the items you will need to obtain and send prior to your visit, including anything you will need to bring to your appointment.

Our team will work with you to obtain all necessary clinical information in order to maximize the time spent with our clinicians. Examples of items you may be asked to provide in advance or bring with you include:
Medical records from visits with other doctors or medical experts
X-ray films
Lab results
Medication list (including medication strengths, amounts taken and over-the-counter medication) or bring the original prescription bottles with you Information about your child's allergies

Physician Team