Standing Tall
In his 19 years on earth, Noah Akaka has had two very unlikely diseases and more health issues than anyone should have to deal with. Yet he is unfazed.
"I'm rare among my own," he laughs.
Noah has Diamond Blackfan anemia (DBA), a disorder in which the bone marrow does not produce enough red blood cells. It occurs in approximately 5 to 7 per million births worldwide; at the time he was diagnosed, there were only about 250 kids in North America known to have the disease.
It was Easter Sunday when his mom, Regina Delgado, realized her newborn baby was really sick. The next day, Noah's pediatrician sent him straight to a local hospital. There his hemoglobin count was found to be 2.3; normal for an infant is 9.5 or above. Noah and his mom were rushed to Children's Hospital Los Angeles by ambulance. After numerous tests, Delgado was finally given an answer: "He has Diamond Blackfan anemia," she remembers the doctor telling her.
The rare disease came with difficult complications. Noah had to get blood transfusions every three weeks, and he underwent regular chelation therapy to mitigate the iron buildup in his system caused by the transfusions. He also had skeletal issues and endocrine problems. But he learned to live with the complications, and to thrive in spite of them.
Worth the drive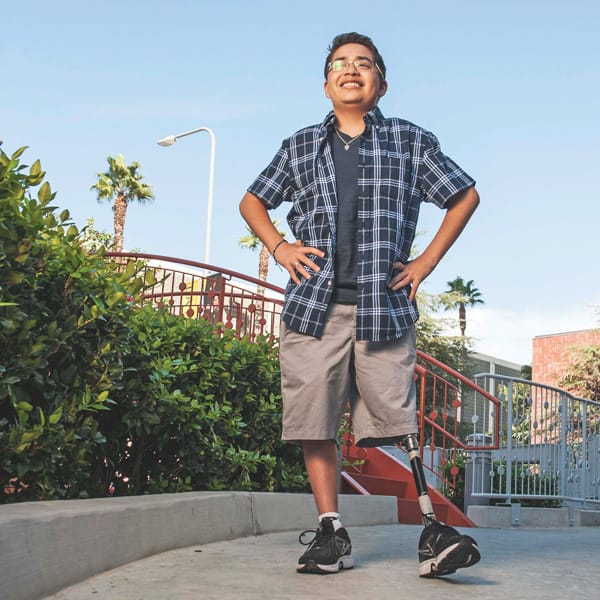 Noah's mom realized early on that the care he got at CHLA was worth the 32-mile drive from their home. At first, they tried taking care of some of Noah's more routine tests and treatments at a local hospital. Delgado recalls the incident that changed that: "They ran the blood through a filter, and there was an accident—they popped the blood cells, basically, and they gave him the blood like that."
"The way the blood was prepared caused the red blood cells to break down before being transfused," says Tom Hofstra, MD, Noah's hematologist in the Children's Center for Cancer and Blood Diseases at CHLA. "The contents of the red blood cells, hemoglobin, got into his bloodstream. This caused significant injury to his kidneys, because hemoglobin is toxic."
"We said, 'No more,'" says Delgado. "There's no one better equipped to take care of him than here at Children's Hospital. We've never gone anywhere else."
"This is a rare complication of a transfusion, and CHLA is best suited to care for children with transfusion complications," says Hofstra.
'A very particular set of skills'
"I have four to five patients at a time with Diamond Blackfan anemia," says Susan M. Carson, RN, MSN, CPNP, nurse practitioner in the Red Cell and Chronic Transfusion Program at CHLA, speaking of her own caseload alone. "The hospital where Noah was diagnosed—they may never have seen one before."
CHLA currently cares for 23 kids with DBA overall. "We do have, to quote Liam Neeson, 'a very particular set of skills,'" she laughs.
Noah's team at CHLA always works hard to keep him where he is happiest—out on the river. He and his family can often be found floating down the Colorado River on their boat during the summer.
"I remember trying to figure out ways to get him out on the river, trying everything we could to let him lead as normal a life as possible, despite all of the things he had to go through," says Hofstra.
Against all odds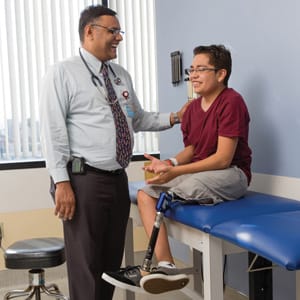 Noah and his mom, stepdad Gilbert, sister Simone, who is 6 years older than Noah, stepsister Serena, 24, and stepbrother Gilby, 28, did just that, settling into their own version of normal. But when he was 16, life threw Noah another curveball. What were the odds? Noah learned not to ask that question long ago.
After a procedure to correct knock knees by surgeon Paul Choi, MD, at CHLA, doctors noticed an abnormality on Noah's follow-up X-ray. Noah had developed osteosarcoma, a cancer of the bone, in his left distal femur.
Actually, the odds were at least 33 times higher for him than for the general population, but few people knew that. Luckily, one of those people was Leo Mascarenhas, MD, head of the Oncology Section of the Children's Center for Cancer and Blood Diseases at CHLA. Mascarenhas first encountered Noah's case
when an orthopaedic surgeon brought it into the biweekly interdisciplinary conference between orthopaedic and hematologyoncology specialists.
"DBA patients have an increased risk of osteosarcoma, so you should assume this is bone cancer until proven otherwise," Mascarenhas told the surgeon. Unfortunately, his suspicion proved correct.
Children with bone marrow defects do not handle chemotherapy well. To offer Noah the best chance of survival, Mascarenhas decided to treat him like any other patient with osteosarcoma, and monitor him closely. Noah had several unusual complications, but Mascarenhas and his team managed them deftly. The resulting success was anything but routine. Only six other patients with DBA and osteosarcoma have been reported worldwide, and none have survived their cancer.
Mascarenhas hopes to use Noah's case to help other kids as well. "As a general rule, when two very rare diseases happen together, this gives us a clue as to why the disease occurs in the first place," he says. "So we might understand why people who don't have DBA get osteosarcoma."
After Noah completed 10 weeks of chemotherapy, his surgeon attempted a limb salvage procedure to remove the tumor and affected bone, implant an internal prosthesis and save his leg.
"It was a beautiful piece of work," says Delgado. "But his bone couldn't support it." The skeletal issues that often come with DBA were too much. The prosthesis became detached, and an infection ensued.
Noah's doctors worked to help him figure out what to do next. Should they keep trying to make a limb-salvaging bone implant work? That might mean many more surgeries with no guarantee of success. Should they try something more experimental that still might not work? In the end, Noah made the decision to have his leg amputated. He just wanted to move forward.
His orthopaedic surgeon amputated his leg above the knee, and ground down bone fragments from Noah's amputated tibia to fit the inside of the remaining femur. The novel technique was designed to help strengthen the bone so it could support an external prosthetic leg—another example of Noah's care team thinking outside the box to give him the best shot possible.
Actually, Noah's situation is so rare, there is no box.
"I always knew that my life was up, down, different, sideways, circles, whatever," says Noah. "I'm fine with it. Because—what else can happen? I wanted to try to get through it as fast as possible. And we did."
---
In the Words of a Warrior Advocate AKA "MOM"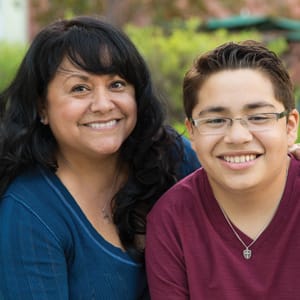 Name: Regina Delgado
Occupation: Assistant sundries buyer, L.A. region, Costco
On Noah: "I'm very proud of my son. I'm very proud of his resilience and his endurance. I don't know adults that could have done this so gracefully and with such strength. He's a pretty rare and wonderful young man."
On CHLA: "One of the things that I love so much about the hospital is that all of his doctors have been truly vested in Noah. They care about him. They know him. And that has made some of the most difficult things bearable."
On Costco: "My company's been amazing. They have been supportive in every possible way. They are huge supporters of Children's Hospital. I'm very proud that Costco is a company
that gives."
---
If you Live L.A., Give L.A. Every dollar of your gift will help provide world-class care for every child that comes through our doors. Visit CHLA.org/GiveLA.